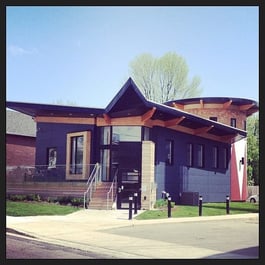 A few weeks ago I profiled Student Mental Health Services for students who may have some questions that you're too afraid to ask. This week I sat down with Jill Treen, Student Development Specialist – Indigenous Programming and Jill Thompson, Indigenous Cultural Advisor at the Ontario Tech-Baagwating Indigenous Student Centre (UBISC), located at the downtown campus location. They filled me in on what exactly the UBISC is and who can use the services they provide. Check out my interview below!
Q: What is the UBISC?
Jill Treen: The UBISC is a home away from home for Indigenous and non-Indigenous students. We offer different services and programs to cater to the needs of the students including counselling and advising, as well as cultural events. It's also a great space for students to create their own community and an opportunity for students to meet others who may not be in their program.
Q: So non-Indigenous students can come in?
Jill Thompson: Yes! Many students don't realize that our space is inclusive and that any student is welcome.
Jill Treen: Well, it's kind of funny because students will stand outside the entrance doors and look in, wondering if they are allowed in. That's when I jump out of my seat, wave at them and tell them that they are welcome. We are really not that I scary – I swear!

Q: And they are allowed access to all of the services?
Jill Treen: Absolutely, yes! All services and events are open to all students.
Jill Thompson: They can also come in to use the resource room or the great hall to do schoolwork or group work. It's a great study space!
Q: What kind of events do you have?
Jill Treen: Our centre offers various events through out the academic year. Each month we host a Sweat Lodge Ceremony, beading workshops, and Lunch and Learns.
Jill Thompson: We also host special events each academic year like Hand Drum, Dream Catcher and Moccasin-making workshops.
Jill Treen: We also have a visiting Elder program. Students can book a one-on-one appointment for schoolwork or personal reasons. We have access to a traditional knowledge-keeper, so should students need cultural advice or clarification, they are able to book an appointment with him.
Q: For students who don't know, can you explain what a Sweat Lodge is?
Jill Thompson: It's a ceremony we do to ground us in the spiritual side of our culture. The sweat lodge itself – the actual structure – represents the woman's womb. In many Indigenous cultures we refer to the earth as Mother Earth and the womb is considered a safe place to share within this ceremony. As this is considered a re-birthing ceremony it assists students to de-stress, become refreshed and cleanse themselves of any negative energies. We find that many students don't know what to expect.
Jill Treen: We offer an educational piece for those students who are unsure of what to expect. Students can choose to participate in the ceremony in a number of ways. And we never pressure students to go into the Lodge if they feel uncomfortable.
Q: Why do you think it's important for non-Indigenous students to be aware of the UBISC services?
Jill Thompson: Our services help break down stereotypes and racism on campus. Many students are unaware that there are Indigenous people on campus, as they assume that our culture is no longer a part of society. Our services are a great way of informing the students otherwise. The more that all students learn about our services and events the better, as this is a great way to learn about a culture you might be unfamiliar with.
Jill Treen: We're here to break down any stereotypes and images that people have about Indigenous populations. We really enjoy highlighting the beauty of our cultures through our amazing events and activities on campus. Our university is a very diverse community so why not learn about your fellow students?
Q: For an Indigenous student why do you think it's important for them to know that this service exists on campus?
Jill Thompson: It makes students feel that they belong here. They come into the centre and they see our medicines or they see their culture being represented and they feel welcome. A lot of time when Indigenous students go off to university, it's their first time away from home so it's a really good thing to know that there are other Indigenous students around and they can come to the centre and use the space and feel safe, be welcomed and create that community and support.
Q: What else do you offer to students other than activities and a space?
Jill Treen: I think another thing that a lot of students don't know is that they can utilize our specific services. People don't realize that Jill is a counsellor so for anything to do with mental health or cultural counselling, they can come to her. For the advising piece, I help students navigate the post-secondary landscape. I can assist students with anything from referral to our Student Mental Health Services to tell you how to register for classes or answer admissions questions.
Jill Thompson: She's really good at answering any questions related to your university experience!
Q: Is there anything else that you would want students to know about the UBISC?
Jill Thompson:The UBISC is where most of our services and events take place. We do however have another small location at the north campus location in U5-1. Unfortunately, we are unable to staff that centre on a regular basis, however, if any student who is primarily on the north location wants to book an appointment with either Jill or me, we can make those arrangements. We also host a few events each month in U5-1.
Jill Treen: Another thing about the UBISC that students don't realize is that we have a fully functioning kitchen. Students have full access to a stove, fridge and microwave. We even have a coffee and tea station available. We really want to encourage students to utilize our space. Even if you want to come in and just grab a coffee and leave, we're not offended.
Jill Thompson: Instead of walking from 61 Charles to Tim Horton's students can come here and grab a coffee or tea.
Q: Any last thoughts?
Jill Thompson: We just want to encourage all students to come in and check out our centre. I'm sure once they start utilizing our services they'll find that they learn a lot.
Jill Treen: Also if you have any cultural questions you need clarification on for an assignment, please do not hesitate to book a meeting with Jill and me. We would like to reiterate that no question is a stupid question, we've heard it all! Please feel free to stop by and introduce yourselves to the Jill's, we would love to meet you!
You can find Indigenous Student Services on the North campus location in the U5 Building, Room 1 and downtown at 151 Athol Street East (right beside 61 Charles). You can also follow them on Twitter or Facebook.