The ELC at Ontario Tech University offers programming for international students, new immigrants or anyone that wants to improve their English skills! They offer thorough English programs and sessions filled with lessons and activities, to prepare you for a smooth transition into post-secondary education and life in Canada.
Hear from students who are just like yourself, talking about their time with the ELC, and how it has impacted them. Take a look: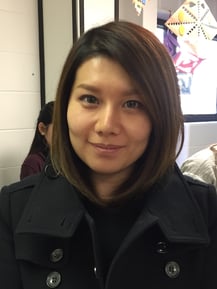 Xiao Li Pan (Lily), China
Lily is a student that studied at the ELC in 2017, she mentions how her confidence grew thanks to her time there: " Through the ELC, I learned effective communication with others and shared my thoughts without feeling shy. I learned many things that helped me improve speaking English."
She has had a great experience meeting other students through the ELC, and often reflects on her time there, mentioning that, "The best thing about the ELC is that I met people from various cultures and backgrounds, and learned a great deal from them."
After her graduation from the ELC in 2017, Lily moved on to study at Durham College, focusing on Childhood Education.
Frederico Stiebler Marinho, Brazil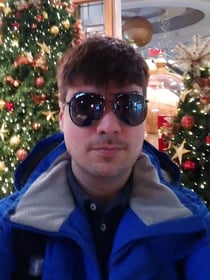 Frederico graduated from the English Language Centre in 2019 and says that he loved the experience, mentioning that: "The environment felt casual and classes felt like a laid-back meeting with friends from all over the globe."
"Not only did I improve my English-language skills, I also had the opportunity to learn more about other cultures as well; definitely a memory that I will cherish for life!"
Frederico is currently enrolled in the Data Analytics program at Durham College, using his knowledge and skills that he learned while staying at the ELC.
Laetitia Nkenga Njatchie, Cameroon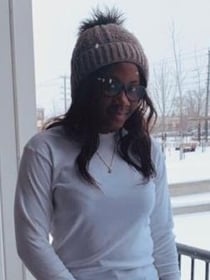 Laetitia is an Ontario Tech student that is currently studying at the ELC. She explains how much she has learned, saying: "I have acquired many skills through the ELC's well-structured programs, especially my speaking skills. I will never forget the workshops, which were informative and fun at the same time."
Laetitia adored her time at the ELC, and even went as far as to call it "the most beautiful thing that has happened to me since arriving in Canada".
She is currently enrolled in the Bachelor's of Commerce program, with a major in Marketing.
Negin Aalaei, Iran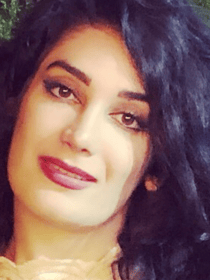 Negin studied at the ELC from 2017 to 2018, explaining how she has been successful at improving her English skills: "I became fluent in all skills—listening, writing, speaking and reading—after 10 months of attending English as a Second Language (ESL) courses."
Following her graduation, she moved on to study at Durham College, and was one of the top students in her program.
After completing her diploma and undergrad, Negin is currently pursuing a Master's degree in Health Sciences at Ontario Tech, and owes it all to the ELC guiding her, by saying: "The teachers are supportive, empathetic and welcoming. I made many friends from different countries and it was a wonderful experience to learn about their culture while practicing English. The ELC is the reason I am able to live out my dreams."
Evany Bernal Ballesteros, Panama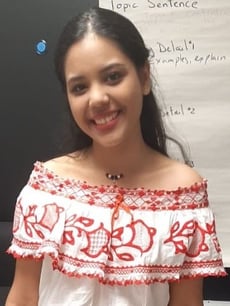 Evany has been studying at the ELC since 2019, and is currently in her first year at Ontario Tech.
She tells us how she overcame her worries about speaking English: "When I arrived in Canada, I was scared about learning English. I was afraid of making mistakes, and facing judgment for my pronunciation or lack of vocabulary. However, teachers in the ELC taught me not only the language, but also confidence, organization and perseverance."
Evany thanks the instructors at the ELC for giving her an experience she will always remember: "The ELC is the place where I achieved my goal of learning a second language. With all the instructors' dedication and kindness, it was not just an academic experience, but a lifelong-learning experience."
Evany will graduate from the ELC program at the end of Winter 2020, and has a bright future ahead of her.
Mariatou Tolo (Tolo), Mali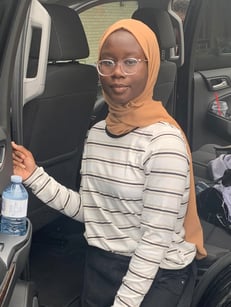 Tolo graduated from her ELC program in the Spring on 2020, and has moved onto being a full-time student in the Pharmaceutical Chemistry program.
Tolo says that studying at the ELC has made her a more confident and bright person: "The ELC has allowed me to become a more open and confident person. Thanks to the classes and workshops where we all do fun activities together, my English has drastically improved; I can now have a short conversation with the cashier at the grocery store, which I could not do when I was first starting out!"
To Tolo, her journey at the ELC was more than just attending classes and learning. She reflects on her time there and is grateful to all her peers and teachers. Tolo mentions that, "Today, I am studying at an English-speaking university; not a day goes by that I don't think about the amazing and informative adventure I had at the ELC. For me, the ELC is more than a centre where people come to learn English—it's a family."
Interested in applying to the ELC program at Ontario Tech? For more information, visit the ELC website here!