Hi everyone, my name is Quintyn. I want to share with you my journey of coming to Canada to attend university; check out what drew me to Ontario Tech:
Deciding to study internationally
Relocating from Barbados to an overseas university as an international student was a challenging yet inevitable decision. I was encouraged by a close friend who was interested in studying abroad and his top choice was Durham College.
He was already aware of my desire to pursue studies overseas, so it was easy for him to persuade me to pack up and take on the challenge. I began to think of the relocation as a new and exciting adventure.
I needed no further conviction and decided to equip myself with the necessary knowledge by researching and gathering important information about universities in Canada. I learned about Ontario Tech during my search and I was intrigued by the specialized programs they offered.
Ontario Tech offerings
The program that appealed to me the most was Networking and Information Technology Security, which I am currently enrolled in. This program provides students with the foundational knowledge and skills needed for networking, and technical fields. The program also offers students experiential learning opportunities such as internships and Capstone projects; these features stood out to me.
Knowing the advantages of being a well-rounded student, I wanted more than academic offerings. When deciding where to attend, I wanted a university that offered student support (both academic and personal), engagement opportunities and interactive peer spaces.
To my delight, Ontario Tech had all of these and more! I was pleased to learn that our university has a varsity soccer team and various other sports I enjoy watching. I contacted the soccer team coach and that was the beginning of a series of messages and calls.
One-on-one support
The one-on-one support and interaction I received were advantageous to me as an international student attempting to gain valuable information. When I travelled to Canada with my soccer team from Barbados, Ontario Tech's soccer coach arranged for me to visit the school and gave me the chance to attend training sessions.
This was not only a rewarding experience but a central defining point for me in choosing where to attend. This allowed me to gain first-hand experience of the school environment, structure and surrounding areas, which were very peaceful to my delight.
New and innovative
A significant and innovative school with a community feeling was like a dream come true, and right away, it inspired a sense of belonging. Although the university has existed for a relatively short time compared to other universities, it is well recognized as an ever-growing, innovative technological institution.
Ontario Tech has been ranked in the top 10 of several categories, including research dollars, student satisfaction and engineering programs. This cemented my decision to become a Ridgeback and be part of an ever-growing student community.
Perfect location
The location is also ideal; I wanted to reside in an environment that had a countryside feeling with a choice of indoor and outdoor activities, while at the same time having access to Toronto.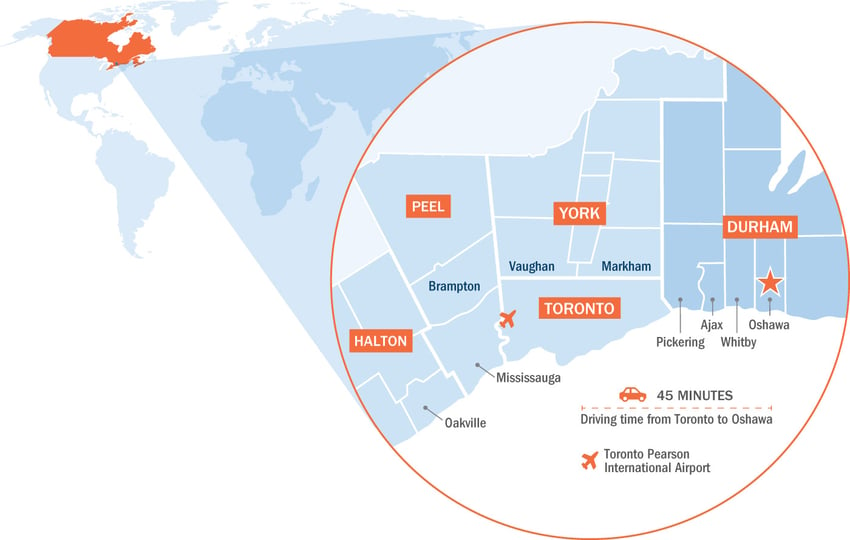 Ontario Tech is a short drive to Toronto, allowing you to access the city without living in the city. There are also plenty of exciting things to do in Oshawa, such as seeing the Parkwood Estate—featured in many films and shows like X-Men, and Umbrella Academy!
The nearby cities also have wonderful events and things to do, allowing you to make the most of your university experience while enjoying the benefits of a smaller city. Don't forget to take advantage of your Universal Transit Pass when embarking on your adventures.
My journey began with the idea of studying abroad and it became a reality one year later when I became a Ridgeback. Studying here was the right choice for me; the fantastic programs and supportive services make it the perfect place to expand my knowledge and better my future. If you are thinking about studying abroad, I encourage you to follow that feeling to Ontario Tech!
Blog written by: Quintyn Walcott
Want to learn more about the programs at Ontario Tech to find where you fit?