Meet the Kassee siblings! Two alumni and one current student in the Bachelor of Science (Honours) Collaborative Nursing program. Hear what they have to say about their individual experiences throughout the years and 'keeping it all in the family' at Ontario Tech: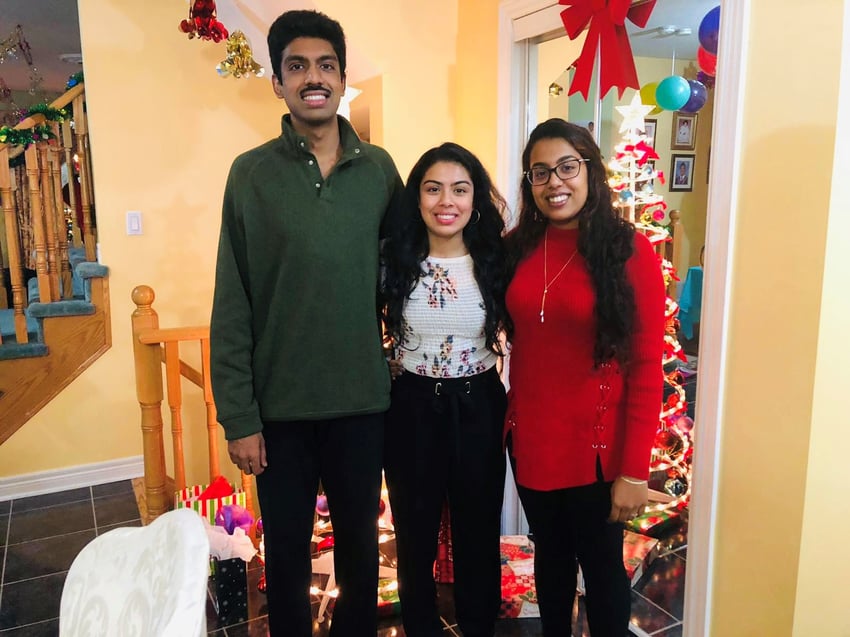 Alicia Kassee, Class of 2015
My decision to choose Ontario Tech was mostly influenced by the Open House event I attended. I met Manon Lemonde—an amazing, enthusiastic nursing professor who demonstrated her passion and love for the program, and teaching. With this interaction, I was convinced that this university's Nursing program was the program for me, with its knowledgeable professors, seven great placements within the four years of study (which were at the best sites), small class sizes, size of the campus and proximity to home.
My learning experiences are the things I remember most about this university, and why I would recommend students choose Ontario Tech. Having valuable time in the nursing lab and developing those critical skills allowed me to be prepared for my career.
I am currently employed where I completed my consolidation placement, which was in a emergency department in a downtown Toronto Hospital. My dreams came true!
I am most grateful for my family's support and the university for shaping me into the nurse I am today. I would not have been able to complete and excel in this program without them. This support fueled my dreams and—as a result—I am pursuing my Masters to work in a different area of nursing where I can create the most change.
Daniel Kassee, Class of 2018
I chose this university because it had one of the best nursing programs. When speaking to other students regarding placement opportunities, this university had what I considered, the best partnerships. Through my research and hearing from other students, I found that graduates from this university were the most sought after by hospitals and employers. The Nursing program places heavy emphasis on both theory and practice, and a huge bonus for me was that it was close to home!
What I found to be the most valuable experience was having a variety of different placements in different locations, to see what nurses do in various workplaces. This has led me to believe that nurses can go anywhere with their degree and make an impact in the world.
I am currently employed where I completed my consolidation as a student. I am a full-time Medicine Nurse working in the Scarborough Health Network. The university provided me with the opportunity to see which area of nursing I liked most, and the opportunity to work in that area to see if I wanted to pursue it further.
I am most grateful to the professors, who through their time and effort, made me feel welcome in the Nursing program and gave me the support I needed to thrive.
Nikita Kassee, Class of 2024
I am currently a first-year student in the Bachelor of Science in Nursing program! When I attended the Open House event, I noticed how the nursing professors were enthusiastic about the program, and showed their passion about the profession and teaching. I was fortunate enough to see the nursing labs and simulations, and learned more about the nursing program; I knew that nursing was the program for me. Over the years, I watched how hard my siblings were studying, and saw first-hand the knowledge and experience they gained in the nursing program—it inspired my dream to attend Ontario Tech.
After graduation, I am hoping to work at SickKids Hospital. I have always enjoyed working with children, through my experience of being a swimming instructor.
I am most grateful for my family that continues to support me to achieve my goals. Also, for all the friends that I have made so far at the university—inside and outside of the Nursing program. I'm also grateful for the professors that are providing me with the knowledge and skills required to prepare me for becoming a future nurse.
I am currently one of the first-year reps for the Nursing Student Community at the university. I have helped to organize various events and designed one of the two nursing logos chosen for the nursing community!
What 'keeping it in the family' means to us
It means so much to us as that we are all embarking on this journey as a family, albeit at different times and under different circumstances. We all have the same goal—to be caring and critical thinkers ready to make a difference.
This experience has further solidified our bond. It allows us to talk about our experiences, and compare similarities and differences. It's welcomed an opportunity for us to share our knowledge, wisdom and ethics that is the foundation of the nursing praxis. It has created a unique situation in which we can improve ourselves through our combined knowledge.
Special thanks to Manon Lemonde—Alicia's former professor and Nikita's current professor for her wonderful idea to create this sibling's blog and help organize it.
Blog written by: Alicia, Daniel and Nikita Kassee
Are you interested in the Collaborative Nursing program or any others at Ontario Tech?