When you're young, university may seem scary—but why? Because of the mere thought of moving away from home.
But as you get older, the thought may form into something much more exciting. It becomes the idea of branching off, living with your friends or even alone, and making decisions for yourself rather than constantly following the rule book made by your parents.
It is important to be prepared for the day that you will say goodbye to your family and begin a life of your own, outside of your hometown and comfort zone. Thankfully, living on residence at Ontario Tech University is made easy with the support of the university and its staff!
There are many housing options on and near the campus for you to choose from, including townhouses, residence buildings and studio apartments. If you have classes at our downtown Oshawa campus location, the bus loop is a five minute walk away where the 401 bus can take you southbound.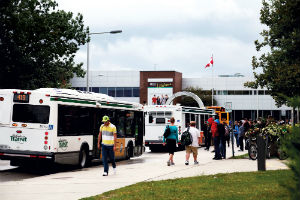 Near our north campus location on Simcoe St. are beautiful homes, housing centres and an apartment building available for students to move into, which also have easy accessibility to the 401 bus which leads to the downtown Oshawa location. The walk to campus is anywhere from 5 to 10 minutes, depending on the weather or any other circumstances!
Ontario Tech offers great meal plans to lessen the stress of shopping for yourself. We strive to be a place that makes your life as easy as possible. Don't have a meal plan? No worries! There are many stores in the area for you to shop at if you don't have a meal plan. Within a three kilometer radius, you can find Shoppers Drug Mart, Fresh Co., and many fast-food chains.
More food options are available on campus as well, such as Tim Horton's (for those important caffeine boosts) and Smoke's Burritorie. We also have our own café at the north campus location, the Hive café, which features healthy food options right in front of our beautiful Polonsky Commons.
Our university is located in a wonderful city with lots of places to explore. With locations in both north and downtown Oshawa, Ontario Tech is a school that you can attend while living comfortably.
Come and visit us to get an idea of just how simple it is. We're excited to welcome you!