Wondering what it would be like as a Legal Studies student at Ontario Tech University? Hear from one of our students from the Faculty of Social Science and Humanities.
Hey everyone!
Let me introduce myself and give you a bit of info about me. My name is Erin Humphries, and I graduated from the Legal Studies program.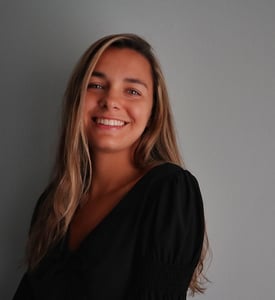 Today I'll be telling you all a bit about my academic career at Ontario Tech, and a bit about my experiences and involvement at the school. I chose this school because of the unique programs and course opportunities they provide.
Program
I've always had a passion for learning about the law, and when I was deciding where to apply to, I noticed no other university had a Legal Studies program like Ontario Tech. One thing I loved about the program was that you could do both a specialization and a minor— which is absolutely amazing in my opinion.
I specialized in Alternative Dispute Resolution and completed a minor in Criminology and Justice. To me, it was like getting the best of both worlds, I got to deepen my knowledge of criminology and law.
Another reason I loved my program was the size. I'm a student who excels in smaller lecture-style settings, so to be in a program that had only 30 to 50 people in a class was exactly what I needed to excel!
Courses
In terms of courses, I had quite a few as I progressed through my program map. I would say my favourite first-year course was Foundations of Legal Studies, where I learned the foundational knowledge of the law. A few more favourites include Criminal Law, Canadian Human Rights Law and Victimology. All the classes I've taken here were intriguing and really pushed my critical thinking and theory skills. I've gained important research skills that have allowed me to become a stronger writer, and I'm so thankful for that.
Last but certainly not least, the thing that I loved about my program were the professors and TA's. I think it's very important to try and get to know your professors both professionally and personally—there are only positive benefits to doing so. I've personally gotten to know a number of my professors, and they are such kind and genuine people who want their students to succeed and accomplish their goals.
When going to university, one of my goals was to get involved in as many clubs and societies as possible. Ontario Tech succeeds any expectations regarding the number of clubs and societies they have; there is a club for anything and everything! Through my involvement, I met so many amazing people and have made some close friendships that I will have for the rest of my life.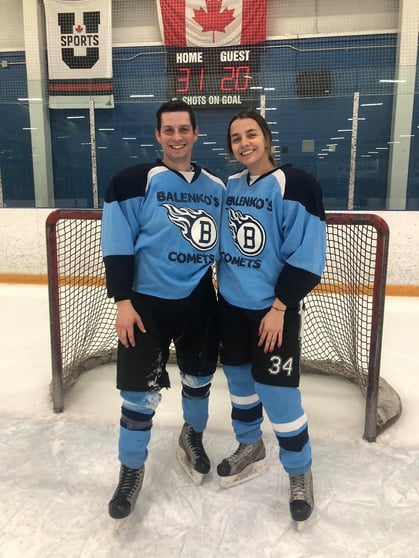 A picture of my brother and me during ice hockey intramurals last year.
As I mentioned previously, I have a passion for the law— therefore I joined the Ontario Tech Student Law Association where I held the position of Events Director. I was also an executive member of my school's World University Services of Canada (WUSC) local committee, where I worked as an Events Coordinator alongside some outstanding inspirational women. I was also involved as a Student Ambassador, peer leader, member of the Elections Committee, and a mentor for incoming students.
By joining these clubs and societies, I've not only made many friends, but I have also gained leadership and time management skills. Overall, my experience at Ontario Tech has been more than I could have ever imagined!
Interested in pursuing Legal Studies or seeing what other programs we offer?