Q: Tell me a little about yourself... Who is Rachel Allen?
A: My name is Rachel Allen and I am in the Master of Arts in Education program with the Faculty of Education at Ontario Tech University. I am currently working on my fourth and fifth courses in the program. I am a teacher and have taught almost every grade (1 through 12), teaching in both English and French. For the past two years, I was a Mathematics Curriculum Lead at the Toronto Catholic District School Board, but I have recently taken on a new portfolio as the leader of Experiential Learning.

With strong East Coast connections, I love music, and enjoy highland and step dancing. Until recently, I played the bass drum for a pipe band, competing across Ontario and at the world championships in Scotland. To let off steam between work and school, I have been doing CrossFit. CrossFit allows me the opportunity for both a physical and mental challenge as I continue to learn new skills, and new things I can do!

In the summers I like to volunteer at a Girl Guides summer camp where I have the opportunity to connect with young women looking to fully embrace learning, adventure and the outdoors. I am lucky enough to have a family cottage in New Brunswick and love to spend my summers by the shore.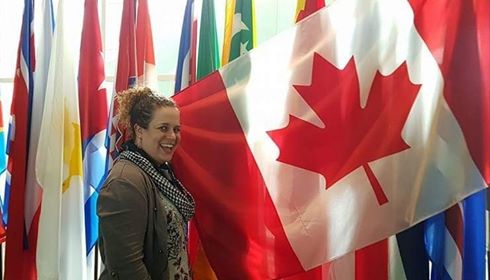 Q: What do you think is most unique about your program? Why did you ultimately choose Ontario Tech?
A: I really liked the idea that my Master's program was all online, but still in real-time. Having previously done some online courses, like Additional Qualifications (AQs) for teachers, I was concerned about the online learning experience; I found those courses had little personal connection and learning, just posting a few comments to a discussion board. However, Ontario Tech's online model allows me the opportunity to connect with my professors and classmates weekly, while having the flexibility of working and learning from home. The number of times I've attended class fresh from the gym will make everyone very glad I chose online learning!

Q: What do you like the most so far about your education at Ontario Tech?

A: One of my favourite things about my education at Ontario Tech so far are the opportunities I have been granted. As a working, part-time, online Master's student, I really did not expect many opportunities outside of fulfilling course requirements. However, thanks to the great faculty as well as the size of the program, I was able to make strong connections early into my program that have afforded me some wonderful opportunities. Early on in my time at Ontario Tech I was offered a position as a Research Assistant (RA). Due to the online nature of the program, I was able to work as an RA from home, creating mathematical video podcasts for students in their first year in the Faculty of Business. Not only was this RA position a great learning opportunity for me, but it also allowed me to develop my teaching skills, creating videos for students. My work as an RA has resulted in the opportunity to co-author some research and conference proceedings.

An additional opportunity that has come from the Master's program at Ontario Tech is the chance to sit as a panelist at the Field's Institute MathEd Forum. With recommendation and encouragement from my professor, I was able to share some of my learning from my courses, as well as my personal experiences with the forum of educators, mathematicians, professors, and general math enthusiasts. This intimidating, but rich, experience was only possible through my learning and connections at Ontario Tech.

Q: Do you have any advice for others that might be considering your program at Ontario Tech?

A: I would highly recommend applying to the Master's of Education at Ontario Tech. The program allows you the flexibility of an online learning environment with the opportunity to connect with your professors and classmates from around the world. This international experience has exposed me to a variety of students, teachers, education systems and learning paradigms. The faculty are supportive, innovative and active in their fields, and are keen to provide students with opportunities that support their learning inside and outside of class hours.
Want to learn more about the Masters programs we offer at Ontario Tech?