In our digital era where everything and everyone is connected to the Internet, it's becoming very common for universities to include online courses, majors and transfer programs. Besides offering traditional, bridge and graduate majors, Ontario Tech University offers several pathway programs that are delivered completely online.
Although in-class education is preferred by many, others are considering alternative learning methods. I understand that choosing between classroom and networked education can be tricky, so to help out, I have outlined the main differences between these two learning formats:
In-class training👩‍🏫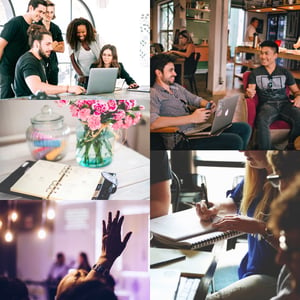 Network: Going to class as a bridge student, will allow you to meet several professors who are highly experienced in your field of study. Also, you will get to know many classmates who—besides turning into your friends—share the same interests and might be your coworkers in the future.
Improve communication skills: Participating in class discussions, presentations or just exchanging ideas with people helps gain a strong communication base, a skill that can be applied at any given scenario.


Fixed schedule:

As the Faculty of Social Science and Humanities

is located in the Downtown Oshawa location, I have to commute almost every day to class. This has allowed me not only to stick to my daily routine but to also plan my day in school as well as outside school.



Diverse learning tools: As a bridge student, I can tell you that almost every program at our university—besides including technology—incorporates lectures, projects, presentations and written assignments so that students can learn using multiple techniques.

Get involved on campus:

Going to class not only allows us to learn, but to also get involved on campus. At our university, there are many clubs and societies, along with sorority and fraternity groups that offer information booths in the hallways of campus.


Online training👩‍💻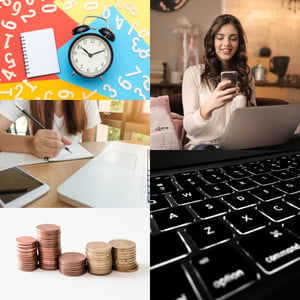 Flexible: Completing an online transfer degree favors students to learn at their own pace and at their own time. Generally speaking, online courses list all the due dates on their syllabus making it easy for the students to meet all the deadlines.
Learn anywhere and at any time: Thanks to the Internet, networked programs can be accessed from anywhere at any time. Therefore, it's a very convenient and efficient way of following lectures, completing assignments, exams, etc.

Independence: Because everything is accessed using Blackboard, online programs are designed for individual rather than collective learning. Everything has to be completed alone, allowing students to have control over everything in the course.
Structured learning tools: When it comes to Internet-based educational modules, you'll realize that besides incorporating a lot of writing, you rely upon online lectures, quizzes, discussion boards, online tests and essays.

Avoid commuting:

If you're considering completing an online transfer field of study, you'll avoid commuting to class. As a result, you'll not only save time but also save some cash as you will prevent spending money on Presto cards, parking, gas, etc.

Deciding between completing an online or in-class major is an extremely subjective decision and should be evaluated individually depending on each student. If you're considering being a student at our university, contact our academic advisors as they will be able to suggest the best learning curriculum for you.
Want to learn more about the programs we offer online? Download our college-to-university transfer viewbook.
What type of learner do you think you'll be in your transfer program? Let me know below👇