Hi everyone! My name's Rachel, and I'm a fourth-year Commerce student majoring in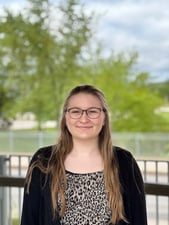 Marketing. My three years at Ontario Tech have been outstanding, and I'm looking forward to my fourth and final year! As graduation grows closer, I've been thinking about my life as a Ridgeback and wanted to share it with you! Keep reading to see what life at Ontario Tech is like:
Experiential learning
I chose Ontario Tech specifically for the unique design of the Commerce program. I love the idea of hands-on learning experiences to complement your academic studies. I'm also grateful that my first two years had general commerce courses because it allows you to discover your preference(s) before selecting a specialty. There are five majors to choose from in your third year, of which I chose Marketing.
The other majors include:
Accounting
Finance
Organizational Behaviour and Human Resource Management
Technology Management
My experience
My journey through Ontario Tech began in 2020, and at that time, all classes were held virtually. Everyone was adapting to a virtual environment, and the professors at Ontario Tech were amazing in their efforts to teach online. They were all dedicated to our success and did whatever they could to support us with the transition to online learning.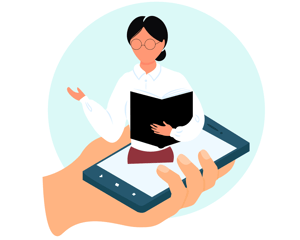 My third year was hybrid, meaning it was both virtual and in-person. The transition to on-campus learning was fun and exciting! It was great to meet professors in person and talk with other students face-to-face. Ontario Tech has such an amazing community of students, and it was nice to be immersed in the university experience in person.
Favourite classes
Throughout the Commerce program, I have enjoyed so many classes. From the content to delivery, they have been interesting and captivating. This year, I took several marketing classes for my specialization—all of which I enjoyed. Here are just a few of my favourites:
BUSI 3210U: Consumer Behaviour went into the psychological, sociological and various other factors that impact a consumer's decision-making process. I learned things that I never would've thought could impact someone's thought process towards a product, such as colour!


BUSI 3200U: Marketing Communications focused on methods of communication, from advertising to personal selling, to achieve a marketing objective. The course dived into many topics and gave a great understanding of the marketing process, which was helpful in my other marketing classes.


BUSI 4280U: Social Media Marketing is about exactly what it says, Social Media Marketing. As Professor Amaral would say, "Social media is for the people, by the people." This class was my favourite at Ontario Tech and it was taught by one of my favourite professors. The course detailed almost every social media platform available and how to use each towards a marketing strategy beneficially.
If you're looking for an interesting class to take as a first-year student, I highly suggest taking Introduction to Entrepreneurship. I took this in my first year, and I still use some of the knowledge I learned in that class to this day!
Extracurriculars
My one regret through university is not joining any clubs or extracurriculars earlier. I didn't participate in anything outside of classes until my third year. My biggest piece of advice is to get involved around campus; it's so worth it! This year, I participated in the Elements Case Competition, the Food for Thought Challenge and also became the Vice President of Marketing for the Marketing Association.
The Brilliant Catalyst is our innovation hub at Ontario Tech and has many opportunities for you to get involved. When I participated, my group focused on food insecurity and how to combat it. To our delight, our company's idea, Fruitastic Delights, won first place in the competition!
This experience helped solidify my interest in marketing. The knowledge gained in workshops, and the ability to be creative and bring out new ideas was an experience I'm so grateful to have.
My time at Ontario Tech has been incredible for the last three years. While I'm excited to be in my final year and discover what the future has, I'll certainly miss being a Ridgeback once I graduate. Be sure to cherish your time here; it really does go by faster than you can imagine.
Want to learn more about what life at Ontario Tech is like?