As some of you may already know, Ontario Tech is now a certified Bee City Campus! This means that we provide a safe space for pollinators by planting flowers and raising awareness about the bee population around us.
I attended a pollinator tour in June and received a jar of honey as a souvenir. During the tour, I discovered that the honey is made right there at the pollinator garden—how cool is that?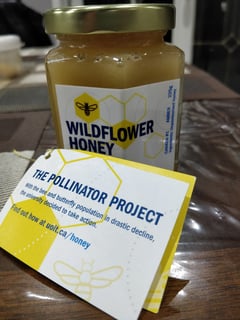 Ontario Tech's locally produced honey can be purchased at the university's north campus location in Shop SIRC and at the bookstore.
Not only is this honey nutritious, but all of the proceeds go towards the maintenance, upkeep, and sustainability of the Windfields Farm lands.
In this post, I will be showing how every student can incorporate honey into their daily lives, diets and routines.
This practice will help the university in creating, retaining, and maintaining not just a sustainable campus, but a safe and healthy environment for both students and our lovely bees.
Disclaimer: Please disregard these tips if you are allergic to honey or bees! 🐝
1. Sugar substitute
Honey can be a great alternative to granulated white sugar. You can add it to a cup of tea, pancakes, oatmeal (my favourite!) and so much more. You can even swap sugar with honey in a lot of baked goods!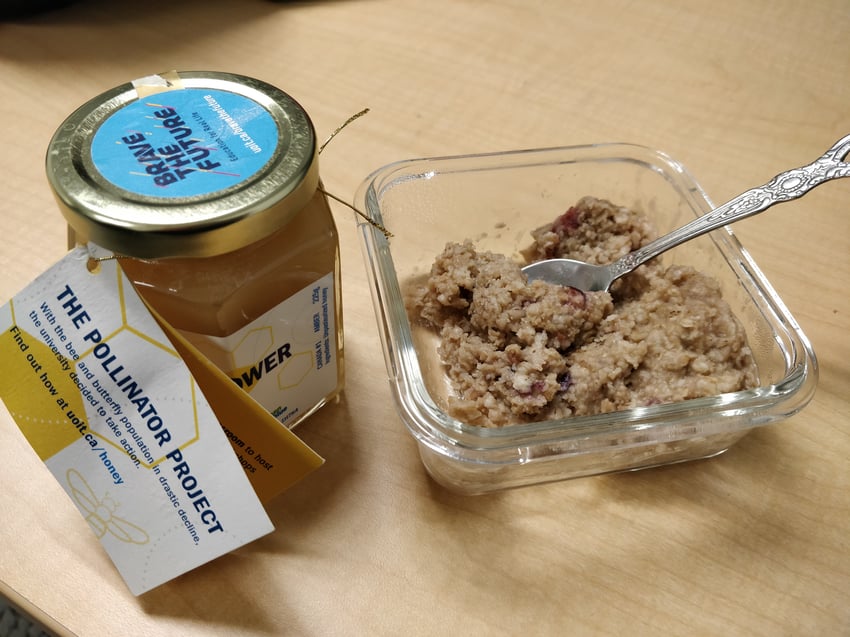 2. Honey for skincare
Did you know that honey has anti-bacterial properties and is rich in antioxidants?
Honey can be a great skincare item to use especially if you have acne-prone skin, as it can help calm down your skin and give it the TLC it deserves.
So if school stress is taking a toll on your skin, take some time out of your schedule and apply a honey mask.
Simply warm up a spoonful of honey and apply directly to your skin (make sure to do a patch test before!) and wash off with lukewarm water after 20 minutes.
3. Fight the common cold
Everyone knows that once school starts and seasons change, allergies and the common cold are in the air.
Honey is a great natural remedy to use if you're feeling under the weather. Thanks to its anti-fungal and anti-bacterial properties, it is a great sore throat reliever and a cough suppressant.
You might have already noticed that many cough drops have honey as their primary ingredient!
Simply putting a spoonful of Ontario Tech honey in a cup of herbal tea will do wonders for your cold.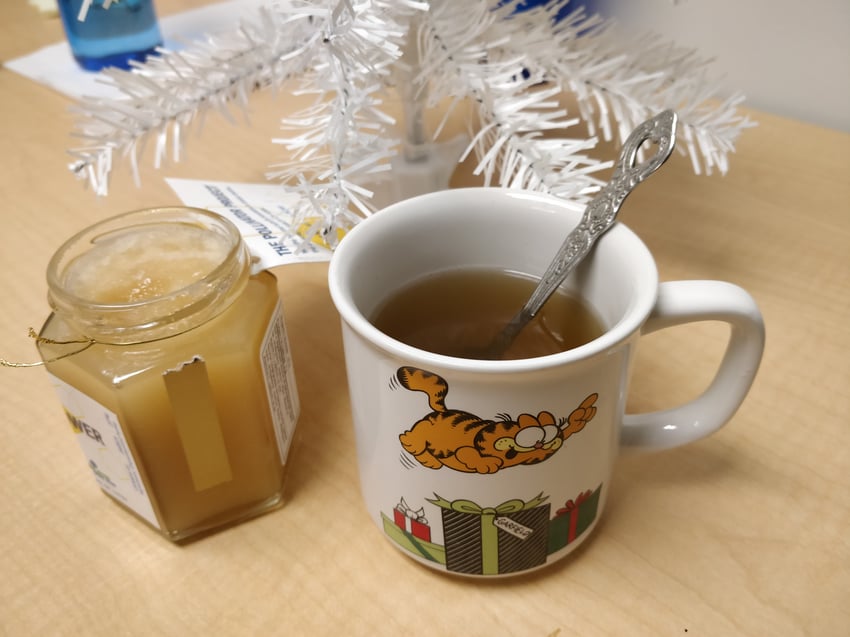 I hope that after reading this post I have convinced you to buy a jar of honey for yourself 🍯 If you want to learn more about the different sustainability initiatives hosted on our campus, check out our Go Green website.