Hey everyone, I'm Claire! I grew up in a small town on Vancouver Island in British Columbia. I love everything about the west coast and it will always be my home. That being said, ever since I started thinking about where I wanted to go to university, I had a feeling I would end up in Ontario.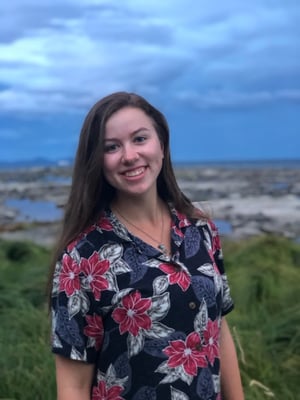 My journey to Ontario Tech began on the Canadian Society for Medical Laboratory Science website. I had just decided that I wanted to study medical laboratory science and I was looking at the list of accredited med lab programs. However, I didn't—and still don't—know exactly what I wanted my academic journey to look like, whether that be medical school, other graduate studies, or starting a career. I wanted to keep as many options open as possible.
As I worked my way down the list of Canada's Medical Laboratory Science programs, I found that Ontario Tech was the only one to offer Med Lab as a Bachelor's degree. To me, a getting degree in med lab—as opposed to a diploma—meant that I could be ready to move onto post-graduate studies more quickly; or if I decided not to pursue another degree, I could begin a career as a lab technologist. I was instantly drawn to the opportunities that this program could offer me.
The following summer, I was able to tour the Ontario Tech campus. Despite its modern appearance, the campus has a welcoming feeling. I felt a sense of belonging on campus, a feeling that I was in the right place. My tour guide was a Med Lab student, and she spoke highly of the program. The longer I spent on campus, the more convinced I was—I wanted to go to school here.
Now, after completing my first year, I am proud to be a part of the Ontario Tech community. One of my favourite things about being at here is that we are exactly that, a community. Being a smaller university means always seeing familiar faces around campus. It means getting to know your professors, and having them know you too.
Whenever I have questions or need help, there is always someone to turn to. While I miss my home and my family in BC, I know that I have a new and growing family at Ontario Tech who are here to support me and help me get to where I want to go. Over the past year, I have gotten involved all over campus, from Ontario Tech Blood Services to FIRST Robotics. I have gotten to learn about the topics I am passionate about. I have made great friends. I am one step closer to achieving my dreams!