Although I'd like to say that my knowledge in cultural cuisine is quite diverse, I never in my time on this planet have actually eaten Jamaican food, let alone in the Durham Region. My experience is limited to the occasional beef patty that I pop in and out of the microwave as a pre-homework snack. Thus, when it came time to review Durham Region's offerings of Jamaican food, I naturally froze.
What do I know about Jamaican food?
How can I be an expert on something I have no prior experience with?
Then I thought to myself, "If I have never tried this type of food before, there must be others out who have not fully diversified their palette in cultural fare."
Durham Region is known for its vast array of diverse and authentic cuisines from all over the world due to its multicultural inhabitants. If I am going to represent a voice on that, I'm going to have to continue to do my homework.
Through some careful consideration of proximity to the university and relevance to this blog, plus overall good reviews from friends and social media, fingers pointed towards Caribbean Flavah. The chain introduced its downtown Oshawa location in 2014 and serves as a great jumping-off-point for those who want to try affordable Jamaican fast food. It is located at the intersection of King St. and Centre St. right next to the Van Houtte coffee shop.
First impressions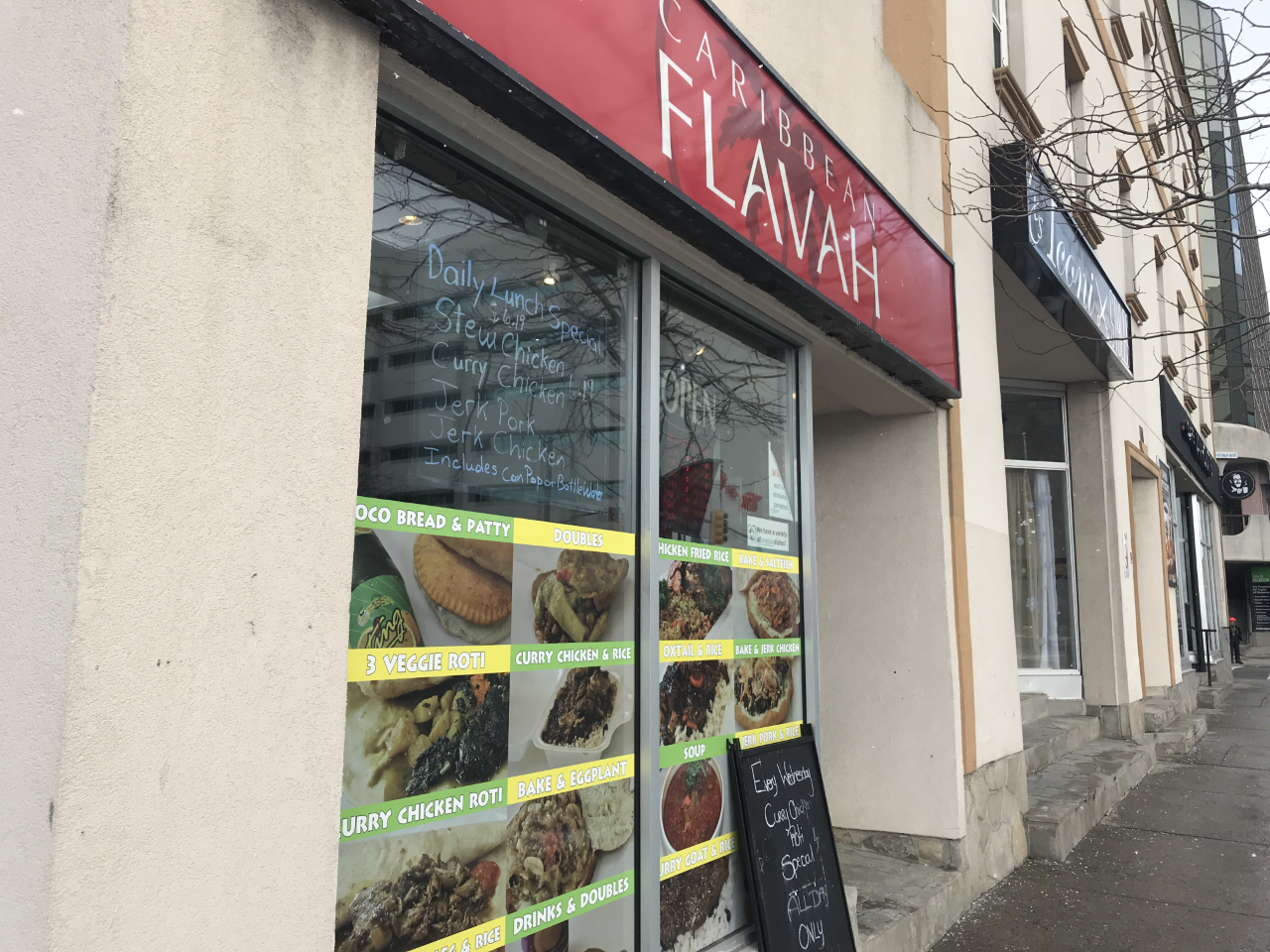 It was around 11 a.m. on a Thursday and our professor had ended class ten minutes early. I had built up quite an appetite after the three hour lecture.
I immediately packed up my things and bundled myself up, briskly walking ten minutes down the street from Bordessa Hall to Caribbean Flavah. Upon entering the restaurant and leaving the bitter cold, I was introduced to a smell that I was not truly familiar with. It was indeed an intoxicating aroma nonetheless.
It was earthy, spicy and had a full-bodied aroma. Instant stomach pain became immediately noticeable. I couldn't tell if it was the pangs of my hunger or if it was the nervousness of trying something new.
Regardless, I knew I was in for something different. As I walked toward the counter, I passed one other patron digging in to large styrofoam container of varying contents including piles of rice and different thick scoops of sauced-up meat.
Service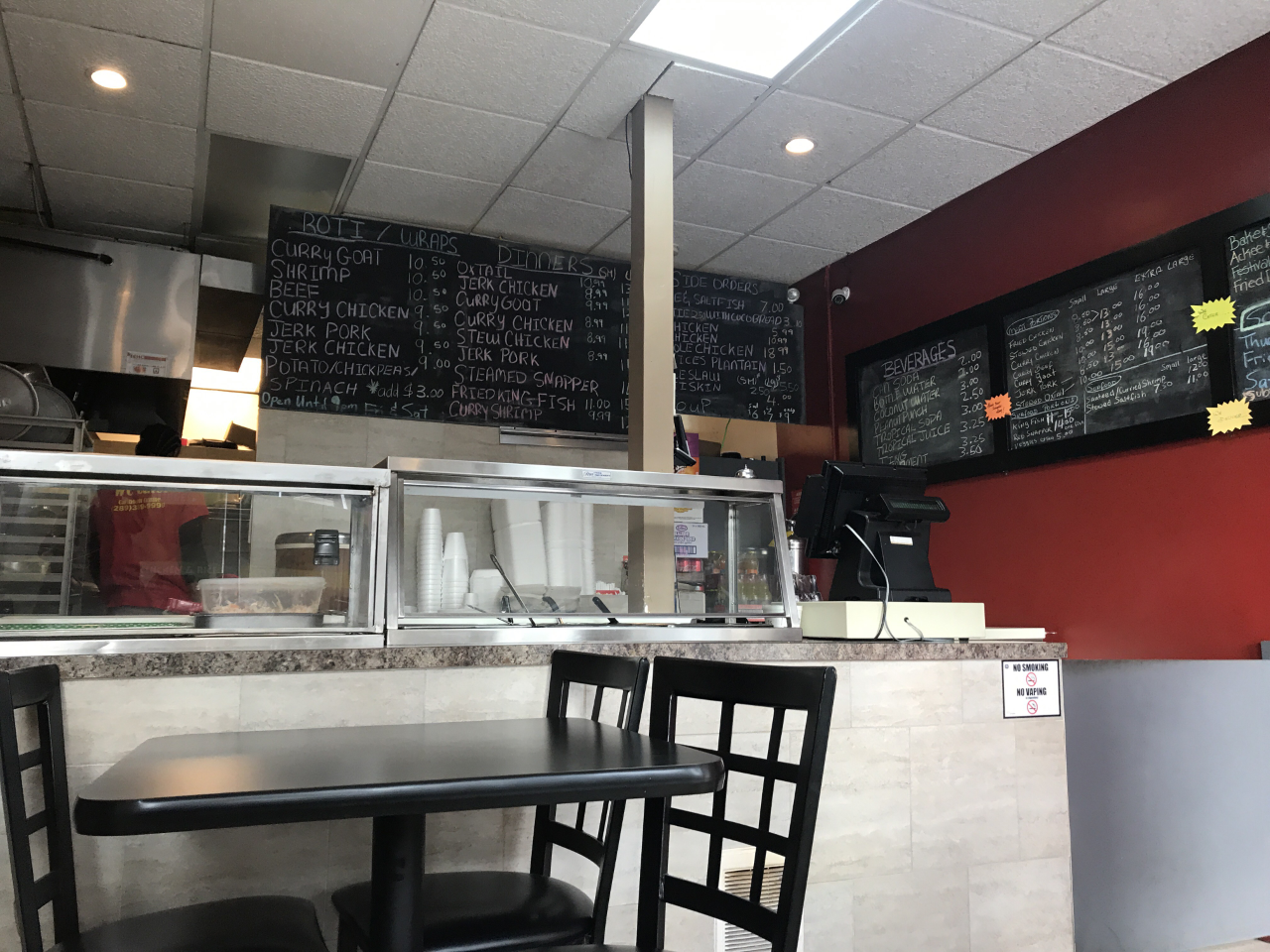 As I approached the counter, the variety stood out to me. A dozen questions started to hit me: "What if I make the wrong choice?" or "what is the best representative dish I can choose?"
The worker at the front greeted me with an uneasy smile, as if they thought I had wound up in the wrong place.
"What can I get for you young man?" she asked.
"What do you recommend, for a first timer?" I replied.
"You can't go wrong with a jerk chicken meal, it's fairly standard," she said.
She pointed at the lunch special menu which contained a list of different dishes: jerk chicken, jerk pork, curry chicken, curry goat, chicken roti, salt fish and so on.
What does it all mean?
Food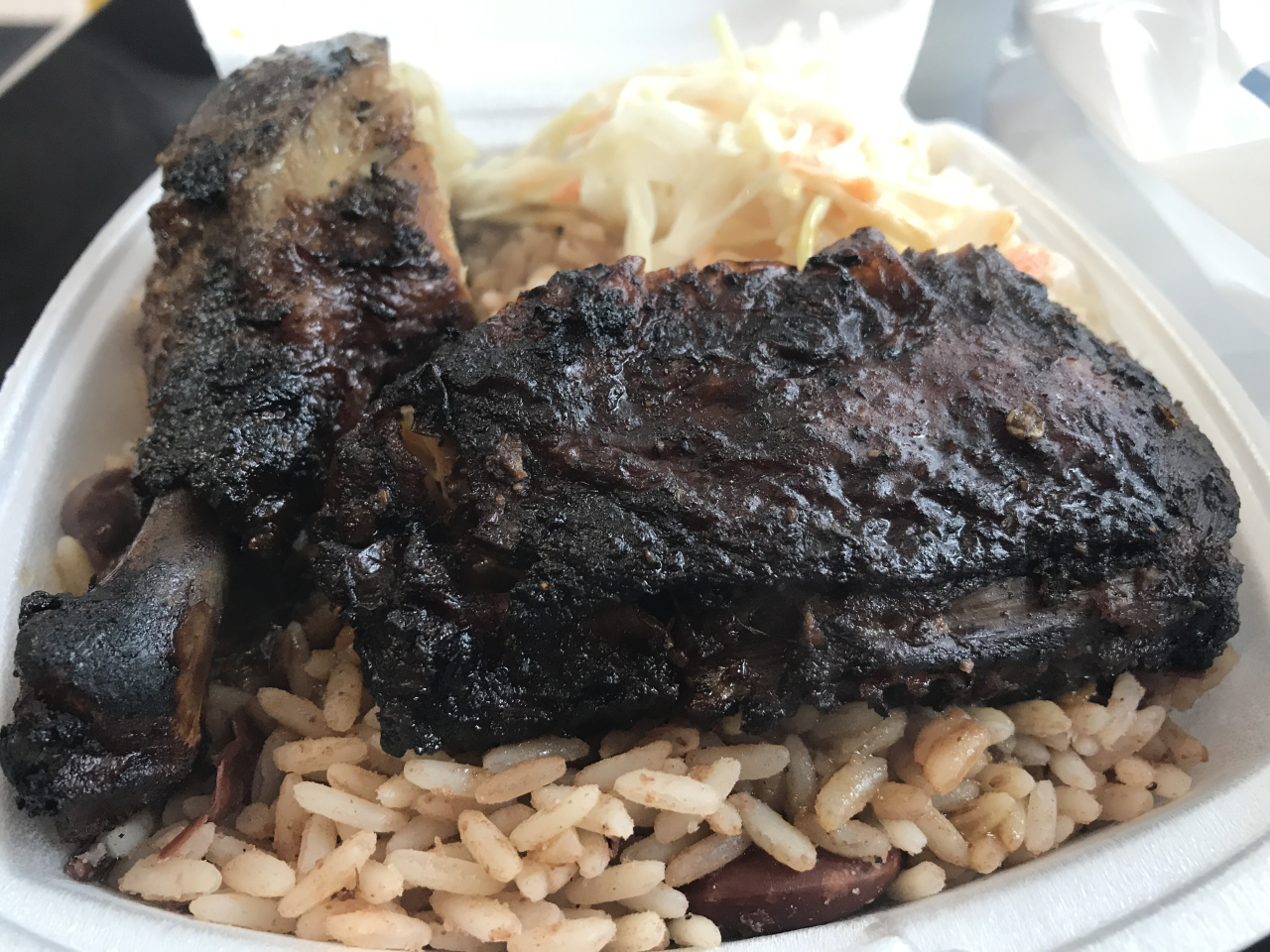 I took her suggestion and got the seven dollar lunch special, which was a small styrofoam container filled with three pieces of jerk chicken, rice with peas, coleslaw and a bottle of water. I also opted for a beef patty for comparison sake.
As I sat down in the now empty restaurant, I didn't hesitate to take my first bite of rice. It was a very satisfying first bite as I got a spoonful of everything all at once. It was bursting with spice but not spicy. The rice was soft but not mushy.
I went for the chicken next. I was anticipating it to burn my mouth, but the spice was very mild. I can understand why she suggested this particular dish to a first-timer. The chicken was charred nicely, and the meat was fairly juicy—it was dark meat if I remember correctly.
I took a bite of the coleslaw to cut down some of the fat and grease in the meal. It makes sense why coleslaw is an important addition as it really cleanses the palette.
I really enjoyed the jerk spice used in this chicken, it was a flavour I was not accustomed to and I liked that. After scarfing down the entire container of food and finishing off the fairly standard beef patty I was all recharged for my next class.
Usually fast food makes me immediately tired, but I felt oddly energized after this meal.
Atmosphere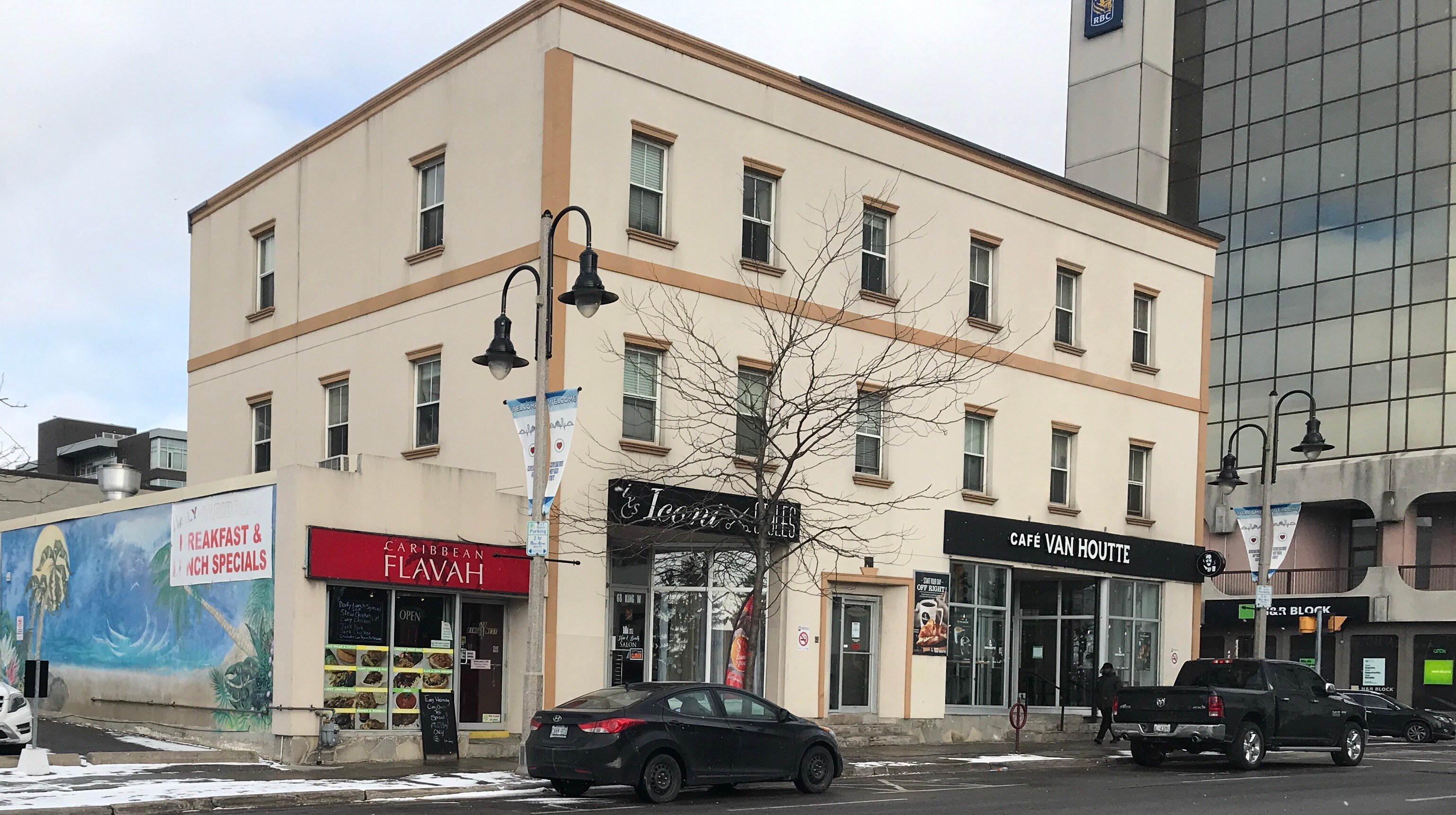 The place is fairly small. It is mostly a storefront with maybe ten seats for dine-in. If you get lucky enough like I did, you can snatch a seat, otherwise you might have to take your food to go.
It was a pretty peaceful meal to say the least. Not too much noise, light music playing from the back of the kitchen and the smells of curry wafting in the background. I ate my meal, snapped a few pictures and made my way in about twenty five minutes.
The location is super convenient as it's located within walking distance for downtown students and twenty five minutes via the downtown bus for folks at our north location. In a rush? Just grab and go, they are very quick!
Overall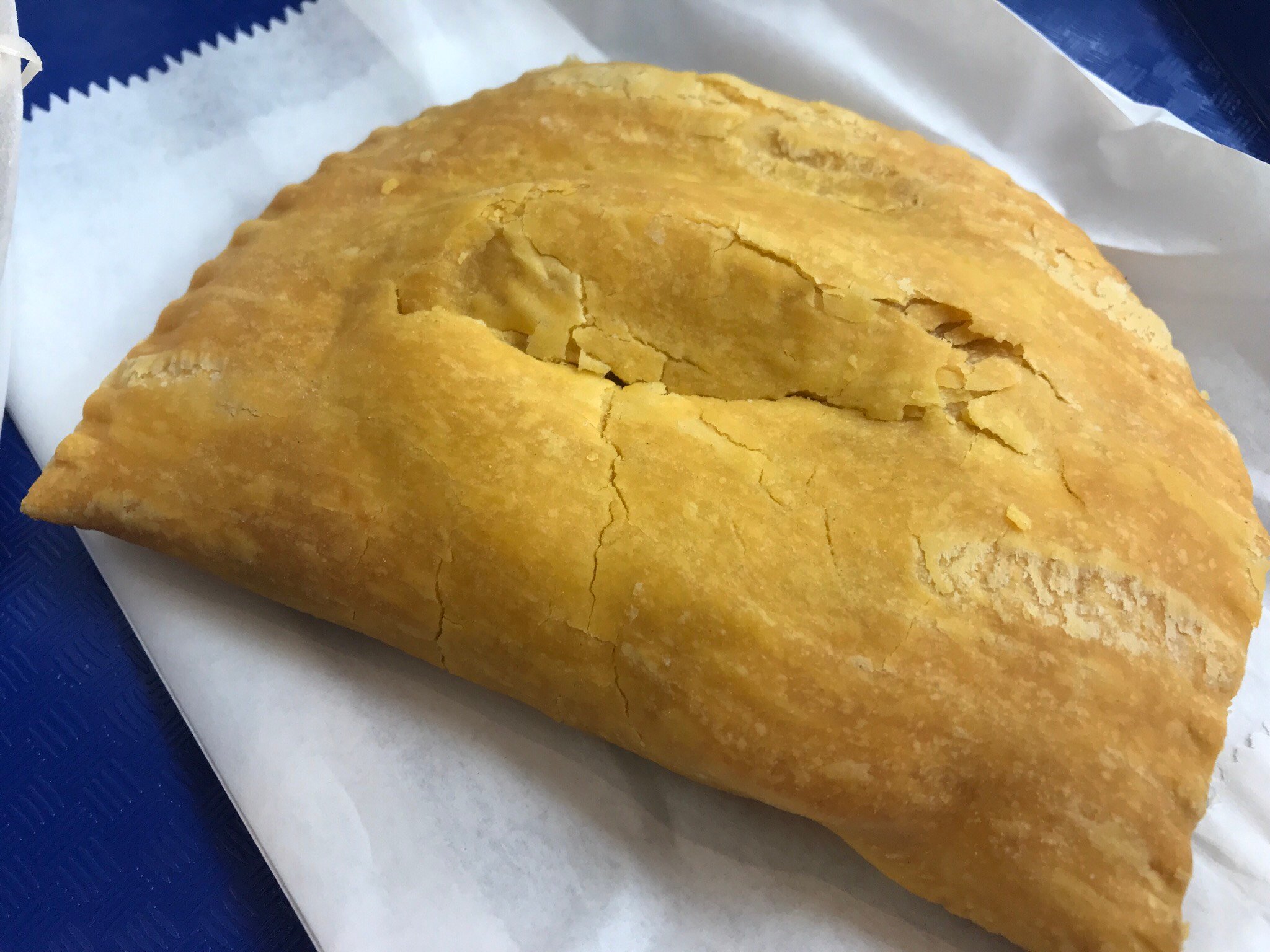 I am a huge fan of the flavour of Jamaican fast food. These newly discovered intense aromatic spices and charred chicken, yet a lighter and softer taste from the rice are a departure from just a beef patty (nothing against the beloved beef patty).
For a seven dollar lunch just minutes away from class, this place is super convenient and provides a quick lunch option if your kicking around the downtown Oshawa area.
For those with a really big appetite, I recommend getting a large size as the lunch special comes with a small. For me, the small size was just enough and left me not entirely full, but satisfied, especially at lunch time.
If you are hesitant to dabble into Jamaican fair, then I can recommend Caribbean Flavah as an easy and non-intimidating entry way into a food culture that holds something special and unique.
If Caribbean Flavah is out of the way, I have been told Patois in Pickering, Flavours in Ajax and any Sunrise location are great places to start!
After visiting Caribbean Flavah, I am determined to try more Jamaican restaurants and veer away from the fast food options and more into authentic offerings. I am intrigued by the idea of Roti and I have been told I must try dumplings, salt fish and plantains.
Which Jamaican Restaurants in the Durham Region are your favourite? Let us know in the comments!
Love reading our food and restaurant reviews and want to stay up-to-date with our latest reviews?