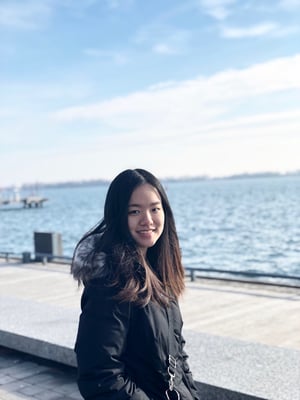 Name: Rilita Theodora
Program of study: Communication and Digital Media Studies
Year of study: Third
Why did you choose your program?
People depend more and more on digital media each day. It's hard for us to go through a day without being connected to social media. What we know is that we enjoy connecting with our loved ones, share our experiences and seeing other content online. However, we never really think about how that habit could affect us.
Digital media is a powerful thing that could control our mind. People are becoming one mind as they follow the influencers in the media. I chose Communication and Digital Media Studies program to learn more in-depth about how the digital media works and how I could use it for a good purpose and not harm anyone. I want to inspire people and create awareness about digital media effects on us.
What do you want to do after you graduate?
After graduating, I want to build my career as a content creator. Writing is the media that I currently love the most. There may be other options that I could use as a content creator in the future, but the most important part for me is to inspire people through the content that I create and share it with other people.
What is your favourite thing about our university?
My favourite thing about our university is the small classes that I'm often enrolled in. Professors are more available to their students and they actually care for them in person, rather than only as someone who has to give them grades.
What is your favourite can't-miss university event?
My favourite university event is the international student orientation program! I got to know many other international students and it helped me build confidence in socializing with people here when I first came to Canada. It also gave me a lot of information about the university so I didn't panic on the first day of school.
What is your favourite past Student Speak blog?
My favourite past Student Speak blog is Top 10 Places to Take Instagram Photos on Campus by Erin Campbell. I love to post my memories on my Instagram account but it gets dull when the school period starts. Erin suggested some places that I have not known before to get interesting photos.
What is your favourite thing to do in the Durham Region?
I came from Jakarta, a metropolitan city and the capital city of Indonesia. When I first came to Oshawa, it was a bit frustrating as it was a silent city, especially at night (I came in August where most students were not in school).
However, it changed when I found the Oshawa Centre. I'm not a shopaholic, nor do I like shopping. I only enjoy looking around the mall. I think Oshawa Centre is a great mall and it is one of my favourite malls here. It gives me a glimpse of energetic city life in a peaceful city.
What is your favourite Durham Region restaurant?
I rarely eat outside but when I do, I will do my best to get the best or more food with less money. My favourite restaurant so far in Durham Region is located in north Oshawa: Tokushima! I LOVE SUSHI and it offers all-you-can-eat sushi. I promise it is better than most sushi restaurants that I have tried even in Toronto.
What would you tell first-year you, in one sentence?
Don't panic, you may not know what you are doing right now, but things will fall into place. Just do your best and let God to the rest!