Taking a deep dive into one of my favourite sweet spots - Crêpe Culture!
Crêpe Culture is located at 35 King St E, right across from Ontario Tech's downtown campus location at Regent Theatre. Perfectly convenient for students looking to relax in between lectures without going too far or spending too much.
The spot first opened in August of 2018 by owners, Zach Lott and Candace Ibbotson.
This quaint little spot is perfect for that first date, catching up over coffee, or just dining alone with your favourite book. The one thing all customers have in common is a sweet tooth which their delightful desserts are sure to satisfy!
The restaurant's menu specializes in a large variety of sweet and savoury gourmet crêpes, most of which are complimented with a scoop or two of some delicious Kawartha Dairy ice cream. There are also several non crêpe-related items for those craving something else, ranging from specialty coffees to smoothie bowls.
Upon my first visit, I of course had to try something from the crêpe section of the menu; the Cruella De Ville. Sporting the same black and white aesthetic as the fictional character herself, the Cruella De Ville crêpe comes filled with Hershey's cookies and cream, cream cheese and Oreo icing, topped with Hershey's chocolate drizzle and whipped cream, and served with a side of vanilla ice cream and Oreo cookies.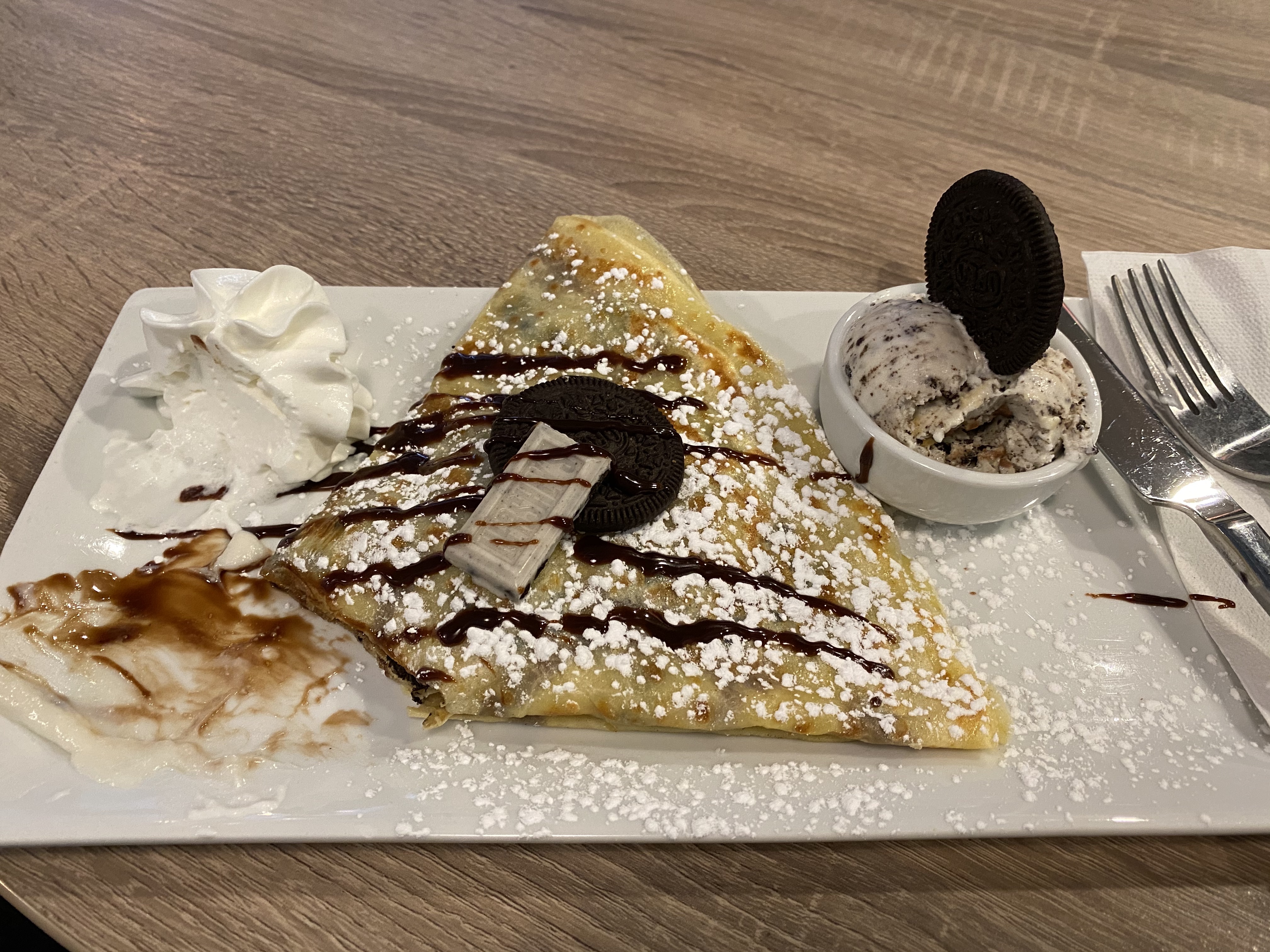 This breakfast dessert tasted just as incredible as it sounds! Most definitely a culinary experience I'll never forget. And the best part? The whole experience cost me $8! Truly a student's budget friendly dream come true for any occasion.
Unfortunately I wasn't able to try everything on the menu (yet!), but I strongly encourage my readers to try it out for yourselves and leave us a comment below telling us what you think!
Looking for more information? Visit their Facebook page and you can also check out this article where they sat down with the owners, Zach Lott and Candace Ibbotson to ask them some questions about their business.