One of the questions we get from a lot of prospective students is about our gym facilities, the Campus Recreation and Wellness Centre (CRWC).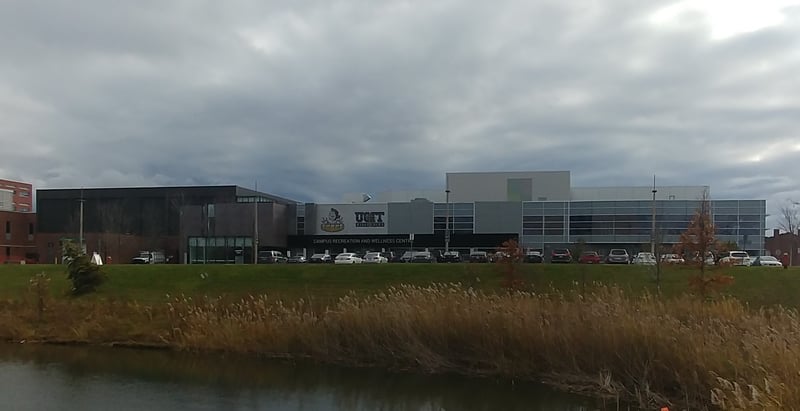 If you plan on hitting the gym before or after you hit the books, here's a rundown of what you can expect:
Features
If you're looking to complete some personal workout goals, you can hit the Flex. This is the area of the CRWC that includes items like:
free weights
indoor elevated track
row machine
stationary bikes
treadmills
Sounds great, right? Why don't you check it out for yourself! View our virtual tour of the Flex:
Group fitness
If you're not into working out by yourself, you'll have the option of taking part in a group fitness class. These will be led by instructors who will walk you through the class.
Classes will range from targeting specific body parts (abs, arms, glutes, etc.), to dance, spin, yoga and more.
Personal training
If you're looking for help or motivation when it comes to exercising, consider the option of personal training.
It will cost you a little extra but could be the motivation you need to help you get on the right track in terms of your fitness goals.
Intramural and extramural sports
If you're looking to join a team to help you get in your exercise, then joining an intramural or extramural team could be an option for you.
With intramural sports, you are competing against students from our university. They are recreational and just for fun.
Extramural sports are of a bit more competitive nature, but not considered varsity sports. You'll need to try out for the teams and you'll compete against students from other universities.
Teams will range from hockey and flag football to badminton or basketball.
There will be an additional cost but is well worth the fun you'll have and the possibility of making and having new friends and experiences.
---
As you won't be studying 24/7 while attending university, you'll need to fill your downtime with other activities. Exploring the CRWC and the flex is a great (and active) way to fill your time.
Want to see the CRWC right now? Search for it in our virtual tour to see it for yourself!