If you live, work or go to school in Durham Region, you're in the middle of witnessing a massive socio-economic change.
Some of you may have noticed major construction and re-construction sites in some of Oshawa's busiest spots. This is because the city is on the radar of eager investors and developers.
The Toronto Star acknowledged its growth a couple years ago calling Oshawa the 'GTA's final frontier for development'. Since then, we have seen new bustling businesses appear like Smoke's Poutinerie, Core21 and the Spark Centre.
Not to forget the growth of existing businesses like the General Motors Centre, the Ontario Court of Justice, Lakeridge Health and Ontario Power Generation.
Not to pump Oshawa's tires (no General Motors pun intended), here are some exciting projects already on their way to the Region:
Oshawa Centre Makeover
Our favourite neighbourhood mall, the Oshawa Centre, is getting a $230-million dollar makeover. This isn't just great news for shoppers, but also for job seekers. Their plans include nearly doubling the square-footage, adding underground parking and approximately 60 new stores.
New Luxury Apartment Building and Retail
Things are looking good for the house hunters of Oshawa. New apartment buildings are popping up everywhere. One to note is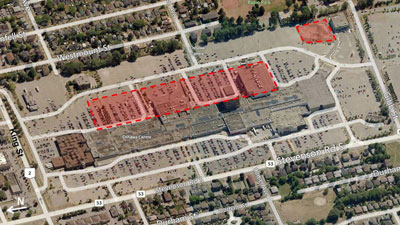 in the city's soon-to-be luxury apartment building and commercial space beneath it.
Atria development has taken on the project and will present 12 new stores to the city by next fall.
Genosha Redevelopment
The run-down Genosha Hotel has been embraced by Bowood Properties. A total gutting from the inside out is in its midst in downtown Oshawa, causing a slight re-route for pedestrians. There is no question this project will contribute to downtown's vitality.
Ajax Downs Expansion
Think Ajax Downs Casino is big enough? Well not according to the owners. This month, they will be proposing a 280,000 square-foot expansion, including the addition of multi-level parking lot, thousands of new machines and the introduction of a couple hundred gaming tables. If approved, construction could start in the next couple years.
New Durham Regional Forensic Centre
An exciting project is underway, especially for all of our Criminology and Justice, Forensic Psychology and Forensic Science majors. Durham Regional Police has officially opened a new police station and forensic centre.
Their vision doesn't end there, in the next decade they also hope to add a regional support centre and an investigative excellence centre.
Campus Master Plan
Since its opening day, Ontario Tech hasn't stopped growing, and we don't plan to anytime soon. Campuses will continue to spread through the Durham Region, especially surrounding the North Oshawa campus location. And as the university grows, the Campus Master Plan will accommodate twice as many students and add necessary facilities.
With these new businesses in mind, the extension of the 407 and the increase in population, the Durham Region is undeniably blooming socially and economically. I don't know about you, but I'm thrilled to be a part of this exciting transition and looking forward to all that the Durham Region has to offer in future years.