Are you graduating from high school and thinking about applying to university in the fall of 2019? Then this is a message for you.
Ontario has 21 amazing universities all across the province giving students the ability to study in some of the most historic and beautiful cities, all the way into the most northern parts of the province with some of the most incredible wildlife and provincial parks.
Why you should investigate

So why does this matter? The options for your post-secondary education in Ontario are vast and deciding which university will offer everything you're looking for can be intimidating and daunting.
The good news? There are plenty of opportunities to chat with university representatives from all 21 institutions.
Even better news? They have all the information you need to help you make your decision.
Most recruiters can speak from experience and offer a level of personal knowledge when discussing the institution they represent which can help paint a picture of what your undergraduate career can look like.
When you should investigate
So when can you talk to these wonderful representatives? The largest Canadian university fair takes place every September in downtown Toronto and features all 21 universities.
If you missed the annual Ontario Universities' Fair (OUF) but want to learn more about Ontario's amazing universities, then keep reading to learn about the University Information Program.
After OUF, each university sends one representative from all 21 institutions on a bus to do a UIP from the week after OUF up until the first week of November.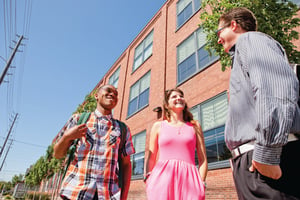 The UIP is multiple fair-style events that take place in most of Ontario's regions. These fairs give you a chance to have more personalized conversations with recruiters and discuss topics like admissions, residence, scholarships, tuition or whatever else you want to learn about.
I enjoyed being out on my UIP because I was able to engage in longer conversations and have more personalized discussions tailored to your needs, provide more in-depth answers and speak from my experiences.
I think the UIP is worthwhile for any and every Ontario student to attend, even if you have attended OUF, because it's a great way to learn more and become exposed to more information about universities you're interested in.
The best part about the UIP that isn't published on the OUF website is the experience from the recruiter's perspective.
The recruiters from all 21 universities are spending the entire week together on a bus, sometimes for multiple hours at a time, eating all meals together and getting to know each other really well.
This is beneficial because when you attend the UIP as a prospective student, not only do you enter a room filled with professional representatives, you're also entering a room full of friends that will work together to help you find your path.
The culture of a UIP is welcoming and informative and it truly showcases how lucky Ontario is to feature 21 amazing universities.
Want to see our university from the comfort of your home? Check out our virtual campus tour!