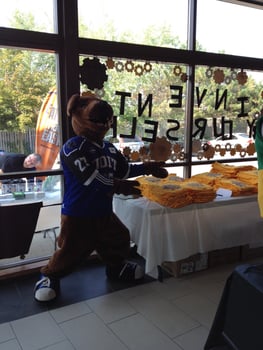 Moving to residence can be scary and anxiety-inducing. You have to deal with the stress of packing, figuring out what to bring and what to leave behind, and not knowing what to expect when you're dropped off at the front doors of your res building. But moving can be fun too! To reduce some of your stress, I've put together a short list of experiences to expect on that first day of move-in, so that you're relaxed and better prepared to have a good time.
1. You will be greeted with move-in essentials when you arrive
On move-in day you will pass through a series of stations where you will receive your move-in packages, get your room number and have a chance to ask any questions you may have. Before heading to your new room, grab a snow cone or some cotton candy and then start unloading your car!
2. Your residence will be decorated with a theme
Your first experience in residence will be exactly what it looks like walking down the halls of Monster's University; everything looks like an over-decorated birthday party, from painted windows and balloon arches, to streamers and music blaring. This is to get you excited for the year ahead and help break the ice with new students. In our residences, we have themes. Every year our summer staff work hard to pick a theme, decorate for the year and prepare themed events to keep you busy. Make sure you check your emails to know what this years' theme will be.
3. You will be given tons of free swag
Be prepared because free stuff is everywhere! There will be lots of prizes to be won, free t-shirts to be had, and of course free treats!
4. You will have a chance to unpack and say your goodbyes to family and friends
After the chaos and excitement of getting your room key, finding your room, meeting your roommate, and unpacking, you will have plenty of time to get settled in. Make sure you get any last minute things you may need from Walmart and ask your parents for one last trip to the grocery store. Enjoy that time with your parents, even though you may not feel it now, you will miss them…. Lots! When you're ready, say your goodbyes and get yourself all settled in to your new room.
5. Get familiar with campus, make some friends, and pick up your essentials
Be sure to introduce yourself to your neighbours and floormates. Find your Resident Advisor (RA) and say hello. Take a stroll around campus, making yourself familiar with all of the buildings and find the best study spots. Pick up your student card and lap top. Activate your meal plan and find your favourite food spot on campus. The café by the library is one of my favourites! Test out the bus routes (you can pick up a schedule and map by the Security Desk), and if you are a downtown student, take a trial run of the Simcoe bus.
6. You will have the chance to take part in orientation activities
The first week after moving in is jam-packed full of orientation activities in the evenings to keep you going after a long day. My personal favourite was capture the flag, a giant game between residence buildings that usually takes place on Labour Day. Keep an eye on your email for your orientation calendar in mid-August so you know exactly when and where each activity will be held. Your school orientation will begin Tuesday, lasting two days. Orientation is a great way to make new friends, even if you are very shy.
Thinking of applying to our university? Check out our virtual tour to learn more about our campus!