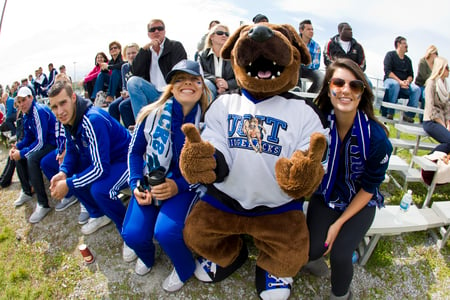 Choosing a university is a big deal. You do your research, apply and pick your favourite school. As summer winds down and September looms closer, so does the start of classes … at a brand new school with a bunch of people you don't know.
The thought of making new friends in a sea of strangers can be intimidating to even the most confident person. But fear not! The post-secondary world has thought this through and doesn't want to just nudge you off a cliff into new classes and people.
Before the official start of class, many universities offer an Orientation – a couple of days filled with action-packed activities and ice breakers for new students to get to know their peers.
Our university is no different and kicks off the start of your post-secondary career with a bang. Whether you've already chosen us as your top post-secondary pick or you need more convincing of why we should be your home for the next couple of years, here's what you can expect at our Orientation.
Activities and traditions
Get your rest because you'll be taking part in two days filled with activities. From competitions to traditions (ever heard of the Wild Goose Chase?) there is something for everyone.
Since you're starting at a new school with new people, don't be afraid to be yourself. Put yourself out there and try something new – you're bound to make friends in the process!
Advice
Orientation is led by your upper-level peers. These students are there to show you the ropes but also to provide you helpful advice about what you can expect in your academics. Don't be afraid to ask questions – they will be more than happy to point you in the right direction.
Lasting friendships
Some of your first friends you make at university will be at Orientation. Remember that everybody is just as nervous as you are. Start by having fun and next thing you know you'll be surrounded by new friends – many of the same friends you'll be celebrating your graduation with in the years to come.
Campus and culture
With two locations (north and downtown), you'll need to get to know our campus. Take this chance to explore all of our buildings and see what we have to offer you.
Events
Each year the Student Union also hosts exciting events for students during Orientation. This year, students can join the Student Union celebrating Uchella '18 with events featuring a carnival, midnight skate, Loud Luxury concert featuring ANDERS and more!
As you ponder where you see yourself in your post-secondary career, consider Orientation as well. Your academics are a top priority, but the school community you're joining is important too.
Looking to find out more about our programs and faculties? Download our viewbook to learn more!