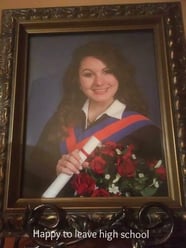 The four years spent at this university have been nothing short of a rewarding learning experience. Now, at the beginning of 2017 I am faced with the melancholy realization that I am in the last three full months of my university career, which I did not expect to feel so strongly about.
I went into university a naïve student who saw homework and readings as more of a chore than the pool of knowledge it really is, and man was I afraid to jump into it head first. Looking back on the four years I am extremely lucky to have been given the opportunity to go to University, gain the knowledge and enlightenment provided to me through the forty different courses taken over years, and even being able to seize the opportunity to travel over our February reading week to different parts of Canada and the United States.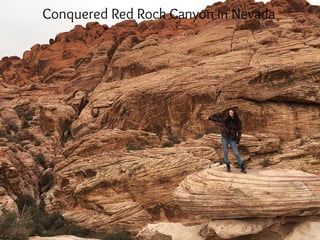 If funds and workload allow, traveling for the week is doable in university, whether it be to another part of Canada or across the pond to Europe. I would highly recommend using the week in February to go off and experience something new to reward yourself with relaxation and a trip you'll never forget!

I have had three opportunities over the four reading weeks to travel. First was a family cruise to the Caribbean for my 21st birthday, then traveling to western Canada to British Columbia and Vancouver to visit friends, and more recently to Las Vegas with a friend of mine on a once in a lifetime opportunity she offered me to see the Grand Canyon, Red Rock Canyon and the renowned Vegas strip.
While I got extremely lucky with my opportunity to fly across Canada and America, even taking advantage of day trips within Ontario is a fantastic way to keep the cost and time spent traveling down, while still doing something inspiring you've always wanted to do within your own province.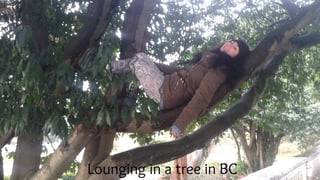 Only now in my final semester of my final year I am not only appreciative of the benefits I have seen with opportunities to make friends and travel with them, but I am indebted to the classes, the professors, and the content that they so passionately lectured to us each week because they showcased to myself and all of my peers the sheer privilege and gift that university really is.

I have come to a precipice where I am nearly finished and feel I can pass on these words of encouragement to future students like yourself who may be in the exact same mindset I was in my first year.
While maybe I'm not the most qualified to be giving advice, I hope these tidbits may be able to change your perspective nonetheless.
---
Do not take your opportunity for granted
I cannot stress this enough since the first few years of my Ontario Tech career were spent loathing school as if it was something I was not going to be interested in and chugged my way through without really sinking my teeth into the information in front of me. Everything you are currently learning will be applicable to your current self as well as your future career and will set you up to better understand the world surrounding your options for success.

Within the faculty of Social Science and Humanities, I learned a lot about myself, what I'm passionate about and how to translate that into a career in the right field for me. It's important to know that whether it be marketing, advertising, public relations, research or developing plans to aid or better the community around you, your courses will be tailored to your program of interest and once taken seriously, will have an immense impact on your outlook towards your future career.

Be open and do not be afraid of change
Most students enter this facility of knowledge with a specific plan for the end of the four or so years, and others, like myself, use our time here as an opportunity to learn about other options surrounding the program. While it's always beneficial to have a plan, sometimes there are other veins of knowledge you never considered within your courses that you may find to be better tailored to your future career than you would have imagined before.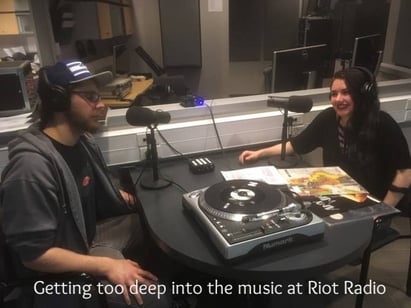 For that reason, I would highly suggest you constantly keep yourself open to new opportunities. Don't be afraid of change whatsoever, because whether you believe it or not, you and your interests are likely to be shaped and changed by your program to the point where it may completely change your interests, passions or path in life.
I entered university with the hopes of using my strengths from highschool English, storytelling and the enthralling hobby of music to guide a path for me. Soon I found out about the radio show opportunity our school has with Riot Radio at the the north Oshawa location. While I was intrigued by the idea, I was too afraid to be an on air host for my own show and instead began helping with the tech side of things behind the scenes with the audio and video components for other radio shows. I met a lot of great friends through this and got to immerse myself in a community of individuals who have been through broadcasting at Durham College. Through a few years of teching I finally convinced my best friend to create a show and be a host with me, where we ended up creating one of the only vinyl shows Riot Radio has to offer. I would have never expected myself to take on such an intimidating opportunity and I am so glad that we did. We currently air Tuesday nights at 9 p.m., spinning all our own vinyl!
Even through being given the opportunity for this blogging position (which I was originally intimidated by), I have felt myself grow and have learned my voice and its ability to change even one person who reads my blogs. However, if I told first-year Natasha that she would be a radio show host and a blogger with a voice for the university, or if I told her that she would have a professor personally ask her be their research assistant, she would have never believed that it would be true.
Long story short, always keep your mind open to the opportunities in front of you and don't be intimidated by the changes that lay ahead because embraces challenges may shape you into an overall more confident and well-rounded student.
Don't be afraid of going back post-graduation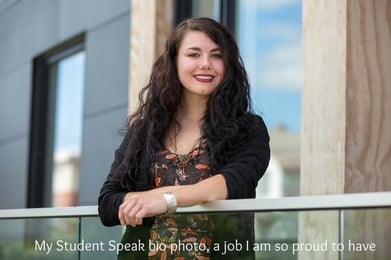 As I mentioned before I was not the most enthusiastic student beginning my degree, as I was still a teenager and found myself more enthralled in the social aspect than anything else. Skipping ahead four years and now in my twenties, I've come to realize the true enjoyment that comes out of learning and succeeding in such a prestigious environment as our University.
This long overdue appreciation has brought me to the point in life where I am looking forward to more post-secondary opportunities for specialization and future studies on subjects that are even more relevant to my interests. Including those involved with radio broadcasting because of my involvement through taking a chance with the Riot Radio. It is because of this realization that I would highly suggest to not be weary of gaining further education post-graduation. It may take a year or two into your program to realize its significance, but gaining specialized education in a field, like another class or two at university, a masters degree or a hands-on comprehensive college program, can be nothing but beneficial to you.

Do not worry about age or putting pressure on yourself to have a career by a certain point in life because those goals will only cause you further anxiety. Work at your own pace, even if that means going back for more after the first four years, the ability to jump into new programs will make yourself proud and will more than likely garner you a lasting and fulfilling career out there in the real world.
---
I've grown to levels I didn't believe possible because I embraced the university experience for what it is. Seizing the gift that is education, taking and embracing changes and looking forward to future education are my main three tips for any student in the early stages of their university career, or even those who are just about to complete it all. It's never too late to change yourself for the better - so, why not start today?