What would you tell your first-year self? That's the question we asked to Ridgebacks hockey team left wing player and Communications and Digital Media Studies student, James Woodcroft.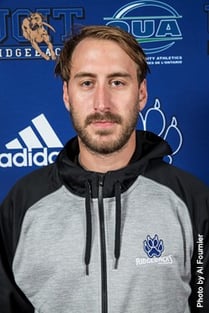 "Take a stab at anything," Woodcroft says, "Because nothing is too far away, as long as you dedicate yourself to accomplishing your goals."

Woodcroft originally found the idea of being a student-athlete daunting. While playing in the OHL with the Windsor Spitfires, he was approached to be recruited for the Ridgebacks."I knew that being on a sports team, it would be challenging to get my work done," explains Woodcroft. "But, the team guides you even if you aren't the most gifted student. Being on the hockey team meant that they helped guide me through any obstacles, and I'm sailing to graduation this summer thanks to the team."

Along with help with his studies, being a part of the men's hockey team also gave Woodcroft the chance to set the foundation for lifelong friendships with his teammates.

"I wouldn't have been able to capture the same type of relationships that I have with my teammates," he says, "Guys that will, hopefully, be lifelong friends. Being on the sports team gave me a different view on these guys, who are now my friends because I basically spent every day with them for a whole year."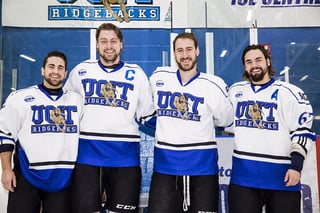 Woodcroft celebrated his final season as a Ridgeback with a celebration of his career at the men's hockey team's final home game of regular season. To add to the celebration, the team advanced to the second round of OUA playoffs for the first time in the program's history.

What is some advice you wish you could have given to your first-year self? Let us know in the comments, and join us in congratulating all of the Ridgeback seniors graduating this year!