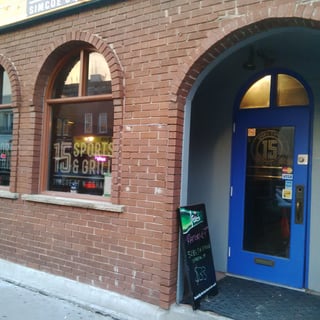 Hello Ontario Tech students, we meet again! If you didn't get the opportunity to read my last piece on the top four burritos near Ontario Tech, you should give it a read. I assure you that it's full of guacamole goodness! This month I'm doing things differently with a restaurant spotlight on a fairly new restaurant in downtown Oshawa: 15 Sports & Grill, located at 15 Simcoe Street North. They recently opened this past August, replacing The Hub, and for my Ontario Tech students it's right beside the Education Building (11 Simcoe St. N), so it's easily accessible!
They have their logo frosted along the windows so you can't miss it – and when you walk in you know you've entered a sports bar as they have some Jays memorabilia right near the door. They can seat about 85 people at capacity and have a multitude of booths available. Each booth is close to at least one of their multiple TVs, and sports-themed decor lines the wall.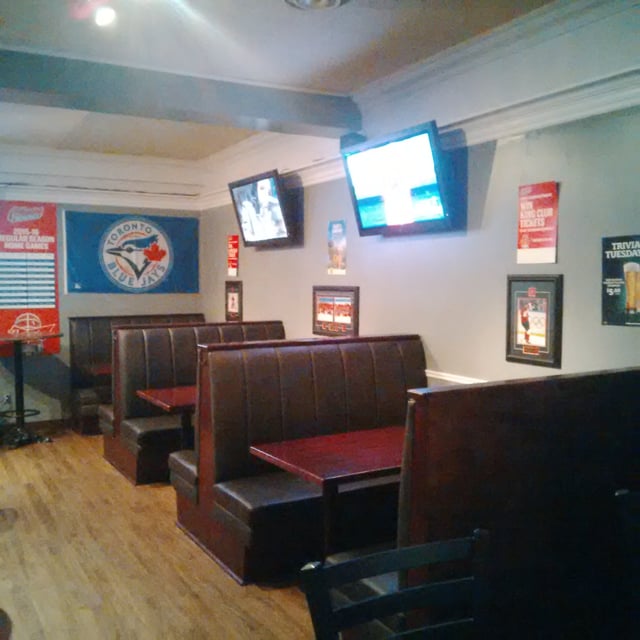 I chose to sit right at the bar since they have two giant 60-inch TVs installed side by side behind the bar, playing whatever sport you might desire. There's more than enough room to be seated comfortably there with food. And while I was there during the day so there were no active sports on, I can only imagine the atmosphere when a big game is on!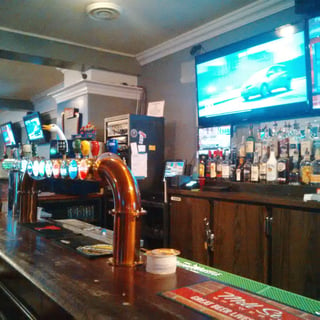 But, you all came here to hear about the food, and 15 Sports excels in that regard. I tried their Legendary Sweet N Spicy Burger (and that "legendary" is very fitting) which consisted of Canadian beef, lettuce, tomato, hot banana and jalapeño peppers, sautéed onions, jalapeño havarti and sweet chili siracha mayo. The sweet and spicy works together wonderfully, although I would advise that if you cannot handle spice, that it may be a bit much for you. But if you do enjoy spice, and want to try that spice mixed with sweet, they will prepare it for you and add a dash of legendary to boot! If you look at the cheese, you can see the little jalapeño pieces that hit your tongue with that wonderful kick. Their fries are no weakling either, as they are well seasoned and crispy, and fries are a very important side to a burger, so you have to ensure that they are great too.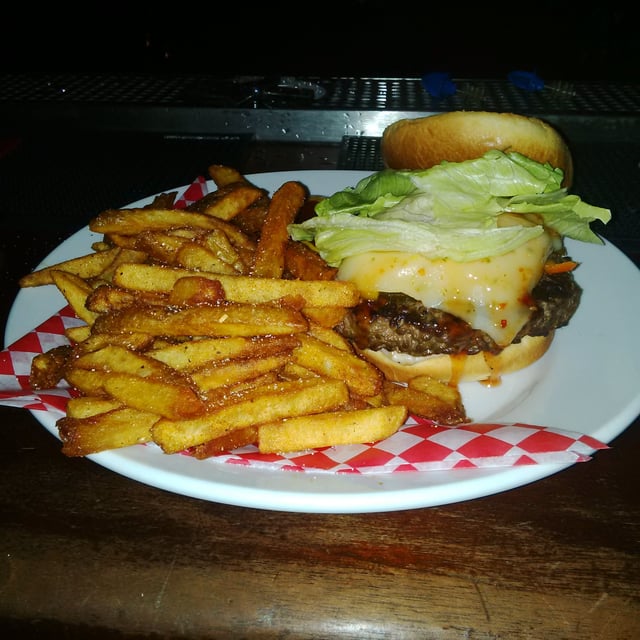 While the burger and fries were most definitely enough food for me, a friend came with me to the review and she ordered garlic bread with cheese and bacon. For their garlic bread, 15 Sports uses ciabatta bread, which in my opinion is a gigantic plus. I only tried a small piece, but it was great! Garlic bread is one of those foods that are always delicious regardless of circumstance, and here at 15 Sports it was no different. I also added a picture of the garlic bread, so you can see the wonderful bacon crumble for yourself.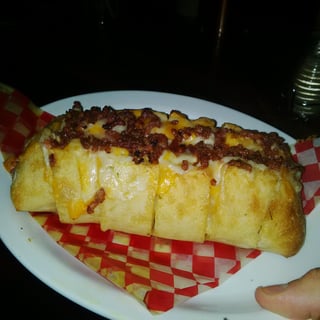 Overall, I think it's a fine establishment. You can find them on Facebook where their entire menu is available to view. They also have a large variety from your standard bar fare such as wings and nachos, to some unique items like the Legendary burger and a veggie and goat cheese wrap that comes filled with almonds and a balsamic berry dressing. If you find yourself downtown looking for good food in a sports bar atmosphere, you know where to look!

Until next time readers, let me know where I should go next in the comments below! December will likely be a restaurant spotlight as well, so if you have a favourite place that deserves recognition, now is your time to shine :D