How are people's lives different than those of previous generations because of the gadgets we have at our fingertips today? Some differences are clearly seen already, where for example many people cannot go a day without checking their phone and computer for messages. As the future likely holds further advances in these sorts of technologies, it is important for people like those at the Decimal Lab to understand the effects these gadgets can have on people.
Dr. Isabel Pedersen (pictured below) led the tour of the Decimal Lab, located in the 55 Bond Street building in downtown Oshawa, in Room 102B. Dr. Pedersen is the Canadian Research Chair in Digital Life, Media and Culture, as well as the director of the Decimal Lab and an associate professor in Ontario Tech University's Faculty of Social Science and Humanities.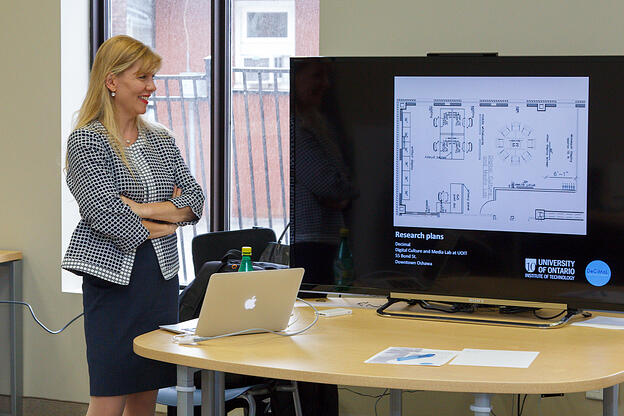 The Decimal Lab is actually fairly new. As mentioned before, Dr. Pedersen was given a Tier 2 Canada Research Chair (CRC) in Digital Life, Media, and Culture and she is also now funded by the government's Canadian Foundation for Innovation (CFI). Designs for the lab commenced two years ago, and it was officially opened for study just one year ago. Now, do not think that the lab is just desks and computers to research on; there is a fun and interactive side as well! There is a lot of innovative technology to work with. Below is one of the lab's Oculus Virtual Reality Headsets, which is typically used by gamers but is also useful in this lab for studying how headsets might impact culture and peoples' homes of the future.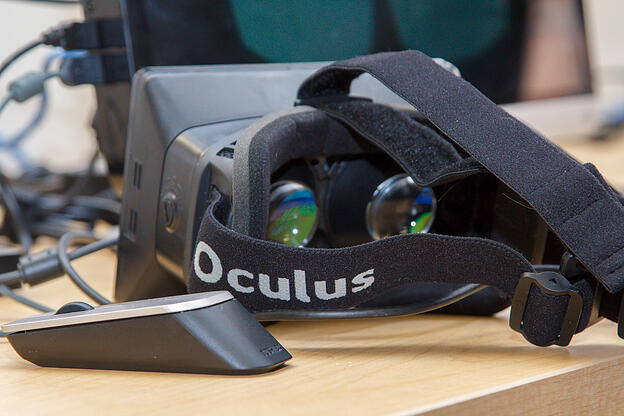 The purpose of the lab is to research digital life -- how we adapt and evolve, while being immersed in these digital surroundings in modern day life and in the future. Many of us use gadgets such as computers and smartphones every day, so how is the average person dealing with this new digital life? This does not stop at just computers and phones -- the lab extensively studies other forms of technology such as wearable media, including mind-controlled devices!
The lab specializes in understanding the impact of new wearable media on individuals and cultures. They believe that many times, digital media are invented and adopted before they have tested the impact they will have on populations (their art, culture, and social practices). Emergent technology (technology that is not already embraced) is a main point of interest here.
Below, for example, is one of the lab's NeuroSky Mindwave Mobile devices being used with a Ontario Tech University laptop. It is worn just like a headset, and measures the brainwave signals of the user. With this device, users have to think in a certain way to activate a command in the interactive software on the computer. How may this change computing altogether, and what other uses could this lead to in the future? Will we use human thought as an input for all of our devices eventually?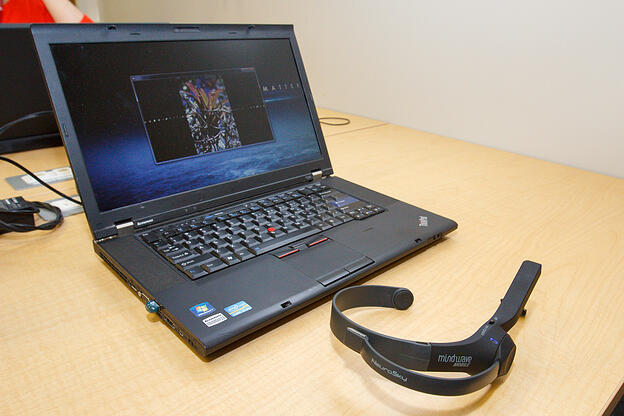 There are many display cases in the room, as well as a showcase stage where the researchers can test and show off the current projects they are working on. The area is very welcoming; it is roomy, bright, and open with large sections of glass on one side of the room for students to look into from the study lounge. It is like an art gallery!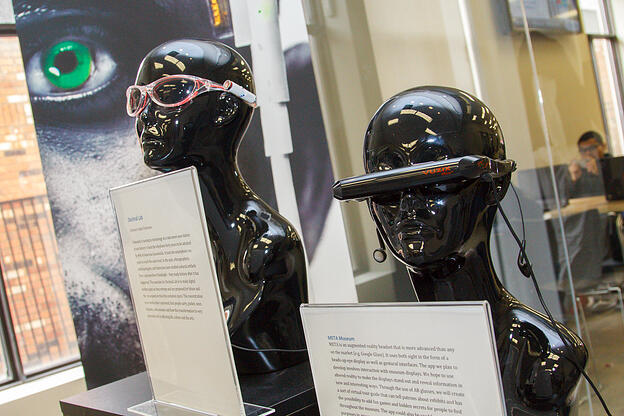 The lab is not only about studying what others have already made. A very neat program that they are currently working with and building on is the iShy (which Decimal Lab research assistant Nathan Gale developed). It is an app used on a smartphone, which transmits information over the phone's Wi-Fi signal to a panel of LEDs that can display messages. You can whisper or casually talk to the phone, which types out the words you say, or you can even draw a message that the phone sends to the LED panel. A possible real-life usage for this is in biking. A cycler would have one of these flexible LED panels on their back (over top or under a layer of clothing), and they can make it display arrows when they are turning, make it light up at night, or make it say any message they wish to put on it.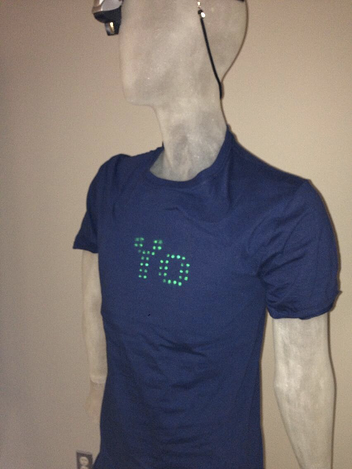 Robert Tu developed the MeU platform and the LED pad which the iShy app works off of. There is a ton of potential for applying this to wearable technologies and other domains. Check out Robert's site, where you can see what the MeU is all about, and read a couple of articles about the MeU at Ontario Tech University.
Recently, Maclean's Magazine came by in October and were given a tour of the lab. It is nice to hear that the lab and its research are getting more publicity. Dr. Pedersen has been involved in several discussions involving the technology researched in the lab. Below, she delivers a keynote speech at the 2014 International Wearable Technology Conference in Munich, Germany.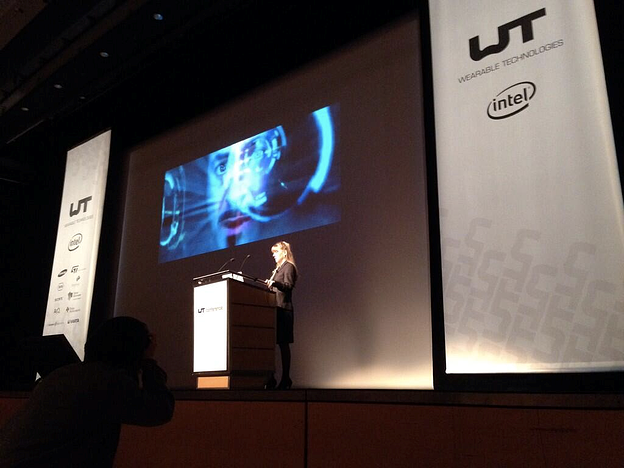 Dr. Pedersen was also featured in a TVO documentary called "Life After Digital". In the film, she shared some of her findings and theories on how technology is changing the way we interact. The next day, she discussed the documentary on an episode of The Agenda with Steve Paikin.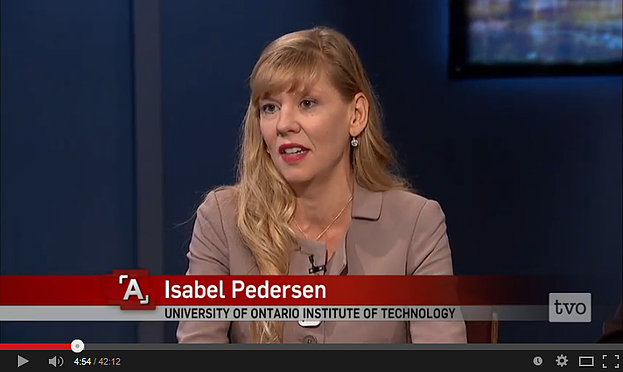 Seeing that technology is becoming more integrated into our lives is a bit concerning, and I agree that the possible negative effects should not go unchallenged. Questions such as, "Are we heading towards a future where we will be giving children mind-controlled devices to use as educational tools?" should not be ignored!
You can "Like" the Decimal Lab on Facebook, follow them on Twitter, and follow them on Tumblr.

Photo credits: Thank you to the Decimal Lab for the photos used in this blog.