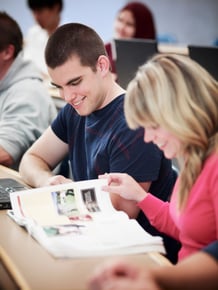 The Student Accessibility Services program at Ontario Tech University facilitates services available for students with disabilities to ensure that they have an equal opportunity at academic success as their peers. This program operates strictly under the Ontario Human Rights Code and supports students, providing appropriate academic accommodations to ensure the proper support is provided.
There are different ways in which students can utilize the Student Accessibility Centre, some of these features are accommodations, assistive technology and alternative format texts and course material. SAS also provides additional links for students to access resources they may need about time management, coping with exam anxieties, stress, learning strategies and multiple choice exam tips.
One of the services offered is the online note-taking, this provides students who may be unable to take their own notes to access class information and peer-written notes. This service can be extremely beneficial to many students struggling with a disability, and the importance of note-takers is imperative to so many student's success.
This program offers up the opportunity for students who complete the training to obtain a letter of recognition and the program listed on their involvement record, which is a university issued document that references the volunteering and involvement students complete on campus.
Want to become a note-taker? Complete the training module on the SAS website.