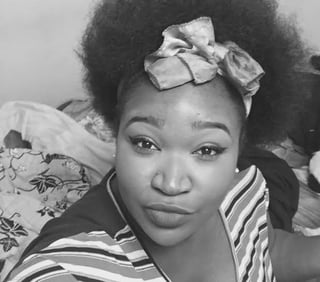 Rubby Nwaluka is a fourth-year student in the Faculty of Social Science and Humanities (FSSH). Like most students, Rubby works part-time while going to school. What's so unique about her job, however, is that it's right here on campus through the University Works program.
"As a University Works student with Student Accessibility Services (SAS), I am assigned projects that cater to my area of interest. This gives me the opportunity to build and improve on various skills that I need for a future career path in my field.
I have had the opportunity to develop resources and workshops on various citation styles such as APA, MLA, McGill and IEEE, and I can work one-on-one with students and help them to learn each part step-by-step and provide simplified resources which they can refer to after the sessions.
In my job, I also conducted surveys to gather data on things students want to know about various services provided by Ontario Tech University. The information we gathered was used to develop resource packages for new students with valuable information about Ontario Tech University. The goal of this project is to help students connect with everything necessary to enjoy their Ontario Tech University experience.
The current project I'm working on is the Ableism Campaign. At SAS we are trying to create awareness about ableism on campus, and to get people talking about it and debunking myths and erasing stigma and negative stereotypes surrounding disabilities.
For those who don't know what ableism is, it's the discrimination or prejudice against people who have disabilities. Ableism can take the form of ideas and assumptions, stereotypes, attitudes and practices, physical barriers in the environment or larger scale oppression.
The campaign is starting on March 1 and our social media campaign will use the hashtag #NowIKnow to bring awareness to ableist language, practices and barriers. This will run through our Twitter account and Facebook page. Ontario Tech University campus partners will work with us to get this trending on social media.
Simultaneously, there will be a poster campaign on campus detailing what ableism is, what it means to individuals with disabilities and how we can fight these stereotypes on campus. On March 8 (Downtown Oshawa location) and March 10 (north Oshawa location), we will have a booth that will include a Jeopardy-style game and prizes… and of course, free popcorn!
We will have a photo booth set up to encourage students to get the hashtag #NowIKnow trending. We're hoping that students and staff around campus begin to talk about ableism because change cannot occur until we acknowledge its existence and educate ourselves.
I believe that becoming aware of your able privilege should not be viewed as a burden or source of guilt but rather, an opportunity to learn and be responsible so that we can work towards a more just and inclusive campus. Disability is not inability!"