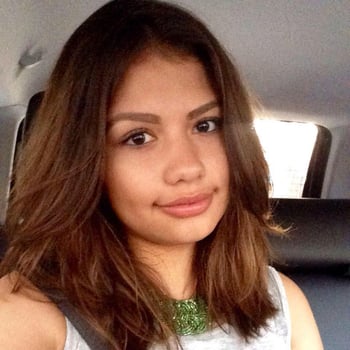 As a future university student, you will be one of thousands of high school students to finalize your applications to post-secondary institutions and choose where the next chapter of your life will begin.
So what makes Ontario Tech University such an appealing and exceptional institution? Here's what Monica Aspra, a first-year Medical Laboratory Science student in the Faculty of Health Sciences, has to say:
"First year has been everything I expected. Ontario Tech University was really good at making me feel welcome and safe especially since I no longer live at home.
I chose Ontario Tech University because of the close-knit community and the opportunities that this program offered. I found this university really unique because of the positive energy around campus. You see a bit of everything, from people cramming for a midterm to just hanging out and being themselves. I've definitely loved meeting new people who share similar experiences to me or even those who have different ones. It's refreshing to be somewhere every day that has something new prepared for you.
As an undergrad, the experiences so far have taught me that you choose everything. If you choose to work hard and if you choose to go to class, everything falls into place. Just having a sense of understanding that you are in charge of what happens next has been a great lesson.
And it's definitely great having professors who are enthusiastic to teach. It's nice knowing that someone cares to feed your brain just as much as you do. One unique thing about my program is that there are only forty people in my year. I enjoy that it's small because I actually get to know my classmates!
One day I hope to have a career that allows me to help others. I want to make sure that the people around me live a happy life and I know that my post-secondary education here at Ontario Tech University can provide me with the tools to do so. In ten years I hope to be a practicing doctor in a third world country or opening a research clinic.
The best part of my education here at Ontario Tech University so far has been knowing that what I'm learning at this moment will be helpful in the future not only for myself but for others, too. It's extremely rewarding."

Photo Credit: Monica Aspra