Most Ontario Tech University programs have an internship, placement or practicum option for students to receive real-life, experiential learning experiences.
In the Faculty of Social Science and Humanities (FSSH), students are able to apply for the practicum program at the end of their third year of study to potentially join the practicum class in their fourth year.
Practicum allows FSSH students the opportunity to work with a non-profit, community-based organization for one semester. This gives students hands-on experience, as well as something they can put on their resume before they complete their degree and venture out into the workforce.
I spoke to a Khalidah Abubaker, a fourth-year Communications and Digital Media Studies student, about her experience with the practicum program, and how she feels it will help her in her future career.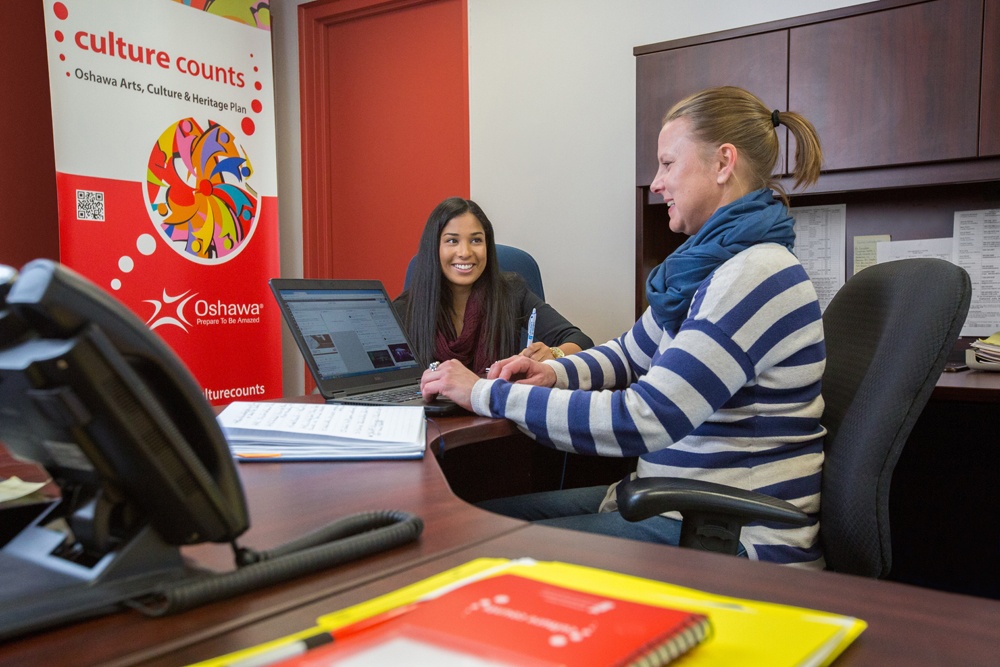 Q: Where did you do your placement and what was the process you went through to get it?
A: I did my placement at City of Oshawa - Culture Counts Initiative at the Arts Resource Centre.

Q: What did you have to do to get into the practicum program and then how did you apply for that job?
A: I emailed the practicum office at the end of last year that I was interested in the practicum course and scheduled an information session. After that, I completed the practicum application booklet, which included a survey of what ideal job I wanted, my resume, cover letter and personal statement. Once they processed that, I was offered an interview with the practicum coordinators. The interview was mostly for them to get a feel of where the best fit for me would be. After that, Dan Walters (the practicum coordinator) informed me I had an interview with the Culture Counts manager. After that, I was offered the placement opportunity.

Q: How was the interview process with the practicum office?
A: It was very insightful. They went through my resume and cover letter and gave me tips to make it better. They complimented me on some areas and told me other areas I should improve on when in an interview. At one point they told me they were proud of my accomplishments of owning a graphic design business at such a young age and my work experience. It really gave me the confidence to go to my practicum interview at the City of Oshawa.

Q: How many hours a week did you work at the City of Oshawa and what would a typical day be like for you there?
A: I worked eight hours a week. A typical day for me would be creating tweets and posts for Facebook, as well as images to go along with them. The manager would look over the posts and make revisions then send it back to me to change. Then I would research different projects that Culture Counts were focused on starting. For example, creating a culture hub and culture award in Oshawa. I would also do research on other communities and compare them to Oshawa.



Q: There is also an in-class portion of practicum. What was that like?
A: In class we learned about real-life scenarios in and out of the workforce, from how to better prepare ourselves after we leave university to how to conduct ourselves in a professional manner. We also learned just how important making connections and networking will be for our future.

Q: How did you feel about the practicum coordinators?
A: I'm not going to lie, Dan Walters was really inspiring. He was an amazing public speaker, was funny but straight to the point on how to do well in the course. He also gave tips from life experience and solid facts about what's out there. He cared about the students but really made sure to not be too easy on students so they could learn from the experience.

Q: What was your favourite part of your practicum placement and how do you think it helped you towards getting experience for your career?
A: My favourite part was helping with cultural events (setting up and attending), and I got to see so many different talents and art from Oshawa residents. It was cool to experience something different. Practicum has helped me focus on my career and work on my skills in online communications for events. It also gave me experience at a regional municipality level. I am hoping to find a job in social media coordination once I finish this year and it was the perfect opportunity to do just that.

Q: What advice would you give someone looking to do a practicum?
A: Organization is key. Making sure all reports and journals are completed on time is very important, and you should take a lot of initiative in getting things done both at your placement and in class. Take the time to contact your agreed practicum before running to the professors for questions, it will show them that you are willing to work hard to get the most out of this experience.