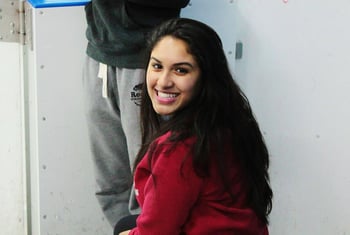 Camille Pinto is in her second year of Nursing at Ontario Tech University.
"I chose this program because my mom always used to tell me that I was really good at taking care of people, and I love helping people."
The passion and drive were there from the beginning for Camille to enrol in a nursing program, but choosing Ontario Tech University was easy. One of Camille's favourite aspects of Ontario Tech University is the smaller community.
"I love the atmosphere – since it's a smaller school, everyone is super friendly! Smaller class sizes are great too because you can get to know everyone so much better! I also love my professors – they have so many great stories from when they were nurses, and it's so interesting to learn from their stories".
Not only does Ontario Tech University offer a smaller atmosphere for learning, it is also enriched with technology.
"I love the technology we have in the nursing labs – we have 'patients' that we can actually do assessments on, since they have 'heartbeats' and so many various ailments."
Nursing is not easy, it's a tough program and a demanding career, but it is more than rewarding. One of Camille's favourite parts of her program is placement.
"Going to the hospital and getting actual patients is a great learning experience. I learn so much in placement and I get to have the best experiences there. It really prepares you for when you graduate and working in a hospital."
It's not always an easy transition between high school and university, but Camille has some great advice: "Breathe! It's so much to take in at once, and it was a huge transition, but everyone around you is going through the same thing!"