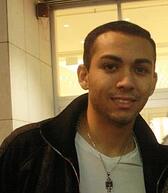 In this entry, we'd like to introduce you to Christian Julal. Christian graduated from Ontario Tech University with a Bachelor of Arts (Honours) degree in Communication in 2012. He also holds a Bachelor of Education degree from the University of Toronto. Our thanks to Ontario Tech University Alumni for sharing Christian's story!
"Believe in yourself and never be complacent. If there's something you want, go after it." Taking this advice from his professors to heart, Christian is already an editor, author, educator, communicator and dancer.
After graduating with a Bachelor of Arts (Honours) in Communication from Ontario Tech in 2012, Christian enrolled at the University of Toronto. He recently graduated with a Bachelor of Education and completed an internship at Father Leo J. Austin Catholic School where he taught drama and realized that he can make a difference in the lives of his students.
Ontario Tech made a big difference in Christian's life. As an undergraduate he discovered his passion for teaching as well as writing. For a class with Dr. Tess Pierce, he wrote a paper that so impressed her that she helped him get it published. Christian presented this paper – "Metaphors of Seduction: A Metaphorical Analysis of Neil Strauss' Book, The Game" – at the 2012 Conference of the National Popular Culture and American Culture Association in Boston.
Following graduation, Christian acquired more editing and writing experience with the online magazine Urban Times, a social publishing platform for reading, sharing and writing world-changing ideas and stories. "It's my dream to one day write a novel that people talk about," he says. That day may be soon – his first novel, Places Up Here, for young adults, is currently being published.
Dance is another creative endeavour for Christian. During his time at Ontario Tech he was a member of the dance crew Geekfreaks, which received multiple awards from Ontario Universities Competition for Hip-Hop (OUCH) and MuchMusic. Christian also performed for So You Think You Can Dance Canada.
As he looks ahead, Christian ponders more lessons he learned along the way. "Although you may have heard time and time again that if you fail, you should get back up again – it couldn't be more true. Also, live life with empathy; not only will you be more creative and innovative but overall, you'll be a better person."