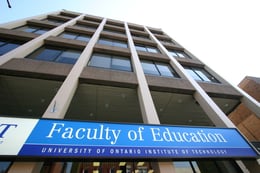 Concurrent, consecutive, connected… what does it all mean? Students who are looking to further their education and become teachers often hear about the many different options, and while you may understand them, how do you choose what is best for you?
At Ontario Tech University, there are a few different options but they each lead to entry into the sixteen-month fast-track Bachelor of Education program.
Here's the breakdown of the three program options and what type of student they're best for.
---
Concurrent
What is it?
Designed for students who want to complete both their first undergraduate degree and 16-month Bachelor of Education program.
When applying for the four-year undergraduate program of your choosing through the Ontario Universities' Application Centre (OUAC), you will select the Concurrent Education option if you wish to be considered for this program.
Why is this option for you?
Throughout your four years of undergraduate study, you are welcome to attend sample lectures within the Faculty of Education and meet with faculty members, current teachers and teacher candidates.
This will give you a leg up when you go into the Consecutive Education program after completing your undergraduate degree, as it provides students with mentorship and learning.
These opportunities are the perfect way to explore if a career in education is right for you. If you decide not to pursue the Bachelor of Education, you'll simply drop out of the Concurrent option—no time lost! You will still complete your undergraduate degree in the same time frame.
If you meet the GPA requirement upon completion of your four-year undergraduate degree, you will be automatically entered into the Consecutive Education program.
Connected
What is it?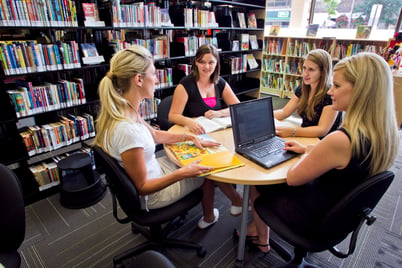 Similar to Concurrent Education, our Connected program allows current Ontario Tech undergraduate students to gain advanced acceptance to the Bachelor of Education program.
How it differs is that instead of applying when going into your first year, you will apply at the completion of your second year of undergraduate study.
You must meet the GPA and subject specialization requirements to proceed to the Bachelor of Education program after completing your undergraduate degree.
Why is this option for you?
Maybe you aren't sure if teaching is what you want to do, but want the option to decide in a year or two and still get the chance to experience the benefits of samples lectures, classroom observations and faculty mentorship. Or, perhaps you never gave teaching a thought until midway through your degree and want to see if it might be for you.
This is a good option for current students who are starting to make plans for the future, or incoming students who want to give themselves time to make up their minds.
Consecutive
What is it?
The Consecutive Education program is for students who have completed an undergraduate degree either at our university or another university.
Ontario Tech students who were not in the Concurrent or Connected program are still able to apply to the Consecutive Education program.
At our university, two types of programs are offered within the Consecutive Education program. You will choose between Primary/Junior (P/J), which allows you to teach kindergarten to grade 6, and Intermediate/Senior (I/S), which allows you to teach grades 7 to 12.
Why is this option for you?
This option is great for students who have just completed their degree, or students who may be looking to change careers and already hold an undergraduate degree and appropriate program requirements.
No matter where you hold your degree, our Consecutive Education program will emphasize technology use in the classroom to make your teaching and learning experience more dynamic and effective.
---
Still not sure what you should choose? Contact us through Ask A Question for more guidance!
Interested in knowing more about our education programs? Download our viewbook to get a better idea.