I am sure everyone can imagine how delighted I was when I was asked if I wanted to touch on the importance of recent coverage of the Ontario Tech University Ridgebacks hockey team. Harrison Ruess, reporter with the Sun News Network and Ontario Tech University graduate, recently visited our very own Campus Ice Centre to check out a men's Ridgebacks hockey game against the Nipissing Lakers.
A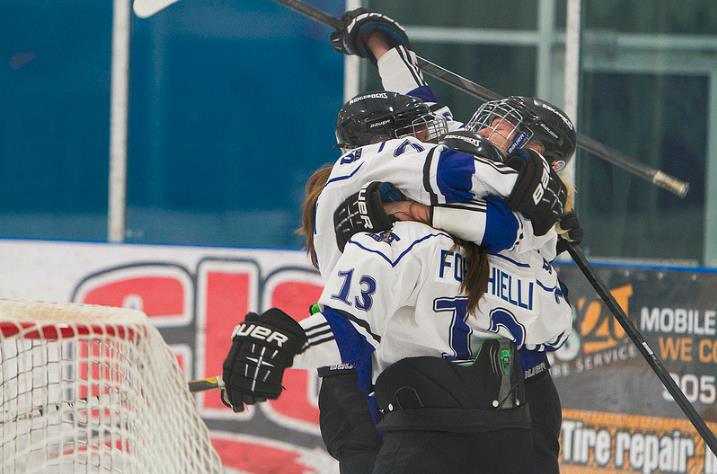 s a former hockey player in the Canadian Interuniversity Sport (CIS), I have to say it feels good to have some light shed on the talent and heart athletes have right here at home. To think of the impact hockey had on my overall educational experience at Ontario Tech, I cannot help but feel anything but blessed. I joined the team in its third official year of CIS play and we grew from a last place team to losing out in double overtime playoffs to the nationally-ranked Laurier Golden Hawks. Needless to say, we were given the facilities and the support to help us grow into a healthy competing team.
Scott Barker is our Manager of Intercollegiate Sports here at Ontario Tech. He says, "We provide a great service for student athletes and students on campus to prove and experience that when someone goes to university, it is something more than academics. It is an opportunity for people to get together in a social environment to enjoy sport." Not only do we have family and students coming out to enjoy games, we have members of the Oshawa community rallying to support our athletes as well. It is rare you will come to a game and not see a generous crowd at the Campus Ice Centre. As a former student athlete, hockey was my outlet every day. It pushed me to be better in the classroom as well as on the ice. If you do not do well in the classroom you do not play, and I knew that I always wanted to play.
Barker also adds that hockey players spend 35 to 40 hours a week committed to the rink. Hockey is a September to March job in the CIS -- that is almost the entire school year so yes, it is a massive commitment. "I love the sport, I love my teammates, I love the game," says Zoe Battie, a member of Ontario Tech's women's hockey team who was recruited to the Ridgebacks from British Columbia's Okanogan Hockey Academy. "It's hard to do the hockey and the schooling, but it's worth it in the end. You get a great education and you get to do what you love." Being involved in varsity sports also teaches you the importance of time management. It helps you develop a strong and committed work ethic early on in pursuing your educational, and eventually, workplace goals. On top of this, you form relationships and comradery with your teammates that will last for the rest of your life.
I am really happy Reuss highlighted the Campus Ice Centre in this piece. After travelling to hundreds of hockey rinks, including those in the CIS, I can confidentially say that our facilities and dressing rooms are second to none; we are very fortunate and a little spoiled (gratefully of course) to say the least. The athletic department and the rink staff here at Ontario Tech are committed to treating CIS athletes like professionals in their sport. We have access to every type of support to make sure we are where we need to be academically, physically and mentally.
Being a student athlete in Canada is a great privilege and experience all rolled into one. Whether it be hockey as touched on in this piece, or any other sport your school offers, I would encourage you to get involved. It is a life-changing, shaping and overall special experience in your short time as a post-secondary student. Enjoy every moment of it and let it push you to be a better student and overall person.