Brunch is a remarkable anomaly — taking classic breakfast staples like eggs, French toast and bacon and offering them alongside classic lunch fares such as club sandwiches, salads and steaks.
Coined by Guy Berigner in an 1895 essay, combining breakfast and lunch became the solution to missing a meal post-wild night. Thanks to Berigner, brunch has become a worldwide phenomenon.
Whether it's an afternoon celebration, a first date or simply the perfect afternoon remedy to a late night, brunch brings people together and does so with the food options that give the best of both worlds.
As a self-proclaimed brunch enthusiast, I became determined to find the best of the best brunch Durham Region has to offer. I wanted to discover community staples; restaurants that pushed the envelope in terms of food, service and atmosphere.
From Pickering to Oshawa and back again, I ate at 12 highly recommended spots by search engines, friends and social media in order to uncover the top five ultimate places to get brunch in the Durham Region.
5. The White Apron – Downtown Oshawa


Ultimate Factors: simple, accessible, affordable
Student-friendly prices and quick service with absolutely delicious staples: to me, that qualifies as pretty ultimate. The White Apron is located 10 Bond St W Downtown Oshawa, no more than a five minute walk from the Regent Theatre.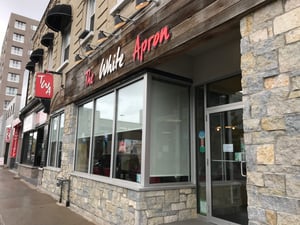 What's awesome is just how simple and affordable the offerings are. Choose from a few eggs with bacon and toast to a single piece of French toast with syrup. If you're feeling a little extra hungry, a stack of pancakes, an omelette or Eggs Benedict are the ways to go. If you are more of a lunch person, the server recommended their pork belly and Caesar Salad or beef dip with fries.
I was debating between an omelette or Greek salad, so it was inevitable that I got both. I have to hand it to their peameal and cheddar omelette. Perfectly fluffy, ooey-gooey cheese and perfectly tender peameal bacon. If there was an omelette hall of fame, this would no doubt be a contender. When it comes to eggs, toast and home fries seem like the favourable choice. I have to hand it to the Greek Salad though in its execution of crisp vegetables, creamy feta and light dressing. It really provided the perfect partner in crime to the mouthwatering omelette.
Next time, I'm going for the UBER Breakfast: two pancakes, peameal, ham, sausage, two eggs, home fries and baked beans. For $14.95, that's a steal!
4. The Blue Rooster – South Ajax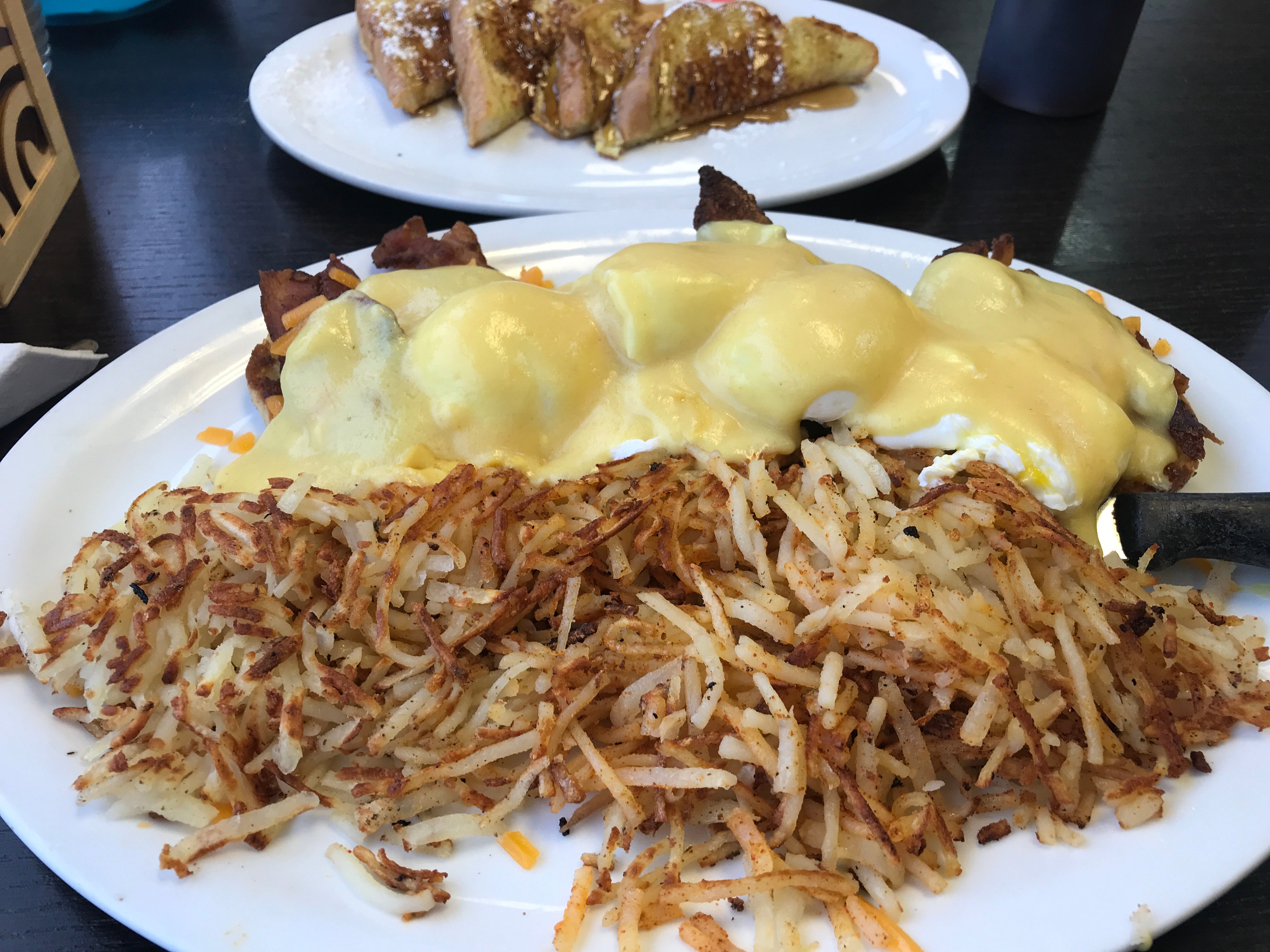 Ultimate Factors: family atmosphere, portions, service
As I sat down, I scoured the length of their menu. A lady next to me turned to me and said, "I've never seen you in here before." I told her it was my first time. "Well it's good see a fresh new face in here, I hope you keep coming back." I could now see why this was highly recommended by a number of friends and family.
The waitress recommended the eggs benedict special. I was in no place to refuse this perfect suggestion. I had yet to try some good eggs benny on my brunch tour. The plate came out to me and my jaw dropped. I am so happy to have found a small little brunch diner close to home.
But this is not just any diner. The minute I stepped into the front door I was welcomed with such warmth and humanity. "Sit where ever you feel comfortable sir, I have a hot coffee on its way to you," the kind waitress said.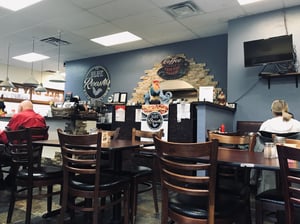 The sheer scale of portion was mind boggling. Four English Muffins, topped with four perfectly supple poached eggs, melted cheddar and smothered in hollandaise sauce. The twist on this version, was crispy bacon and fresh avocado. I was in benny heaven.
A special shout out needs to go their coffee. Usually diner coffee is bitter and burnt, but I'm ready to trade my Timmies for their coffee any day of the week.
Go to South Ajax's The Blue Rooster for the portions and stay for the amazing service and family atmosphere!
3. Symposium Café and Restaurant – North Ajax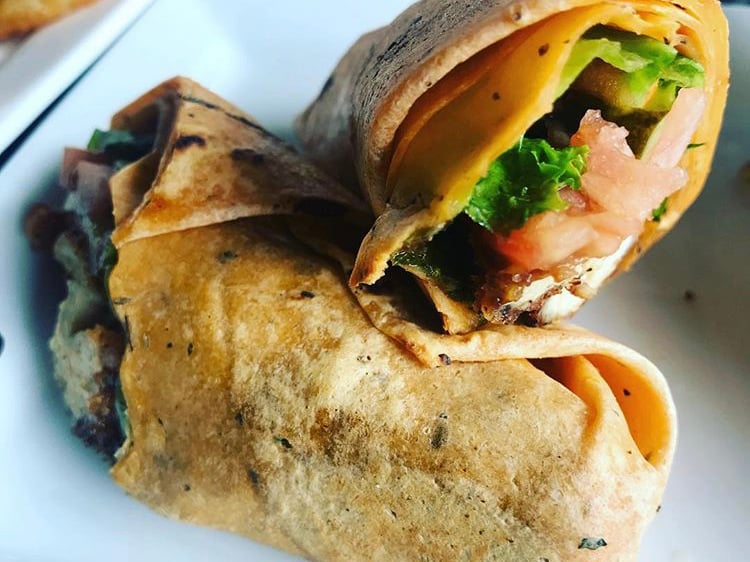 Ultimate Factors: unique offerings, stylish atmosphere, cake
The first thing you get when walking into Symposium located at Rossland and Salem Rd. in Ajax is this rustic renaissance vibe. Stylish, energetic and happening — I was able to experience symposium on two occasions. The first time was at night, as I tried their dinner offerings and a beautifully moist cake.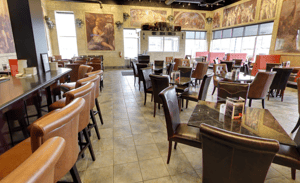 It was when the waitress told me that they also do brunch, that I had to make a second stop. It was my last brunch place on this tour and I was all egged and pancaked out. I was ready to try the '-unch' part of brunch.
It was about 11 a.m. and I opted for one of their signature dishes, the sesame Thai chicken wrap with a side of fresh cut fries. On my first bite, nothing but flavour. Juicy cubed chicken, crunchy greens and a perfectly sweet Thai dressing. The fries only added the hot and crispy balance to the entire dish. "But Andrew, what about their breakfast offerings — that's what we really want to know!"
Lucky for you, I brought a friend who let me have a taste of their peameal, egg and cheese on a kaiser. You can't talk about brunch without talking breakfast sandwiches and Symposium knows how to do breakfast sandwiches. Next time I stop by, I am determined to try their highly regarded eggs benedict and French toast.
See you soon Symposium!
2. Food + Art Café – Downtown Whitby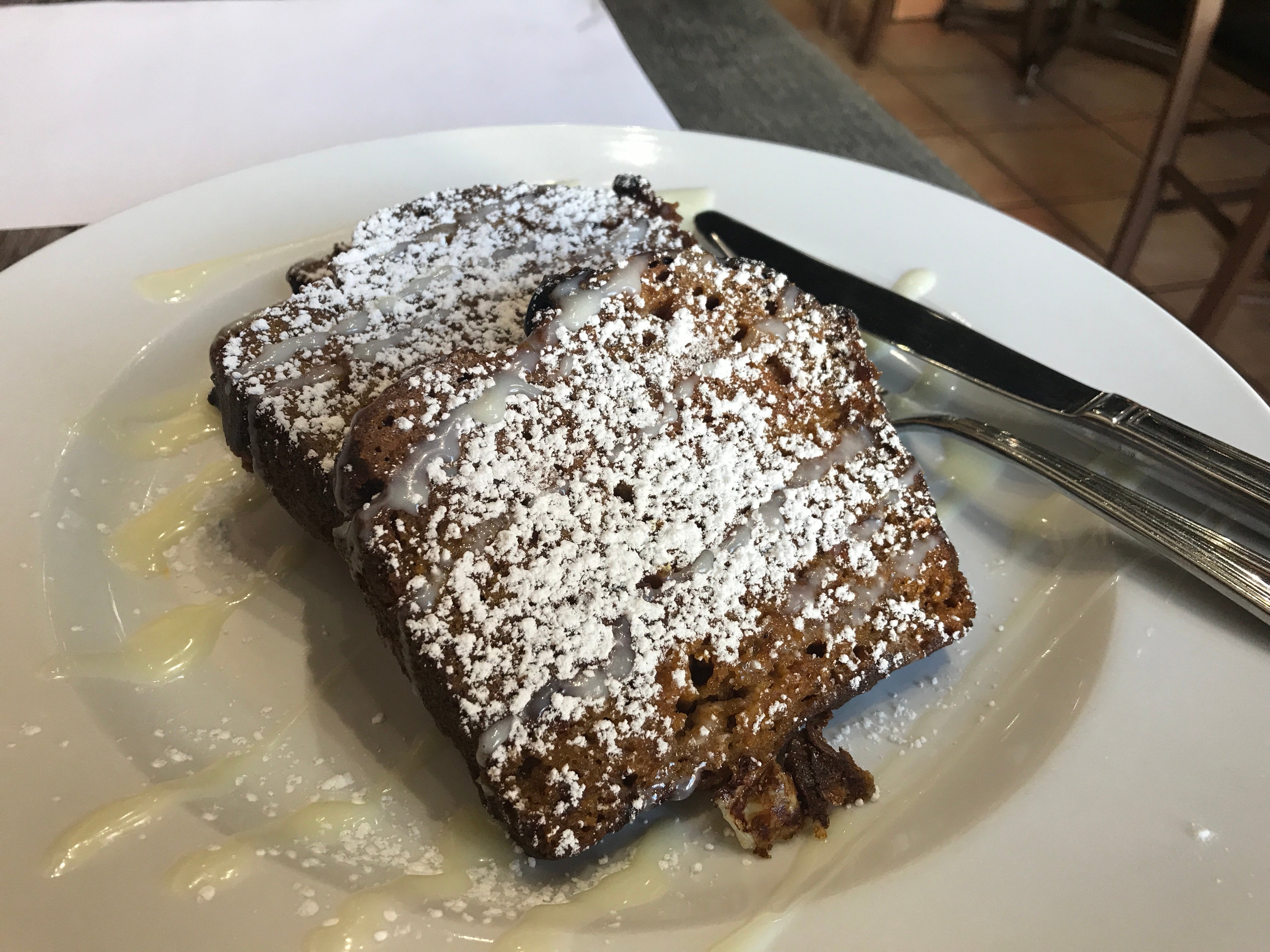 Ultimate Factors: artsy, warm atmosphere, family recipes
This was probably one of my favourite locations on my brunch journey. I actually ended up here by accident. On my way to class, I had to get off the 900 Pulse bus due to mechanical issues. With a few hours to spare before my first class and no replacement bus in sight, I looked upon the Food + Art Café just off Dundas and Brock St. "I could use some brain power before class," I thought to myself. Greeted by the enthusiastic waitress, Sabrina, I was promptly seated and even given a picture of Santa to colour in.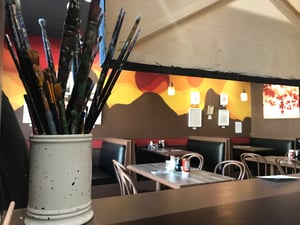 Aside from the colouring perks, I took in the creative ambiance and all of the local art for sale on the wall. Sabrina recommended the pumpkin French toast and I could not say no.
When three stacked pieces of beautifully browned French toast came to the table, salivation was inevitable. She watched my excitement as I took my first bite. Fluffy, but also reasonably dense, bursting with aromatic tones of pumpkin spice and an intoxicating warmth, all while smothered with a decadent white chocolate topping. Never could I think that pumpkin and French toast would make a perfect pairing, but they even give Ross and Rachel a run for their money.
That Pumpkin French Toast has been on my mind since I had it and it is only a matter of time before I go back. I suggest the same for all of you!
1. The Rainbow Family Restaurant – Downtown Oshawa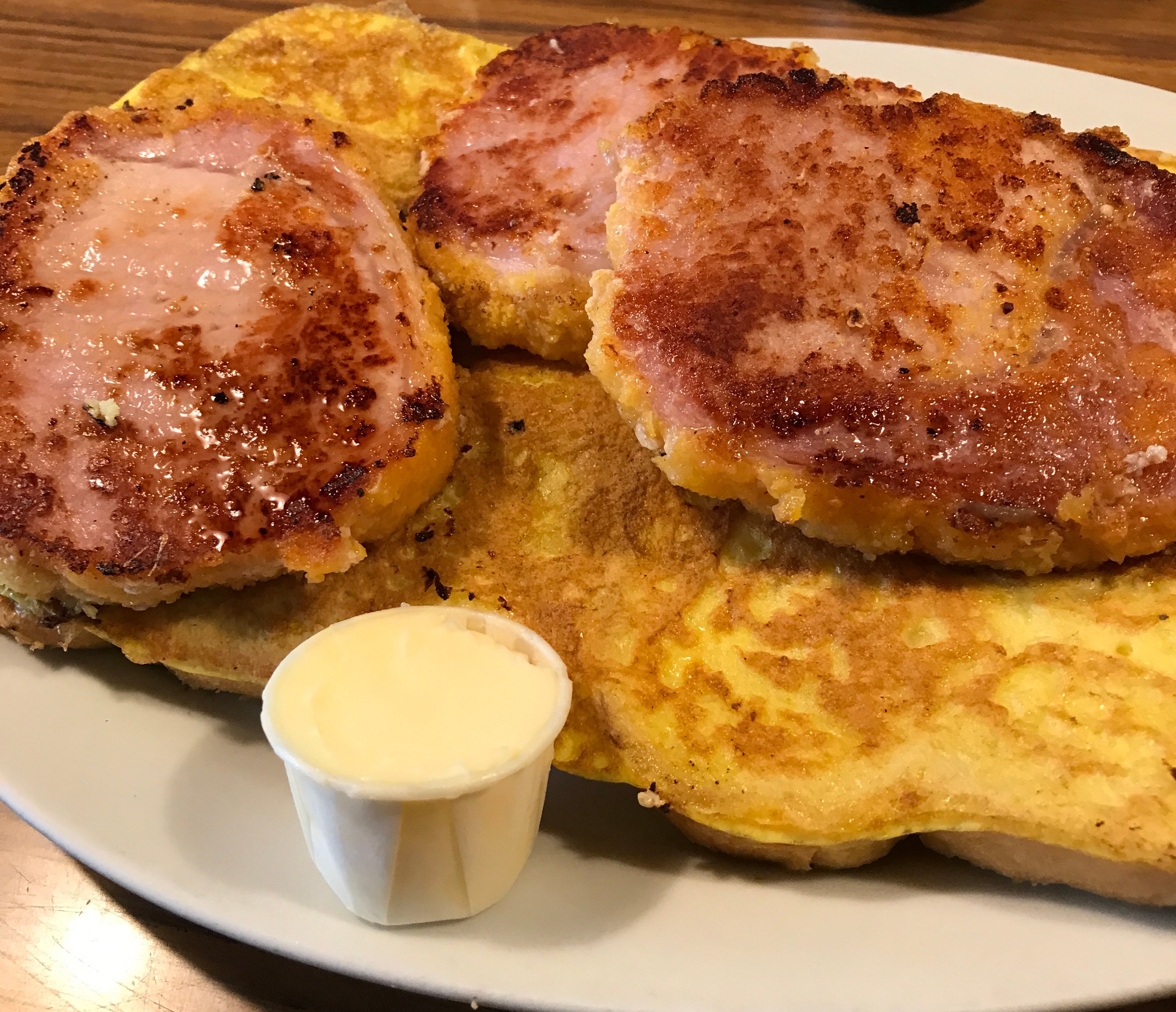 Ultimate Factors: classic atmosphere, portions, an extensive variety
Number one on this list is of course The Rainbow Family Restaurant in the heart of Downtown Oshawa. I have been here countless times and have grown an attachment to the place. Upon entering you are greeted by Louie all the way back in the kitchen. "Come on in, we've got plenty of room," he says cheerfully.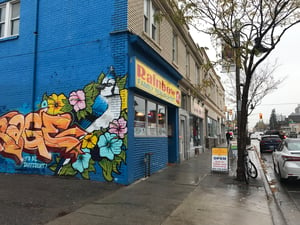 The vibe hits you immediately. Countless generational pictures on the wall, pre-80's decor and a classically styled diner set up. It's like a museum for classic western diners all while offering one of the most extensive menus I have ever seen at an establishment. You can go as easy as eggs, bacon and toast or go gargantuan with the lumber-jack, the barbarian, the mad Louie and the once around the grill omelette. With names like those, you are sure to leave with a full belly and the sudden urge to pass out in a food coma.
I have always been a fan of their bacon so it was only natural I give their palm-sized cuts of perfectly juicy peameal a try. The catch? Topped over three massive, eggy and subtly sweet pieces of french toast. No matter what you order, you are guaranteed a maximum quantity that doesn't compromise quality. If you are in the mood for lunch offerings, flip to the backside of the extensive menu and be faced with even more savoury and sweet options to choose from. From steak sandwiches, salads, fries and grilled cheese, there are so many great fairs to choose from.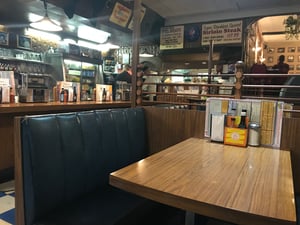 This is why Rainbow gets number one on my list of the most Ultimate Brunch in the Durham Region. They check off all of the important boxes — food, service, portions, quality for quantity and atmosphere. They have something for everyone, they are sure to please any brunch snob and all while bringing people together.
Honourable Mentions: Ajax's Angelique's Family Restaurant does a mean Eggs Benny; Oshawa's Berry Hill Food Company if you are looking to get fancy; and Pickering's Bistro 36 for beautifully stacked egg sandwiches.
Let us know in the comments, what is your favourite brunch spot in the Durham Region?