---
Hello again! Welcome to another of my mouthwatering food review posts. This time I checked out the top burger joints in the Durham Region! I know writing this only made me want to go out and eat more burgers, so I hope it has the same result for you, and that you get the opportunity to check out one of these great burger spots!
Baldwin Street Burger

Baldwin Street Burger is a local burger spot located (much as its name states) at 53 Baldwin Street in Whitby. Baldwin Street is what Brock Street turns into when you go north of Taunton Road (towards Brooklin). It's just north of the Baldwin/Winchester intersection and situated on the right hand side if you are going north. Referred to as Baldwin by regulars, this take-out style restaurant's major selling point is the quality of their meat. The meat is farm fresh and each patty is made in house by hand. They use only naturally raised, local beef with no antibiotics, no growth hormones, ground to specification and delivered fresh from the butcher daily!
I know – after hearing about this mouthwatering temptation you're probably wondering how you can get your hands on one of these delicious burgers – so let's get into the food! Baldwin offers three different patties: beef (6oz), turkey (6oz) and for my vegetarian readers out there – a Portobello mushroom patty! So after choosing your patty – you have a variety of options. The Classic is $9 and comes with your standard toppings (ketchup, mayo, mustard, tomato, pickles, etc.) as well as bacon, cheese, and if you're feeling adventurous, a second six ounce patty. They also have eight signature burgers, all costing $9.50 and ranging from The French Onion – topped with red wine glazed caramelized onions, sautéed field mushrooms, gruyere cheese, and roasted garlic aioli – to The Southern BBQ, a burger topped with double smoked bacon, coleslaw, smoked cheddar, and a bourbon-birch beer BBQ sauce.
I opted for the Nacho Grande, which comes topped with house-made-guacamole, Pico de Gallo, cheddar cheese, sour cream, and lettuce. At first I was a little hesitant because it sounded like toppings more fit for a taco than a burger, but I was pleasantly surprised. At its core, Pico de Gallo is tomatoes, onions, and a little bit of jalapeno pepper, which are all fine toppings on a burger. Guacamole on the other hand is delicious on tacos and with nachos, but you can now add it to the list of toppings that are delicious on burgers. Everything was fresh and high-quality, and it's reflected in the taste. From the bun to the meat to the toppings, everything is fresh. I highly recommend trying the Nacho Grande, and trust me the six ounce is more than enough food!
NOTE: In the photo in the background, you will see my friend Jake's (who joined me on almost all of the burger testing) burger – The Buffalo Wing. It comes topped with double smoked bacon, lettuce, carrot ribbons, blue aioli, and the burger is tossed in buffalo sauce.
Like what you're reading? Get the latest Student Speak updates by following us on Twitter!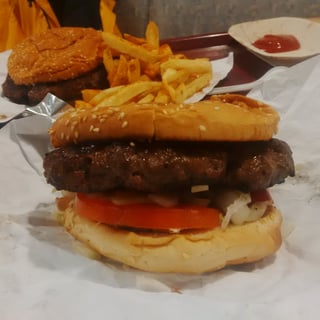 Texas Burger
Texas Burger, as the name states, is home to a Texas sized 10 ounce, supersized burger that crushes appetites like no other! But I am getting ahead of myself – to get to Texas Burger you'll want to head to the heart of Ajax where it's located at 21 Harwood Avenue. This restaurant is easy to get to by transit – if you are taking the 900 Pulse, get off at Kingston/Harwood and go south. It will be on your left hand side, just a short two or three minute walk from the intersection, if that. Prepare yourself, as the food portions here are most definitely sufficient!
Of course, I had to try the 10 ounce burger, and it's worth noting that the patties are homemade in house. Texas Burger is definitely more traditional in the sense that you won't find unusual burger toppings like guacamole here. This leaves you with a gigantic classic burger, and to be honest, loading on the toppings will only make this already huge burger even bigger. I opted for onions, tomato, hot sauce (they do have some EXTREMELY hot sauces), BBQ sauce and banana peppers to top this burger. I passed on the bacon and cheese, but they are both options, and they do offer a veggie burger as a vegetarian option. The burger by itself was just over $10 with tax!
When it comes to eating the Texas Burger, let me tell you that it holds to its namesake when you see it. The burger is massive, and the server told me that sometimes people will order 2 patties (20 oz!!), but I did plan to leave Texas burger using my own two legs as opposed to being taken out on a stretcher. The meat is delicious, and the toppings are all fresh. My method of attack on this monster was that slow and steady will win the race – I was successful. You also have the option of getting a combo or adding fries, but I felt that the burger was more than enough food – and to be honest, I took a nap when I got home.
Note: My friend Jake's Texas burger and fries are pictured in the background – I did try a few fries and they were good! Think you have what it takes to go for 20 ounce burger?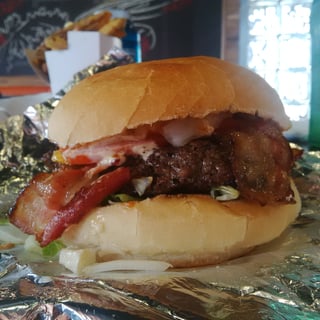 Starr Burger
Starr Burger is located at 900 Brock Street North in Whitby. For those taking transit you can take the Rossland bus to Brock Street, get off and walk south. However, it takes about five minutes of walking before you hit Starr Burger on the right. Another option is to take Taunton to Brock, and then the Brock bus south, as there is a bus stop almost right in front of the restaurant. Starr Burger tries to bring back the old-school vibe of restaurants, and offers a diverse menu of burgers, poutine, souvlaki, milkshakes, and more. Starr Burger has basically become an institution in Whitby, and I remember going here when I was little!
For this visit, I opted for the Starr Burger with bacon, because when a place has a burger named after themselves it's generally going to be good! The Starr Burger is a homemade patty, and you have a variety of options for toppings, from your standard ketchup, mustard, mayo, pickle, tomato and onion to tzatziki and cheese curds! There are also a multitude of sauces you can put on anything you order. I went for mustard, banana peppers, lettuce, onion and chipotle mayo. When this beautiful creation was placed down in front of me I knew at that very moment that today was going to be a great day. And it was – it was delicious! The burger patty itself was juicy, and the bun was like a bakery bun – I cannot stress how awesome it was. The Starr Burger with bacon is $8.50 with tax.
If you're feeling adventurous you could order a double, but I would recommend taking the single, especially if you're going to make it into a combo. I ordered the burger by itself (I'm not a huge fry fan – surprising, I know, given I love poutine) and it was a perfect serving. If delicious was a food group this burger would most definitely fill all daily value requirements. The only thing I might change next time would be to order peameal instead of strip because it's an available option and it did catch my eye. Everything at Starr Burger is made to order, so if something on the menu sounds amazing that you want to add to it you can.

The Works Gourmet Burger Bistro
The Works is located at 1794 Liverpool Road in Pickering. Like Texas Burger, The Works is right on Highway 2 essentially, so for students taking transit you would take the 900 pulse bus to Liverpool, walk south for a little bit and The Works will be in a plaza on your right. The Works is definitely more premium than some of the other options on this list, as it is a sit-down restaurant and the price points are definitely higher, at $20 a head tax in. They have a HUGE selection of possible burger combinations though, hence its namesake!
Here's how it "works"! First you choose a topping – there are literally way too many to list. It ranges from the Notorious P.I.G. (chipotle ketchup, caramelized onions, Havarti, and bacon) to the Son of a Beech (Avocado, Beechhouse sauce, sundried tomato, and feta cheese) to the Crappy Tire (grilled pineapple ring, sweet & spicy sauce, and brie cheese). After you've picked the toppings, you can choose a patty, of which they have seven options. There's beef (6 oz), whole chicken breast, ground turkey, Portobello mushroom cap, gourmet veggie, or if you are feeling extra adventurous lean domestic elk. You then choose a side with traditional options like fries, poutine or salad, or out of the ordinary options like steamed broccoli. Last you choose a bun: white, multi-grain, gluten free, or if you want – no bun at all!
I went with the Tidball Baker, with a standard beef patty and multigrain bun, which comes topped with spicy die-cut chips, sour cream, bacon, and green onion. As you can see from the photo, it's truly a beautiful creation, as the die cut chips are covered in sour cream drizzle and bacon bits. The Works definitely awed me with the sheer amount of selection available. I also upgraded my side to a poutine, because why not! The burger was great, and most definitely unique. The chips basically work out to be spicy kettle chips, which was an awesome crunchy topping, and it combined well with the bacon and sour cream. The only thing I would change is adding another sauce under the burger like mustard or mayo, for my personal preference of making it a little less dry, as the chips are a thirst-quenching, crunchy topping. Overall The Works is a great place to go if you want full customization and many unique options, but it is a higher price point.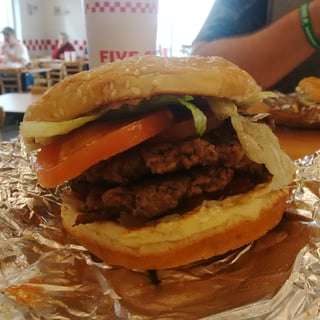 Honourable mention:
Five Guys
Five Guys get an honourable mention on this list, as they do have decent burgers. Their menu is slimmed down to essentially give you two decisions: how many patties you want, and if you want to add bacon or cheese. From there, they do have a wide selection of toppings, again ranging from your standard burger toppings such as ketchup, mustard, and onion – to other things like banana peppers and A1 sauce. I went for lettuce, tomato, banana peppers, mustard and BBQ sauce. It's a good burger, but I think that it has a high price point for students. Pictured is a 6.6 ounce (3.3 ounce patties x2). With a fountain drink it came to almost $12. It's definitely good, and worth trying, but I would keep the price point in mind!
Of course, this brings us to the end of another blog! I hope you enjoyed reading about the top burger joints in the Durham Region, and prepare your bodies, minds and spirits, because next month I will be checking out poutine – again! It will be all new poutine spots from the last blog post in the fall. If you have ideas as to where I should go next then leave a comment below! Until next time, food blog readers!