Hello, everyone! First of all, I want to thank those who took the time to read my food blog over this past year, whether you read one or 10, I am grateful that readers found my reviews of delicious local restaurants around Ontario Tech interesting! As a graduating fourth year, this will be my last blog as the Ontario Tech University food blogger, and I am going out with a bang - with poutine! Like one of my first posts, this blog will feature five (NEW!) poutine spots, ones that were not included in the first blog back in the fall.
So, without further ado – here are another top five poutine spots in the Durham region that you should definitely check out.
Retro Burger is located in Ajax at 105 Bayly St. W. I had many friends recommend Retro Burger to me for their poutine, and every single one of those recommendations was most definitely correct as it is one of the best poutines I have had the opportunity to experience. They are well known for their burgers, but they should also be known for their infant-sized servings of poutine. Their menu has quite the range: they offer everything from burgers and poutine to Philly cheese steaks and souvlaki! Their monster menu also consists of a 10" burger that comes with double bacon, and double cheese. I'd advise you to prepare both mentally and physically if you want to give that an attempt.

For the poutine, I got their Philly Cheese Steak option, and let me tell you – Retro Burger does not simply add some steak and vegetables to the poutine, they go all out and make a FULL Philly cheese steak and place it on top of a full poutine loaded with curds and gravy. I chose mushrooms, onions and green peppers as my toppings, and added Frank's red hot to be combined with it all. Needless to say, it was not only massive, but also extremely tasty! It's also a lot of food, definitely more than most people can handle in one sitting, so if you think you're up to the challenge then give it a shot!

In terms of your wallet, this poutine was $10.99, but is definitely more than a meal, so I think you really get the value of your dollar. If you have a craving for poutine and enjoy Philly cheese steak, then mixing the two is an amazing idea. You can enjoy the best of both worlds in one awesome meal.
Like what you're reading? Follow us on Twitter to stay up-to-date with our latest blogs!
P.B.'s Fish and Chips is a legendary spot in Oshawa located at Rossland Square, which is the plaza at the corner of Rossland Rd. and Wilson Rd. in Oshawa. It is a family owned restaurant that was opened by Peter and Bobbie Maltha back in 1980 – so this place is actually older than I am. They serve fish and chips, as well as other seafood – but they could be called P.B.'s Poutine and it'd be a fitting name. Many of the comments on the original poutine blog pointed out that I should have gone to P.B.'s, and they were correct! What makes their poutine unique is that you can put fish batter on the poutine – and let me tell you that you need to try it at least once in your life.

I opted for the medium poutine, with fish batter to top it off. They offer a variety of sauces, such as spicy Cajun, Thai, and pineapple curry. They also have significant portion sizes, as they range from small to an extra large, but their medium I found was the perfect size. The cheese curds are both large and squeaky, the fries great, and the gravy helps coat the entire thing in a layer of yum. But the fish batter was the highlight because it was seasoned, so it really added to the dynamic flavour of the poutine. I also previously tried the Cajun poutine and the seasoning has a nice kick. I really want to give the pineapple curry a shot, so I will be back again soon for sure.

The medium poutine costs $6.40 and it comes with an appropriate amount of food. They also offer a $5 (tax included!) lunch deal, where you get a small poutine of your choice and a drink. Pretty awesome if you want to grab a quick meal for a sweet price. I would recommend P.B.'s to anyone who would like to try something different, as it is not everywhere that you can get fish batter on top of your poutine.
Big Boys Burger is a local burger chain with four locations: Scarborough, Pickering, Richmond Hill and Whitby. I went to the Whitby location, located at 308 Thickson Rd. It's right off the highway at the corner of Consumers Dr. and Thickson Rd. beside Whitby Honda.

Big Boys Burger offers huge portion sizes (as their name states). I got the Big Boys Poutine, which includes bacon and fried onions mixed throughout the poutine. The belly-bursting highlight is that they also add a chopped up ½ burger that they cook as they are making the poutine. Needless to say, an eight-ounce burger by itself is already a lot of food, let alone when it's placed on top of a loaded poutine. If you look at the picture you will see for yourself the sheer amount of poutine that is staring back at you. But not only is it gigantic, it's also delicious because everything is cooked alongside the poutine and then thrown in, so it's a huge medley of fries, cheese, gravy and chopped up burger patty, intertwined with bacon and onions.

This poutine was the most expensive of the five, at $11.95, but it is also the biggest poutine of the five, for sure. Their slogan is "go big or go home hungry" and you will definitely not go home hungry if you get this poutine. If anything, you'll have to be rolled home! One thing to note is that Big Boys Burger only takes cash, so come prepared with cash, otherwise, there is an ATM inside.
The Courtyard is located at 1437 King St. E. in Courtice, right before the intersection at King St. E. and Darlington Blvd., in a plaza on your right side if you are going east. They also have a patio, but it was still a little cold when I went for the blog, so we were seated inside. They are a pub, so they also have daily deals available throughout the week. While my friend and I were there for poutine, we took advantage of 60 cent jumbo wings, too, and they were great.

But for the most important part of the trip: I opted for the Chicken BLT Poutine, because the description made it sound too good to pass up. They add fresh grilled chicken and bacon, smothered in beef gravy, then they add lettuce, tomato, and drizzle it with ranch dressing. I was initially going to take off the ranch dressing as I am not a huge fan of ranch, but my friend Jake convinced me to get it as it is listed – and I am glad that I listened. The ranch actually added to the poutine, and the chicken was seasoned so by itself it was still flavourful and juicy – it all mixed together in a medley of delicious. The poutine also felt a little healthier, although that could just be in my head – the toppings are vegetables and grilled chicken! At least there are vegetables in it?

The Chicken BLT Poutine at The Courtyard comes in at exactly $10, but it is a large poutine. Between the amount of food and the quality, it was well worth it – and I would try it again (or I might go for the Curried Chicken, which comes with house-made chicken curry, drizzled with yogurt and sprinkled with green onion). If you are ever in Courtice with a need for poutine, The Courtyard is where you should go!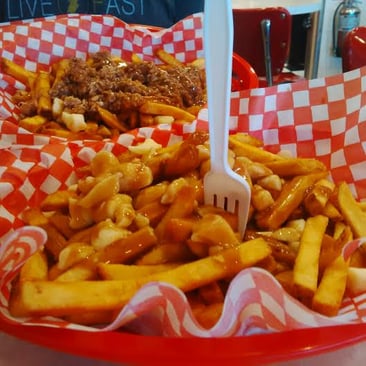 Pete's Big Bite is a local restaurant located right on Highway 2 at 817 Dundas St W., in Whitby. This makes it a location that is very easy to bus too, as there is a stop pretty much in front of the building if you take the 900 pulse. Their Philly cheesesteak and burgers are great, as is their chicken souvlaki. They aren't known for their poutine specifically, but everything is fresh and the curds are great – so it's definitely a recommendation.

I just got a regular poutine, and my friend Jake got the poutine with pulled pork on top. It was a solid amount of food as I went away full, but it was not as monstrous as some of the other entries on this list. Jake found the pulled pork good, and they also offer a bacon poutine if you would like. You can also upgrade any side of your order to a poutine, so you can try one of their burgers or the Philly cheesesteak, with a side of this poutine – but I would advise that you would also need to take a nap after due to the portion size.

This poutine was $7.99 so it was a decent price for what you get. The picture is a little deceiving, there were a lot of cheese curds hiding buried underneath, so there was no bite of poutine that did not contain awesome cheese in the process. Cheese being laced throughout the poutine is important, as you do not want to eat the top of a poutine and just be left with fries in gravy!
---
In conclusion, I hope you get the opportunity to try these awesome poutine spots, and in combination with the first list, that's 10 different local spots that deliver that perfect trifecta of fries, gravy and cheese! Thanks again for following my Student Speak blog this year, and I hope that whether it was poutine, burgers, or burritos, that you found an awesome new spot to try some great local cuisine!