I went to various pizza joints near the university, in search of the best places to go for a slice of pizza. A student-friendly budget was kept in mind throughout this journey. I stuck to the basics and ordered simple pepperoni pizza for comparison. Most of the pizza places are in a 30-minute walk range from the north campus location.
Starting from fifth best, to the top pizzeria around, read along to discover where you will find yourself wanting to stop the next time you crave pizza.
5. Double Double Pizza and Chicken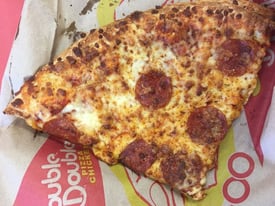 Located not too far from campus, this restaurant provides a variety of food. They sell various slices to accommodate all tastebuds, and for reasonable prices. They have great deals on specials and online orders, if takeout is what you are looking for. Being the restaurant open the latest on the list, Double Double Chicken and Pizza is great for late-night snackers.
The single slices are huge, meaning this pizza will definitely satisfy your hunger for those who love to eat, or is great for sharing if you can't handle the size.
Price:

$3.39 (with tax)
Address: 1335 Simcoe Street N, Oshawa L1G 4X1
Phone number: 905.728.0000
Hours: Sunday to Wednesday: 11 to 1 a.m., Thursdays: 11 to 2 a.m., Friday and Saturday: 11 to 3 a.m.
The pizza
Starting at the base of the pizza, with the crust, you'll find that it has a medium thickness to it with a crunchy texture. The crust is not your typical fast food style, tasting as if it was almost fire cooked with a slight smokiness to it.
The cheese on this pizza was added on in a good amount. There was plenty to cover the pizza, yet not so much that it overpowered. The cheese was the freshest tasting part of the pizza. The only downside being that it didn't give that stringy cheese experience when you bite into it.
The pepperoni topping the pizza were found in a small amount compared to the size of the pizza slice. With the pizza being so large, it would have been nice to have more balance with the toppings, especially beacuse the pepperoni was so flavourful. The meat was extra salty making it a nice savoury meat and leaving me wanting more of it.
As for the sauce, it tasted like your typical smooth, red tomato sauce. There was an average amount put on the pizza. Being somoene who doesn't care for the sauce, I found that it was a bit on the heavy side for my liking, though it would probably be a good amount for those who really enjoy it.
4. Pizza Pizza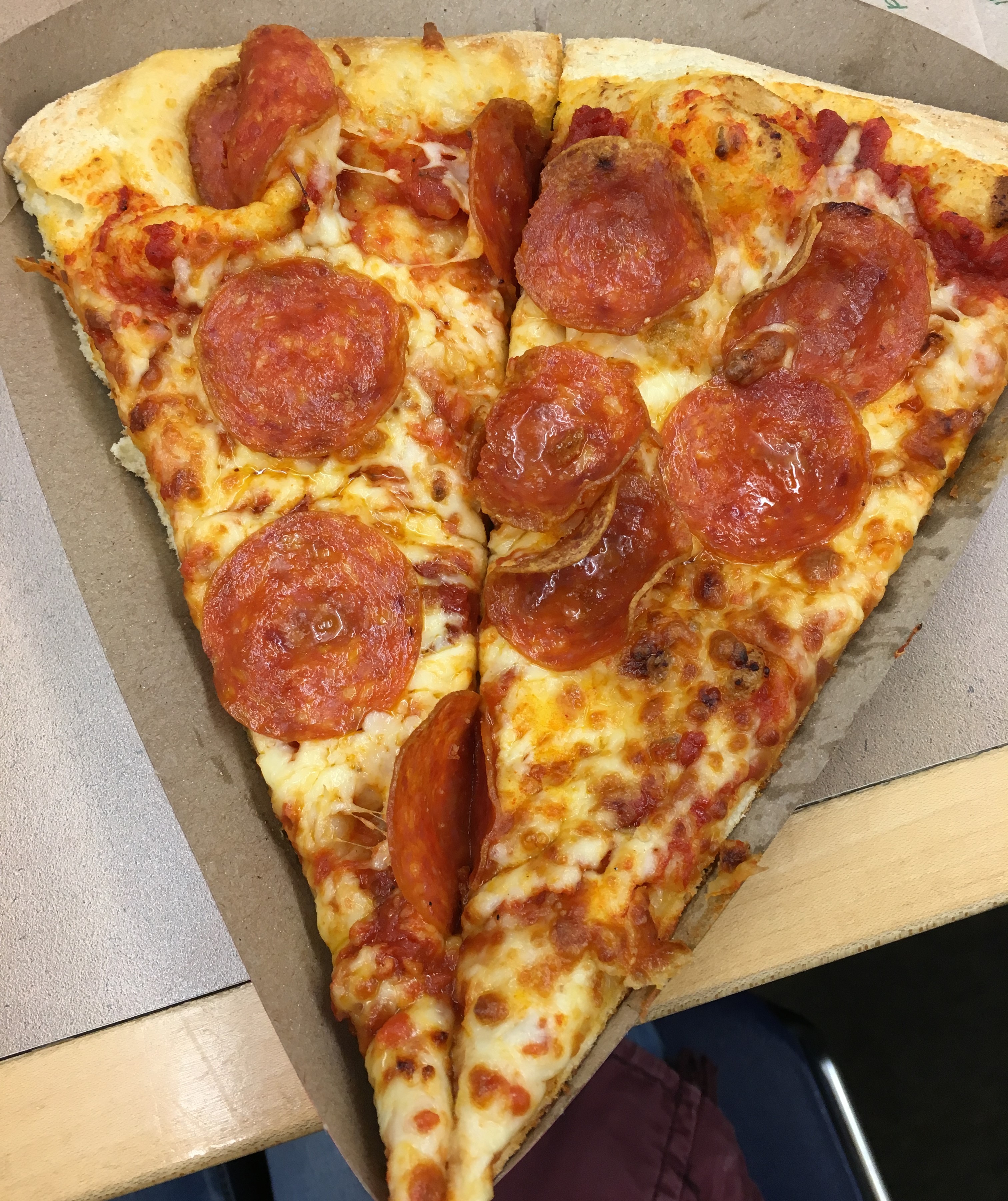 Pizza Pizza is always a great choice when looking for a basic slice of pizza on the go. Located in the university's UB Cafe, the pizza is easy to get your hands on when on campus. Perfect for a little snack during your 10-minute break of a three-hour lecture, or in between back-to-back classes. Depending on the time of day, it can be busy however, so make sure to leave yourself plenty of time when going to order (the Pizza Pizza section is self-serve for single slices; checkout is often the main hold-up).
Although Pizza Pizza is a staple in a pizza lover's world, it falls just behind the other restaurants in town. The pizza lacks the flavour of a more "homemade" style pizza as it takes on a standard fast-food taste, as expected, but is great for those looking for a classic slice on campus.
Price: $2.50 per slice (Bonus: can be paid for with Flex dollars)
Phone: 905.721.2000 ext. 3420
Hours: Monday to Thursday: 7:30 a.m. to 9 p.m., Friday: 7:30 a.m. to 9 p.m., closed on weekends.
The pizza
This crust is slighlty fluffy on the outside but with a crunchy middle. However, it is much less crunchy than the previous slice (Double Double Chicken and Pizza). There is nothing too special about the dough, as it tastes like a good old orignial plain crust and doesn't add much extra flavour to the pizza.
The cheese on these slices are put on at a medium to light amount. This makes it great for those who don't want an overpowering amount of cheese. The cheese melts in your mouth with each bite.
The Pizza Pizza slices have a thicker tomato sauce. The sauce is a brighter red in colour and tastes more sweet than the sauce on the others. A larger amount of sauce is found on their slices, but doesn't seem to overpower the flavours too much.
A decent amount of pepperoni gets put on the pizza, though they tend to be rather thin slices. With being so thin, I found the pepperoni a little more crunchy rather than chewy, but the flavours given off were still pretty good.
3. Pizza Express Plus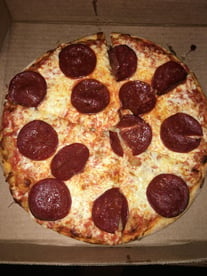 Sitting just above your average Pizza Pizza ratings, Pizza Express Plus sits at our number 3 spot.
This pizza spot offers more than just pizza and is a 10-minute walk off-campus. Though it can get busy at times, food is served relatively quickly and is made fresh in front of you. (Note: They do have grab-and-go slices available which are, however, not made fresh all day long).
Based on the price, flavours and how student-friendly the location is, Pizza Express' pizza earned the number 3 spot. While the price may be a bit more expensive when compared to other locations, the fact it is within a short walking distance makes it a convenient place to go.
Price:

$7.99 for a small pizza with one topping (six slices), $2.50 for an in-store available slice
Address: 1812 Simcoe St N, Oshawa, ON L1G 4Y3
Phone: 576.2626
Hours: All week from 11 a.m. to 11 p.m.
The pizza
The pizza here is a thinner crusted pizza. It has a soft dough throughout the base, with a slightly crisp edge for an added crunch. The less thick crust makes the toppings on this pizza really stand out.
The cheese does not taste quite as fresh compared to the other components of the pizza. However, there was lots of cheese added to the pizza so no need to ask for extra here!
Like the cheese, there was a good amount of pepperoni on the slices. This makes this pizza great for those who like their pizza with extra toppings. The pepperoni was more on the crispy side with a nice crunch to it. They had a fresh taste to them and were very savoury.
Compared to the other toppings, there was a minimal amount of sauce. The sauce was by far the most fresh part of the pizza and tasted homemade. It has a light basic red tomato sauce that isn't too sweet, tying all of the pizza flavours together nicely.
2. Fresh Food Company – Pizza Station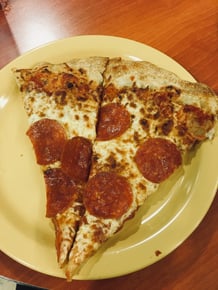 This pizza spot, located on campus, earns a well-deserved spot at number 2. It comes as all-you-can-eat, so it's perfect for big eaters. Made right in front of you, if you had the time and desire to, you could watch the whole thing be made. Three flavours are offered each day, with there always being a pepperoni and cheese option, then one other special flavour of the day. This pizza is located in the South Village Dining Hall just off of the residence building. For those with meal plans, this may be your best option, as it is included.
Although the pizza here is both delicious and freshly made throughout the day, if you do not have a meal plan or a really big appetite, it can be a little pricey.
Price:

$11.69 at lunch and $14.25 for dinner (all-you-care-to-eat)
Address: 2000 Simcoe Street N, Oshawa L1H 7K4
Phone: 905.721.2000 ext. 2660
Hours: Monday to Thursday: 11:30 a.m. to 8 p.m., Friday to Sunday: 11 a.m. to 7 p.m.
The pizza
The crust is thicker than average and is soft and fluffy. It has that same smokey taste to it as the Double Double Pizza and Chicken slices did. However, the smokiness wasn't quite as strong and is rather subtle.
The cheese is added in good portions, with not too much or too little. The cheese pulled apart in a stringy manner when bit into as it was melted to perfection.
There is an average amount of pepperoni on the pizza, so you get some with every other bite. Thinner slices are used but they are not overcooked. The pepperoni are not too chewy or too crispy, making them the best part of this slice.
The sauce gives off a good homemade taste and is thicker than the sauces on the other pizzas. With the sauce being a little bit thicker, I find that they use a little less, but it nicely balances out the flavouring.
1. La Pizza and Pasta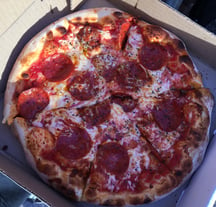 The best pizza in town is most definitely found here. Although it is not necessarily a short walk, it is a short drive if you can get a ride. They do also offer delivery, which is a plus. This very small, family-run restaurant is the place to go if you are looking for the best flavours in town for a reasonable price. The pizza is made fresh in the open kitchen, where you can watch as they cook.
Just about every part of this pizza was perfect. The only downside is that they do not offer single slices; a personal pizza is the smallest size they offer. However, it is great to share with friends or for a big appetite!
Price:

$5.65 (with tax) for a personal pizza; individual slices not available
Address: 30 Taunton Road E, Oshawa L1G 3T7
Phone: 905.725.5100
Hours: Sunday to Tuesday: 4 to 10 p.m., Wednesday and Thursday: 11:30 a.m. to 10 p.m., Friday: 11:30 a.m. to 10:30 p.m., Saturday: 2 to 10 p.m.
The pizza
The dough is cooked nearly perfectly with a soft middle and a slightly crispy outside. The crust is medium in thickness and has a really fresh taste to it along with a slight smokey taste.
Like the dough, the cheese is also extremely fresh, pulling apart nicely while being eaten. There is an extra touch added on top of the pizza, with an assortment of spices and herbs sprinkled on top. The spices gave this pizza great flavouring.
Thick cut pieces of pepperoni are used for the pizza, with an above average amount. They are more chewy rather than crispy making the pizza soft overall. The pepperoni was on the slightly less salty side, though they did not need to be too salty with the spices added, thus their flavour came out well.
The freshest tasting sauce of all, tasting as though it is most definitley homemade. The sauce was lighter than that of the other pizzas, and was spread evenly across the pizza.
---
Overall, there were a variety of different tastes of pizza near the university. Depending on what you are looking for to get out of the slice you are eating, will determine which place is truly your best option. Hopefully you can find the best slice for you! Happy eating!