Hello readers, welcome to my last blog post for this school year! Good luck on your exams, and remember to take care of yourselves. Let's get right into why you're here: Thai food.
Thai food is near and dear to my heart. I've had and enjoyed authentic Thai food, and also not-so-authentic chain restaurants. For this blog, I wanted to check out what the Thai places around our university had to offer—don't worry, I only got pad thai once. Oh, and I got all of my meals to go because I needed to eat and write essays at the same time, so all of the places I will mention offer take-out. That being said, let's talk about food!
4. Malinees Thai House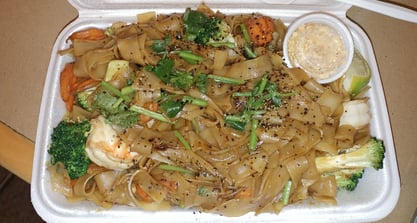 Malinee's Thai House is located at 300 Taunton Rd E, on the corner of Ritson and Taunton here in Oshawa. To get here from our north location, you'd just hop on the 416 bus and get off at this intersection, it's a pretty short bus and car ride.
Malinee's is a small restaurant, that I believe is owned by Malinee. She makes everything herself, fresh to order! I got pad see ew from here, because I love a good noodle and vegetable dish. Throw some shrimp in there too and I'm good to go! I'm not sure if this picture does this justice—there was a lot of food in this take-out container, far more than I could eat. In terms of prices, this was a little weird. The menu on their website said $10.95 for this dish, then when I went in the menu there had a little higher prices but then the actual price ended up being somewhere around $13. So, if you're interested in eating here, maybe call ahead and ask for the price of what you're interested in ordering.
3. Oshawa Thai Cuisine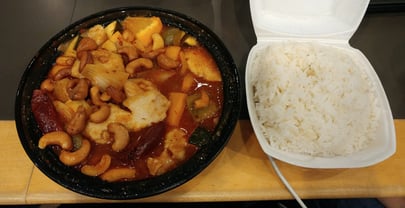 Oshawa Thai Cuisine is located at 24 Bond St. W in Oshawa. If you're at the downtown location, you can just walk over after class which is what I did! If you're coming from the north location, just take the 401 bus down to Bond Street.
This is the only restaurant on my list where you can order your food online, if that matters to you! Here I got the chicken with cashew nuts in brown sauce with rice. Again, I was given way more food than I could eat in my take-out containers which I love, so then you can get a few meals out of it. I already knew I liked peanut and chicken dishes so I had a feeling I would like this too and I did! The combination of the sauce with the vegetables and the chicken and the nuts was very good. I would recommend this dish if you're interested in it; you won't be disappointed!
This cost $11.50, which I think is really reasonable given the amount of food you get. They have a pretty big menu of other things that I think are also reasonably priced. Plus, they have a lunch special for $7.25 so you don't have to spend a lot to get some good Thai food with big portions.
2. The Zen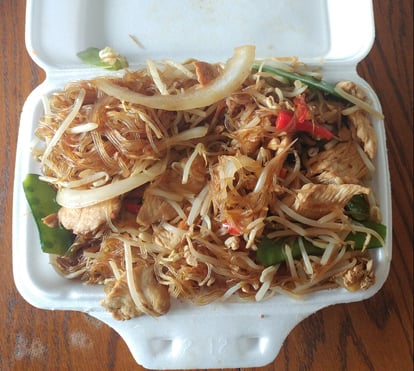 The Zen serves Thai and Hakka cuisine, out of Whitby! I know the title of this says "near the university" but this is still accessible via transit or a car and I wanted to venture into Whitby a bit for this. Just get on the 915 bus from the north location and get off on the McKinney Drive stop.
I got glass noodle stir fry with Thai sauce from here, and it was really good. There's a trend among Thai food places here: they give far more food than I can eat in one sitting. This take-out container was packed with food! I really liked this, it was the first time I had glass noodles and now I know I like them. The stir fry had chicken, snap peas, onions, peppers and bean sprouts along with the noodles, cooked in a Thai sauce. Like I said before, I'm a sucker for a good noodle dish, so this was bound to be great from the start.
The price of this was only $10.95, which I think is a great price for the amount of food you get and the deliciousness. If you're also a noodle person, the Hakka side of their menu has some greatly priced noodle items, some around $7 or $8! It's definitely worth the 25-minute bus ride if you're interested!
1. aZian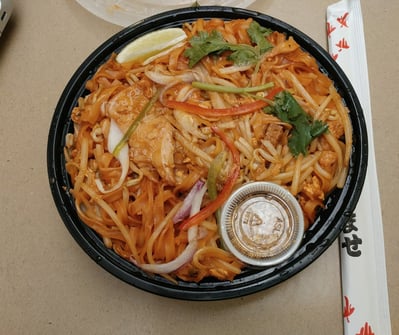 aZian is located at 1365 Wilson Road North in Oshawa. To get here from the north location, you can take the 416 bus to the Wilson Road stop. I got Thai food here, but aZian offers Thai, Chinese, Japanese and Vietnamese food!
I had to get pad thai at least once in my Thai food journey and I got it here! It was so good! Their website says this is one of their famous dishes and I can see why. The chicken in this was cooked so well and it was so juicy. The noodles and sauce were excellent as well. I went here because several people recommended it to me and they did not disappoint! I'm planning on going back and trying some other things, because when I walked in there to pick up my food, everything I saw them bringing out to tables looked and smelled amazing.
My Pad Thai cost $11.99 and it was worth it. This container also had a lot of food in it, and I could not finish it all at once but I did try because it was so good. I like that their menu has so many different options of different cuisines, I think you guys should check it out!
---
Well, that's all for me and Thai food! I hope I made you crave it and you'll have a chance to check out some of these places. If you have any other spots I must try, leave me a comment down below! I'd love to continue my quest for the best Thai food around. Thanks for reading and have a great summer!
Stay up-to-date on all our food reviews by following Student Speak on Twitter!