Hello everybody! Recently, I had the opportunity to visit a few of the best local breakfast places offered near the university, giving me some great restaurant suggestions to fuel your brain with that first meal of the day. All four of these places offer all-day breakfast, which is extremely important if you're like me and wake up closer to the early afternoon than morning. So, when you roll out of bed at 1 p.m., all four of these locations will be ready and waiting to serve you fresh breakfast!
T&D Steak-Burger
T&D's is a local family-owned breakfast joint at 701 Rossland Road East in Whitby! It's on the southeast corner of Rossland and Garden, right beside the Rossland branch of the Whitby Public Library. To get there by bus, you would take the 401 Simcoe and then the 916 Rossland bus, and get off at Rossland and Garden.
They have a menu that encompasses breakfast, lunch, and dinner, and they do serve all-day breakfast (so breakfast for dinner is always an option). They also offer burgers, souvlaki, wraps, and more with their menu made fresh in house.

But to get to the important part: the food! I ordered the Grand Slam, which comes with two eggs any style, bacon, home fries, and French toast. As you can see by the picture, it is a colossal amount of food, but I knew what I was getting myself into so I brought homework with me (it's that time of year) to keep me occupied for a while. The French toast came dusted with cinnamon and icing sugar, which only added to its immense deliciousness. The eggs were great too (I always opt for scrambled). Bacon is bacon so it's always good, and they will do your home fries any way you like. If you enjoy breakfast and want a lot of it – I would definitely recommend a grand slam!
Rainbow Family Restaurant
Rainbow is a family-owned restaurant located at 82 Simcoe Street North in Oshawa. For downtown students, you probably already know of Rainbow as it's a little bit north on Simcoe across from the bus stop for the 401 Simcoe bus. Rainbow is Durham Region's oldest restaurant, serving the community since 1958. It's owned and operated by the Givelas family, and they also offer a menu that has everything from their delicious all-day breakfast to a mammoth 20 ounce burger!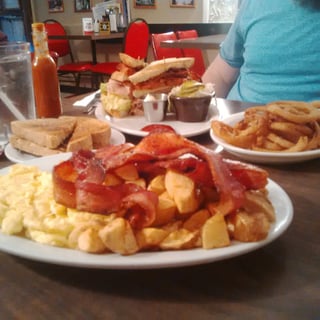 I opted for their GMC Breakfast Original Special, which comes with bacon, home fries, toast, and three eggs any way you'd like. I went with scrambled as always, and they were great. I must say the most pleasant surprise was the amount of bacon you get with it. Just think about iit almost makes me want to go back and get their breakfast again right now... Honestly, it was a giant portion of breakfast. The GMC special is only $6.75 so it also fits well with the student wallet. But keep in mind that Rainbow takes cash only. They do have an ATM inside the restaurant if you forget cash, but it's better to bring some ahead of time to save you the ATM fees.
P.S. – the sandwich in the background is their Clubhouse Sandwich, which my friend enjoyed – it had bacon, lettuce, tomato, turkey and is a triple decker sandwich. The picture doesn't fully do it justice... it's actually the size of a small infant.
Like what you're reading? Follow Student Speak on Twitter to get the latest updates on our blogs!
The White Apron
The White Apron is an awesome breakfast spot located at 10 Bond Street West, Oshawa. For my student readers, that's pretty much right across the street from the GO terminal, or a short (as in 15 seconds short) walk from the corner of Bond Street and Simcoe Street. They operate from 7 a.m. to 3 p.m. everyday serving breakfast and lunch. I must note that their Banh Mi sandwiches are wonderful, and are actually the reason I first ventured into the place. If you're not feeling breakfast I would recommend the lemongrass chicken, and I promise you that you will not regret it.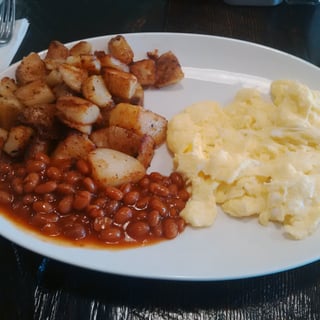 But before I start reviewing the Banh Mi sandwiches let me give you the rundown on their breakfast, because like the other restaurants on this list it's great!

I popped in after class around 11 a.m. and opted for three eggs any style, as I wasn't super hungry. As surprising as it sounds, I did not order any bacon! But it was a fantastic breakfast nonetheless – aside from the scrambled eggs, it also came with home fries, baked beans and toast. The eggs were great, and the home fries were crispy. Once I added a little salt they actually brought a tear to my eye. The beans were honestly the greatest part, which is surprising considering I generally do not like beans with breakfast – but the server convinced me that I should give them a try. So I agreed, and am so very glad I did. They were in some sort of maple glaze that essentially coated them in a layer of wonderful with every bite.
Johnny's Original Eatery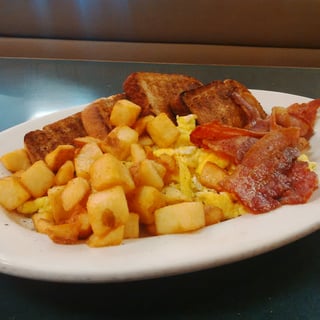 Johnny's Original Eatery is located at 850 King Street West in Oshawa. This is right on the route of the 900 Pulse bus, so it's accessible by transit. From the north Oshawa campus location you would take the 401 Simcoe to the downtown Oshawa campus location, then catch the 900 Pulse bus west towards Whitby and get off at Thornton Road. Johnny's is also a local business that is family-owned and operated for many years, which, like the other spots, adds to its authenticity for great breakfasts.

I went with the Johnny's Special, which comes with eggs, bacon (or sausage/ham), homefries and toast. They also offer a 20% discount to all students, so with tax it came to $6.35! For the eggs I ordered them scrambled, and they were great, as eggs always are. The bacon was amazingly done, well crisped, and the homefries were not very greasy which was nice. Overall the breakfast was great, and it's definitely worth the price.
---
I hope you enjoyed my take on these breakfast spots, and next month prepare your appetite as I will be reviewing the top burger joints around the Durham region! I hope you enjoyed this month's food review and that you get to check out one of these breakfast spots sometime soon! Prepare yourselves, as the portion sizes tend to be huge.
What are some of your favourite breakfast places in the area? Let us know in the comments below!