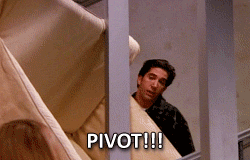 Moving into residence was one of the highlights of my first year! However, packing was very stressful.
I couldn't figure out how I was going to pack my entire life into my mom's Jeep while leaving room for my parents and myself.
I ignored everyone who told me "leave most of it at home!" and I ended up making almost three trips and accumulated roughly four more carloads over the next eight months.
One of the great things about moving out of my childhood home was finding all of the old memories and purging my closet.
I highly recommend selling or donating some of the old things that you don't want or need anymore. I signed up for a VarageSale account and posted some things on Kijiji and made some cash to take with me to school.
Check out my list of things below that I learned I definitely needed to bring and some of the things I found out were better to leave behind.
Must haves:
Bed linens (suitable for a double-width, queen-length bed)
Blankets, comforter, pillows
Towels: bath, face, dish, etc.
Laundry soap and fabric softener/dryer sheets
Laundry basket (one on wheels is very convenient, so you don't end up going to the laundry room looking like me!)
Toilet paper, garbage bags
Shower curtain and rings
Personal hygiene items
Dishes, cutlery, glasses, mugs, etc.
Books, pens, pencils, ruler, stapler, three-hole punch, tape, etc.
Clothes, hangers and closet organizers
Cleaning supplies (Lysol wipes, dish soap, Windex, etc.)
Personal comfort items – we all have those stuffed animals that we can't live without!
Food! Don't forget your snacks, canned goods and if you don't have a meal plan, groceries
Cellphone, tablets and charge cables
Small first aid kit
Alarm clock with batteries (great backup in case of power outages)
Optional:
Small furniture items (bookshelf, small dresser and night stand)
Coffee maker or kettle
Iron and ironing board
Cookware such as pots and pans
Toaster oven/toaster/blender/sandwich press
TV – each bedroom is equipped with a cable jack (there is a shared TV in the common area)
Desktop computer
Printer (you can save money and use your print credits at a wireless printer on campus)
Musical instruments (please leave the drum sets and electric guitars at home!)
Laundry drying rack – will save you money using the dryer
Games, deck of cards, movies and leisure reading
Video game consoles and games
A fish! Fish are allowed in a three-gallon or less tank.
Pictures or artwork to hang on the walls (command hooks and white sticky tack work well)
Don't bring:
Fridge or freezer
Vacuum/broom/mop/plunger (you can borrow these for free at the front desk)
Hot plates and open heat sources for cooking (they are not permitted within residence for safety reasons)
Stereo systems and subwoofers
Garbage cans and a recycling bin (they are provided)
Your pets (although we love our furry friends, residence does not)
BBQ utensils (you can borrow these from the front desk)
Modems for Wi-Fi (each room is equipped with Wi-Fi and Ethernet ports, modems do not work in residence)
Weapons or replicas of any kind and NERF guns
Candles or incense
Alcohol or drugs
Hooks or nails to hang things on the walls
Live trees or plants
Fake snow - yes, it is listed on the residence website as an item not to bring!
To find out more, check the residence website.
When thinking about the things you need to bring, don't get overwhelmed by what you need to buy. We all know that university is expensive and it's important to save money every chance you get.
Talk to your roommate before moving in so you can divide up the list and see who can bring what, and be sure to check out the Dorm on a Dime blog to learn how you can decorate your dorm room on a tight budget.
Want to get a sneak peek of life on campus? Check out our virtual tour!