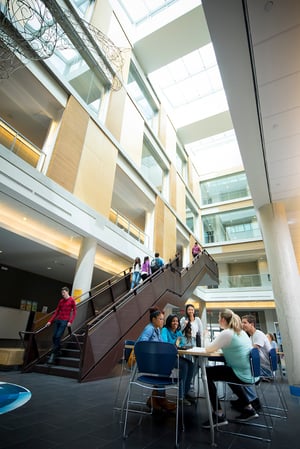 As you consider which university is going to be the place you're going to call home for the next few years, you need to make time to see it in person (just ask our blogger Erin about making a campus visit).
Since our university is likely in your top picks for post-secondary, it's your lucky day! Our Fall Open House is coming up this Saturday, November 17. It's the perfect chance to see our campus and learn more about the programs you're interested in.
You'll be able to talk to our faculty and check out information sessions for your programs of interest. Most faculties are offering tours of their labs and some will have student panels where you can hear from your peers currently studying at our university.
Make sure you register for our Fall Open House and check out our schedule so you can best plan your day.
If you need an extra push to get you out of bed and to our Open House, here are three reasons why you can't miss it!
Our programs produce results
Does the idea of securing a job in your field after graduation sound appealing? Just six months after graduating, 91 per cent of our Faculty of Education graduates are hired.
Thinking of checking out our Faculty of Social Science and Humanities (FSSH)? Good idea. Half a year after they cross the stage at graduation, 82 per cent of graduates from this faculty have jobs.
When you come to our Open House, you'll be able to attend a variety of information sessions, including some for both our Faculty of Education and FSSH. Check our schedule for more details.
Hands-on learning
Prepare yourself for a career after school with hands-on learning experiences that reflect the work you'll be doing in your field.
Our university offers experiential learning opportunities with over 300 industry partners.
Our Faculty of Business and Information Technology has 13 teaching and learning labs. Tour a variety of their labs—from the Game Development Lab to our Hacker Lab—at our Open House.
More into the medical field? Then you'll want to see the labs available through our Faculty of Health Sciences. Experience our Interprofessional Centre of Excellence in Simulation. This high-tech lab features realistic mannequins that replicate health conditions like loss of vitals, providing a true hands-on learning experience.
At Open House, you'll be able to tour these labs and see what you'll be able to accomplish as a student at our university.
One-of-a-kind experiences
Looking to be a leader in your field of interest? Then you should consider choosing our Forensic Science program—it's one of only two accredited forensic science programs in Ontario.
Ever heard of our crime scene house? It's as cool as it sounds. Our forensic science students get to complete work just like they would in the real world. Don't worry - it'll be open for tours during our Open House.
We're also known for our engineering programs. If you decide to study automotive engineering, you'll have the chance to work in ACE, the first climatic testing and research centre of its kind in the entire country.
At Open House, hear from a Faculty of Engineering and Applied Science student panel and catch a tour of ACE.
If energy systems and nuclear engineering piques your interest, you've come to the right place. Our university offers the only undergraduate degree program in Nuclear Engineering in Canada. Stop by for an information session and tour at Open House.
If you need more convincing that our university is right for you, make sure to attend one of our Open House events so you can chat with faculty, staff and students about finding your fit at our university.