I am almost halfway done my third year in university and I would like to think of myself as a generally upbeat person. But I am not immune to that rut we tend to fall into this time of year. I call this rut "The Winter Blues". With finals coming up, temperatures dropping and assignments piling up, it can be hard to stay positive and motivated. There are a lot of things that go into making you a successful student during your time in university. But to me, one stands out above the rest.
The key to staying on top of the giant to-do list you have is making sure you make time for what makes you happy and healthy. Of course, these things are different for everybody; what's important is finding something that works for you. I often catch myself saying things like, "I don't have time to take a break" and I know I am not alone in that. This is a way of thinking we need to adjust. I have compiled a list of common tactics that I and my peers have found to be successful in keeping ourselves on track with school and our personal lives.
Perform a random act of kindness. You'd be surprised how much doing something for someone else can lift your spirits.
Go for a walk! Getting some fresh air can help you solve that problem you've been overthinking, give you a new perspective and clear your mind to allow you to stay focused.
Make a cup of tea and curl up with a good movie. Never underestimate the ability of a warm drink and your favourite childhood movie to lift your spirits. If you have a pet around, spend some time with them. Animals can have a very calming effect on your mood.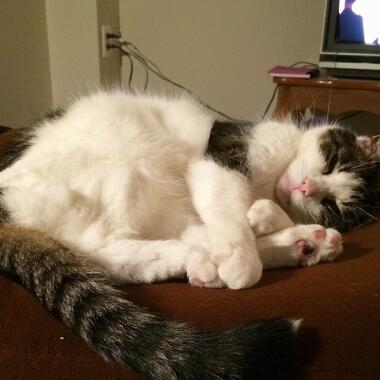 This is my cat. He is probably one of the things that keeps me most sane during those busy school times.
Keep your friends close. I can't count the amount of times I have told friends, "I'd love to *insert enticing plans I would definitely rather be doing that studying here* but I have to study." Making time to keep those special people in your life is incredibly important. Nothing cures the winter blues like a day out with a friend. Manage your time and do what's best for you, but there will always be tomorrow.
Hit the gym! Staying healthy and getting some exercise can be a great study break. It will make you feel like you've done something for yourself, so you don't have to feel guilty about taking a break from the books.
Like I said, it's different for everyone, but taking the time out of your busy schedule to put yourself first is a must. I will often find a comfortable spot in my house, burn a favourite candle and get some studying done. It's the perfect way to stay relaxed while getting work done.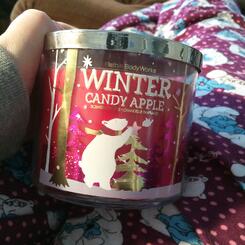 This is how you'll find me studying most days. Comfortable and productive!
We're in the final stretch of the semester, and if I've learned anything it's that this is not the time to let your self-care slip. Study hard, reach out for help, talk to a friend, get lots of rest and before you know it, the semester will be done!