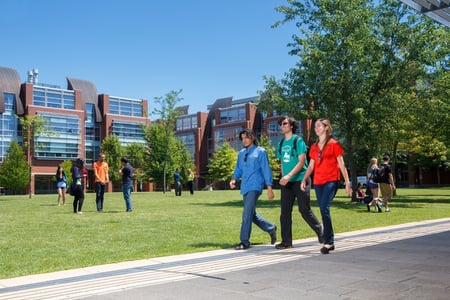 While the main focus of your post-secondary career will be your academics, don't forget your social life. It's important to maintain a balance between work and fun in order to help keep yourself sane.
Aside from social gatherings with your friends, you can look to your student union and variety of clubs and organizations to hold events on-campus.
Look out for September to be packed with orientation events. Keep an eye out for events later in the semester to help reduce stress around midterm and exam time.
Our university is no different when it comes to offering a variety of events for students to help get them involved with our campus and community.
Want to know more? Here are a few events happening around our campus this fall semester.
Mini Pow Wow
This year our university will be holding its first Mini Pow Wow at Polonsky Commons. Starting at noon on Friday, September 7, drop by to enjoy this celebration showcasing Indigenous music, dancing, culture and more.
Ridgeback games
Big sports fan? Our Ridgebacks have got your covered. Check out games for all of our teams throughout the year. Learn more about your favourite teams on the Ridgebacks website.
Moodwalks
Need a break from your studies? Join in on a Mood Walk every Wednesday from noon to 1 p.m. starting on September 12. These walks allow you to take a load off while enjoying nature and getting some exercise.
Graduate scholarship information session
This event is for any grad studies students (or future grad studies students) looking for more information on scholarships to help support your studies. If you want to learn more about graduate scholarships, register for this event on September 18 from 2 to 4 p.m.
Further Education Expo
Thinking about your plans for after you complete your university degree is never a bad idea. Learn more about your options – from MBA to post-diploma programs and everything in between – at the Further Education Expo hosted by the Career Centre on September 26.
SAFA Financial literacy Fall workshop
On September 27 and October 3 register to learn about everything related to your financial resources as a student. From OSAP to scholarships and awards, this event will answer any questions you have about student finances.
Doors Open Oshawa
Want to explore more of Oshawa? Check out the Doors Open Oshawa event to learn more about a variety of heritage and cultural sites in Oshawa. Spend some time of September 29 checking out local treasures (including our very own Regent Theatre and ACE Climatic Wind Tunnel) and take your mind off of your studies.
Blood Drive
If you're looking for a way to give back (or get into a spooky October mood), take part in the blood drive held by Canadian Blood Services on October 22. The clinic will be held right on campus and appointments can be booked from 9:30 a.m. to 12:30 p.m.
Teacher Career Development Expo
This annual event, held on November 2, helps introduce our teacher candidates to local organizations and potential employers. If you're interested in one of our teaching programs, this event can be a great way to take the next step in your career.
Want to learn more about our campus and culture? Check out our virtual campus tour!