Last week the news broke that Target is calling it a day in Canada. The only evidence of their presence will be large, empty retail spaces with a dark bull's-eye sign outside.
The Canadian launch was widely known to be a disaster. Shelves were empty and the communication of the brand lacking. The prices left much to be desired. As if it wasn't bad enough, a debit and credit card breach closely followed.
The Target I frequented dodged the lack of stock issue since they opened weeks after the initial stores. I quickly became a huge fan. (In fact, on the day of the announcement, my entire outfit was from Target.) Clearly I was the minority… and that makes sense. I am not the target customer (pun completely intended). I'm single and have no kids. I have time to browse the aisles and admire the new necklaces, Hunter-style rain boots and hidden gems in the clothing department. I have no need for mega-discounted-extra-strong laundry detergent for my m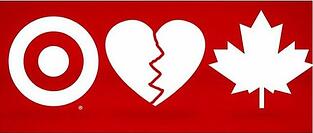 eager loads of laundry. I have the time to pull out my price comparison app at the checkout and have every single item price matched. I don't care if I need to stop at an additional store on the way home for groceries.
But the market that Target Canada supposedly catered to? No way. Faculty of Business and Information Technology (FBIT) professor Dr. Salma Karray puts it this way, "[Target] failed to meet the demands of the Canadian market. Target was unable to create a distinct competitive advantage. It couldn't offer the same prices or product variety as other discount retailers. And its lack of online presence in Canada accentuated the problem: main competitors like Walmart and Canadian Tire have developed that part of their business, not only for purchases, but also to inform customers and incite store visits." (Read the full FBIT story on Ontario Tech University's news page.)
Target will quickly become a case study in the textbooks used in classes like the ones taught by Dr. Karray. Target Canada assumed that Canada would be a goldmine. We assumed that the stores would meet our expectations. And those assumptions proved incorrect.
So Target, we bid you goodbye. We hardly knew you… but then again, you hardly knew us either.