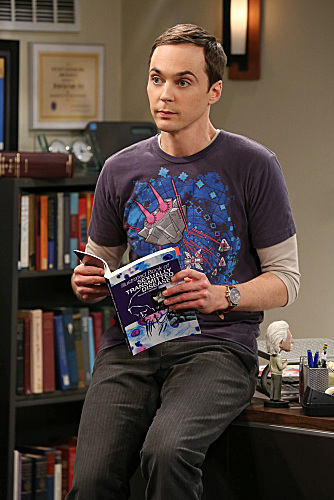 Today Student Speak is honoured to recognize an esteemed academic. At the young age of 35, he has already singlehandedly changed the way the world look at physics. Yes, today we celebrate the great academic work of Dr. Sheldon Cooper.
Dr. Cooper hails from Galveston, Texas. His childhood included activities such as being co-captain of the East Texan Children Youth Holy Roller Bowling League, building a Sonic Death Ray and creating an armed robot to defend his room from his twin sister. At the age of five, he wrote a paper entitled "A Proof That Algebraic Topology Can Never Have a Non-Self-Contradictory Set of Abelian Groups". But given that many kindergarteners are also prone to such deep thoughts, let's explore more of Dr. Cooper's life.
He graduated college at the age of fourteen and went on to graduate school. He was awarded the Stevenson Award at fourteen, becoming the youngest person at the time to receive it. Students at the Heidelberg Institute in Germany were privileged to have Dr. Cooper as a visiting professor at their school. Dr. Cooper was fifteen at the time. He finished his doctorate at sixteen and his second dissertation at twenty.
Dr. Cooper is now junior professor at the California Institute of Technology. The focus of his research is dark matter. He also has the esteemed privilege of teaching a graduate course, something he enjoys very much. (Wait a minute… was that a sarcasm sign I just saw? Anyway…)
Dr. Cooper will go down in history as one of the most famous physicists of our time. We at Student Speak are pleased to recognize him today. Dr. Cooper, you are welcome to visit Ontario Tech University anytime, feel free to claim a spot here.
Thank you for reading. We will now be endeavouring to find academics to feature in future Student Speak entries who don't mind being overshadowed by today's subject. Please wish us luck.