Do you love puppies? Is playing with dogs one of your favourite pastimes? We've got something special for you!
On December 3, 2014 the Social Science and Humanities Student Society (SSHSS) presented their first annual Puppy play day at Ontario Tech's downtown Oshawa location. The event was offered in collaboration with TAGS: The Animal Guardian Society. TAGS brought in three adorable dogs for students to meet, play with and relieve some exam stress! May I present to you Ranger, Zero, and Edgar. Ranger is Pointer/Hound dog, Zero is a Terrier/Jack Russell mix and Edgar is a Dachshund/Yorkshire Terrier mix.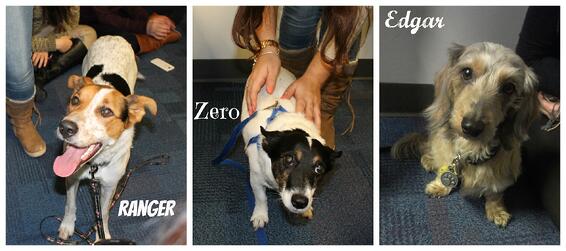 Have you been considering adopting an adorable buddy like Ranger? Check out The Animal Guardian Society for a list of animal services and adoptable animals. With all this talk about puppy mills and the poor conditions with which pet store puppies are bred and raised, adoption is a wonderful option. Many dogs and animals are looking for a loving home and without great organizations like TAGS, their lives wouldn't have a very good outlook. So if you're thinking of getting a pet, head over to TAGS or your local adoption agency and consider adopting a pet. They've got a lot of love to give!
The purpose of the event was to create a fun and relaxing environment for students to come and enjoy some one-on-one time with some adorable friends. Because let's be honest, who doesn't love cuddling and playing with pups between study sessions? Though the event was offered by the SSH Student Society, all students were welcome to attend as well as staff. In addition to the dogs, Marose from Student Mental Health Services attended the event to offer her services to anyone who might need her assistance during this busy and stressful time of year. Exam season is upon us all and sometimes we just need someone to talk to amongst the calamity. Thanks Marose!
Campus Recreation and Wellness Centre
International Student Services
Student Accessibility Services
Student Awards and Financial Aid
Student Mental Health Services
See you at the next Puppy Play Day!
Thank you to the Social Science and Humanities Student Society for all their hard work and effort in supporting the Ontario Tech University and SSH community this year!
Signing out with Edgar in hand - Amber