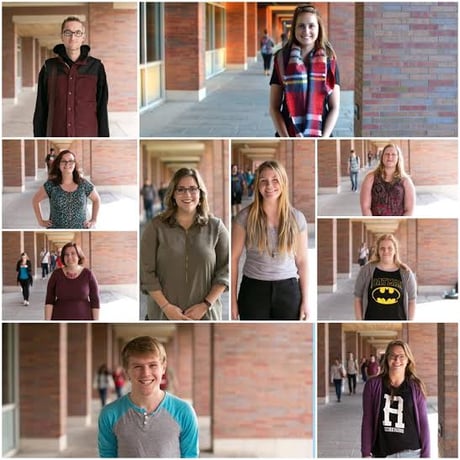 This past year an innovative student-based committee worked alongside some of Ontario Tech University's Mental Health administrators and counselors to create a positive, all-encompassing plan of action to improve mental health services on campus. The students and administration worked together to begin the pathway to a more mentally sound, accepting and aware campus.
This is what some of the students had to say about their experience on the committee, their passion for generating mental health awareness and their knowledge.

"I'm passionate about mental health awareness because mental health affects individuals, families, and communities. Unfortunately, many people feel stigmatized and are silenced. My goal is to make mental health services and resources more accessible to all. A person with anxiety should be treated with the same respect and compassion as someone with the flu." – Miranda Sylvia, Community Development and Policy Studies.

"I think that the stigma around mental health is due to several factors. The media definitely plays a big role in fueling stereotypes about people who have mental health disorders; in TV shows, movies and on the news they are often portrayed as violent and dangerous, and/or in a negative light. In addition, misinformation can contribute to the stigma around mental health, and when false information gets perpetuated, stereotypes begin to develop." – Gabe Rose, Medical Laboratory Science

"I have learned more about the needs of the students and school, realistic ways to address them, and how to work in a group of passionate like-minded people. I have gained skills on how to work in group settings and how to use the group to achieve an end goal (an example being running events). Most of all I have gained a better understanding of mental health and how it affects everyone and how the committee can go forward in addressing some of these issues. Also, I have gained new friendships from the group." –Cheryl Kozuh, Biological Science

"Mental Health means a lot to me. In particular, it's not just an "illness" to me. I have lived with my anxiety for as long as I can remember and I have come up with lots of ways to cope with my mental illness. It's important that we no longer stigmatize mental health because all of us are affected by this in so many ways. Basically, it means a lot of hard work, togetherness and never feeling alone."- Trisha Di Censo, Forensic Psychology

"I joined this committee as a way to give back to Ontario Tech University and Mental Health Services after they helped me when I needed it most. I have Major Depressive Disorder and some pretty bad anxiety, and I know there are many others out there who do as well. The committee was my way of helping those in the Ontario Tech University community, either by creating events, raising awareness, or even just encouraging others to get help if they think they need it." – Shannon Donnelly, Medical Laboratory Science

"The two events that were the most successful for the committee were the Bell Let's Talk Day and Beach Day. These events reached large masses of students and raised awareness surrounding mental health. The Bell Let's Talk Day allowed students to write messages about mental health and they posted them online to raise money using the hashtag #BellLetsTalk. The Beach day was held during midterms which allowed students to have a relaxing, destressing day where they could do yoga, get henna done and have conversations about SAD (Seasonal Affective Disorder)." – Charlotte MacLean, Forensic Psychology

"There are many resources at Ontario Tech University. The main service is Student Mental Health Services at the North Oshawa location (U5 building) that offers short-term counseling and therapy services. There are also helplines such as Good2Talk (1.866.925.5454), Mental Health Helpline (1.866.531.2600), Pride Line Durham (1.855.87.PRIDE), Durham Distress Center (1.800.452.0688) or Durham Crisis Line (1.800.742.1890). Services on campus are extremely important to students as school can be very stressful and it's where students most likely spend the majority of their time. If it's to talk about feeling overwhelmed, isolated, alone, stressed, angry, upset, you will get support from the services provided on campus." – Brittany Anne, Nursing.

"Mental illness affects so many people, whether directly or indirectly. As someone who experiences mental illness directly, this committee is so positive and exciting, it demonstrates the commitment Ontario Tech University has to its student's health. To know that the university recognizes mental illness as a real disease is something I'm extremely proud of, and being part of the first ever student-based committee on campus is a real honour. I'm thrilled about this opportunity to work with peers and administration to provide services and knowledge to the campus. It has been such a positive learning experience. Going forward, this committee, with the help and support of the administrators like Marose Bellhumar, Jarek Baginski, Margot McKinlay, and Jeremy Greenberg, will revolutionize the way mental health is viewed on campus -- and I cannot wait for this to happen." - Sara Stephen, Communication and Digital Media Studies.