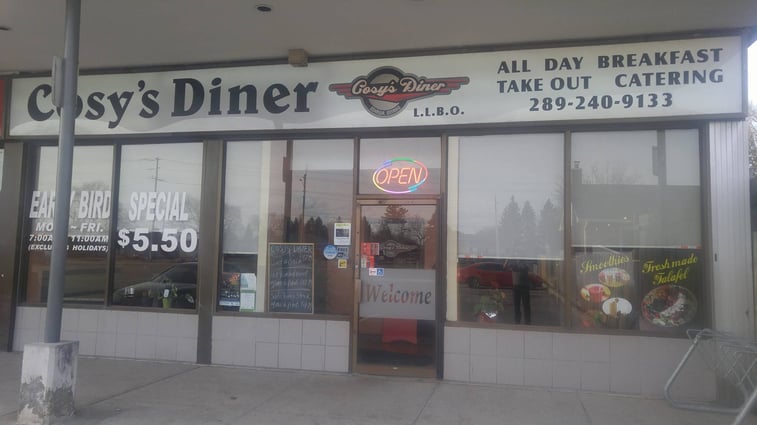 The second last blog! Given the timing, I wanted to wish all of you reading luck on your final exams, and remember that a mark does not define you. This time we are spotlighting a restaurant that is relatively new – Cosy's Diner! They celebrated their one-year anniversary on March 6. Nestled in the Rossland & Stevenson plaza, Cosy's is a Denny's-style family-owned restaurant located at 500 Rossland Road West, Oshawa, ON. Being located close to both Paul Dwyer Catholic High School & R.S. McLaughlin CVI, and having a Durham Region Transit bus stop right out front, it is very student-friendly. From campus, jump on the 916 bus with your student card, and arrive in 15 minutes!
When I say Denny's style restaurant I am not kidding; their menu has significant variety. Whether you want all-day breakfast with your classic bacon, eggs and home fries, a giant homemade burger, a pita wrap, or a strawberry smoothie, they've got it all! The menu consists of over 100 items to choose from, so it is more than likely that you will see at least one thing on the list that you would love to eat. They also do promo creations such as beef dip, roast beef, or various soups.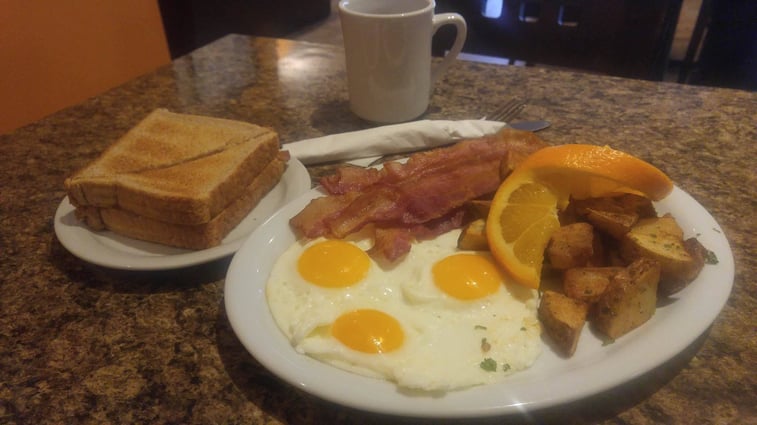 In terms of what I chose to eat, it was difficult at first given the vast menu, so I actually tried two different meals at this fine establishment. Yes, on two different occasions – I am not some sort of monster! The first was your classic bacon and eggs with home fries and toast, and it was delicious. Presentation was 10/10, and it smelled like a fine Sunday morning. The bacon was both plentiful and crisp, the eggs were delicious, without much trace of grease at all, and the home fries were seasoned in a wonderful way. Normally the home fries are never very notable, but here they are something worth admiration! The breakfast is $6.99, but if you come between 7 a.m. to 11 a.m. Monday to Friday, it's $5.50. Perfect for a student-friendly budget.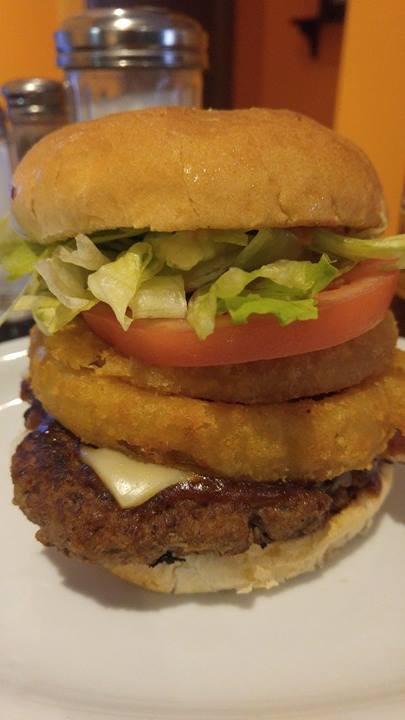 Now I know you are looking at that monstrosity and thinking "oh god why," but trust me – it was worth the impending food coma that followed after eating it. It is their BBQ Cajun Burger! It comes loaded with BBQ sauce, chipotle sauce, two onion rings, Swiss cheese, peameal bacon and then whatever vegetables you like – I got lettuce and tomato. First of all, this thing required a new scientific method to be able to get my jaw around it, but it was worth it in the end because the medley of flavours this creates sends your taste buds on an expressway to greatness. The onion rings add both texture and flavour in a way that combines very well with the meat and sauces. Every bite was wonderful, and yes, I did have to prepare myself for a nap after. The burger comes to $13.99 with fries.
Cosy's Diner is a fine local spot offering a large variety of options for fair prices. Whether you want chicken fingers, or salad, or pancakes, this place has got you covered.