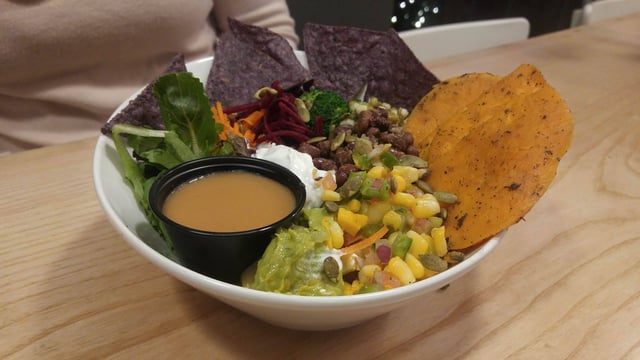 To all of you Student Speak readers, I would like to wish you all good luck on your exams! I know it is about that time of year, you can do it!
This month, I have ventured into the world of vegan food, which is unusual for me when I usually jump to the menu items with bacon. I will give you my take on some plant-based deliciousness, and to make this happen I made two visits to Copper Branch in Brooklin, nestled at 66 Baldwin Street on the left side of the road going north. In terms of access, by bus from the campus you would need to take the Taunton 915 west, and then from the Brock Street/Taunton Road intersection, take the 302 Brock Street bus north. For those driving, there is on-street parking, as well as a parking lot behind the building.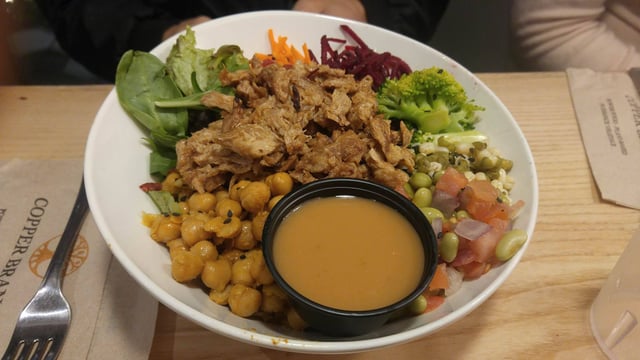 Everything on the menu is made entirely 100 per cent from plants, which is pretty astonishing to consider, given that they offer poutine, burgers, wraps, you name it! The ingredients used are organic, non-GMO and all-natural, so you do feel pretty healthy eating it all and there are gluten-free options for those who need it. There is quite the spread when you get into the available options: the burgers range from the mushroom galaxy burger (oven roasted Portobello mushroom as the patty), or the copper burger which utilizes beets and rice. The other major items (of which two are pictured) are the all-delicious, as powerful as their name Power Bowls.
The cover photo is the Aztec Power Bowl, and it was the best thing I had at Copper Branch. It had beans, guacamole, vegan sour cream, corn chips, sweet potato, among other various vegetables, with an olive oil dressing. It was essentially like eating a vegan burrito bowl! The second power bowl is the Asian Fusion, with added shiitake. They do the shiitake mushrooms teriyaki style, and I swear it tastes extremely close to chicken! I actually had to ask what it was made of, I couldn't figure it out that is how similar it was to meat. The bowl itself consisted of edamame salad, kimchi, organic goji berries, spiced chickpeas, among other vegetables in a non-GMO tamari ginger dressing. In terms of cost, the Power Bowls range around $10-14. Looking at price points for the restaurant overall, you are definitely paying a little more than you would at other establishments, but the positive for Ontario Tech/DC students is that there is a 10 per cent discount.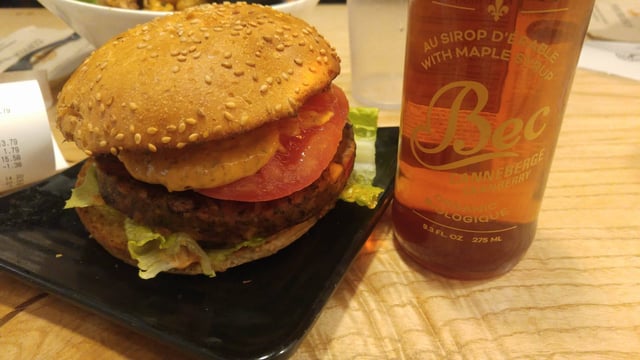 That gorgeous burger you see pictured is the Spicy Black Bean burger, with a patty composed of (you guessed it!) black beans, as well as sunflower seeds, sweet potato, pea protein, brown rice, red pepper, green pepper and corn. Sitting on a bed of lettuce, topped with tomato, and drizzled with a south west sauce that tastes like a bold chipotle. The sauce truly completes the burger, and the burger itself was flavourful and had a very Mexican-inspired taste, slightly expected by the combination of ingredients. I will be honest, I was expecting it to be a little bland or dry in comparison to meat but the vegan burger does pass the test, I would happily eat it again. The burger by itself was $9.50. Paired with it was a drink I saw and had to try – it is called Bec, and it was a cranberry pop made with maple syrup. It tasted like cranberry maple! A weird, yet fantastic combination! The last thing I had to try off the menu was a food near and dear to my own heart: poutine.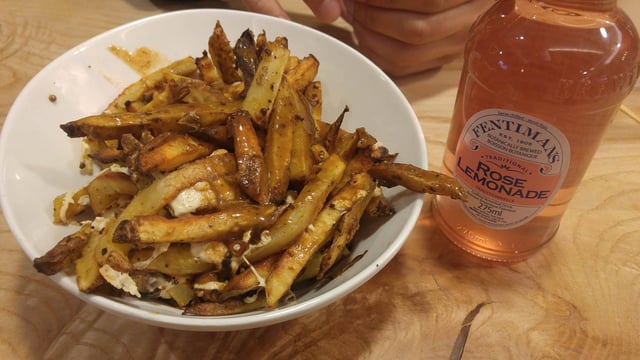 You must have noticed I mentioned how they offer poutine earlier, and I imagine your first thought was: "How? Poutine has cheese!" They use daiya - which I had not heard of prior to doing the necessary eating for this blog—made from cassava and arrowroot, and it has a cheese-like consistency and appearance, you can see it is not exact, but very close. In terms of the taste, it is similar to cheese, but I would say a little sweeter. The texture was close but also kind of 'spongy' in a sense. I hope that explained it well enough, but I do recommend giving it a try! The gravy was flavourful, made from a mushroom base, and the fries were baked not fried, so they are healthier, although you do give up some of that nice fry taste. The lemonade was good, you do get that rose flavour, but it is $4 for the bottle. The poutine itself was regular size and roughly $6.50. Overall, I think trying vegan poutine is worthwhile, and who knows, maybe you will like it just as much as regular poutine.
So concludes my journey into the land of plant-based food, and I am glad that I took the plunge. Without preaching, it is nice knowing about the positive health and environmental impacts of adding more plants and reducing the amount of meat in our diets. While I am not going to switch to vegetarianism or veganism tomorrow, I do see myself having more plant-based meals, simply because going to Copper Branch showed me that it can actually taste pretty great. That being said, I do hope that you get to give this establishment an opportunity, and if you have not had vegan food prior, enjoy the experience!