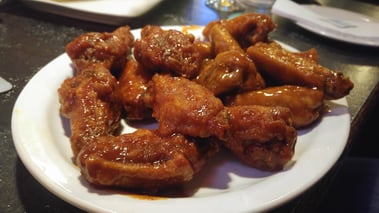 I know that some time has passed since the last blog, unfortunately, my responsibilities as a graduate student took over for a period of time – but here we are back in action! Charley Ronick's is a pub and restaurant located at 3050 Garden Street East, in Whitby. It is located in the plaza at the northwest corner of Rossland and Garden, with Shoppers Drug Mart and No Frills.

First of all, let me just say that this place has some delicious food! Initially, I was not planning to actually blog about Charley Ronick's, but the food was so good that I knew that the world needed to be made more aware of a delicious spot located right in north Whitby! For those who watch sports, they have TVs everywhere, including the booths. Each booth has a TV built right into the wall! Combined with deals on wings and other items, and you can imagine its popularity for sporting events.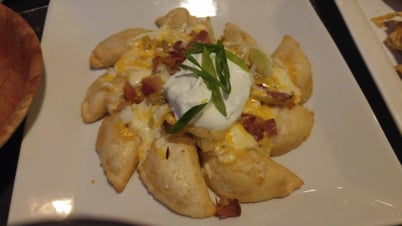 But aside – I know that you are not reading this to know about amenities, you want to know about the delicious food! At Ronick's I personally got wings and pierogis, and my friend got the quesadilla. The wings are great (beautifully pictured above!) and there is a deal almost every day regarding some combination of wings and a drink, or wings and fries, but the regular price is $11 for a pound of wings and fries. They offer a large variety of sauces and rubs (ranging from your standard mild/medium/hot, to pineapple curry and lemon pepper dry rub), and when I say they have a variety I mean it – there are 14 sauces and 4 dry rubs to pick from! The variety does not result in a lack of flavour either, as I got honey garlic and chipotle BBQ. Their honey garlic is standard, in my personal opinion honey garlic is pretty difficult to get wrong, and the chipotle BBQ was great! It is more of a smoky BBQ, and the kick of chipotle only added to the awesome.
The wings came first, and what a glorious appetizer they were for the delicious pierogis to come. The pierogis were filled with potato, but came topped with sautéed onions, bacon and cheese! Served with sour cream on the side, they come to $9. The presentation of the pierogis was great, they definitely come out of the back looking delicious, whispering "eat me!", I swear I heard it! I'm also a gigantic fan of bacon so having it come with bacon on top only made them even more attractive.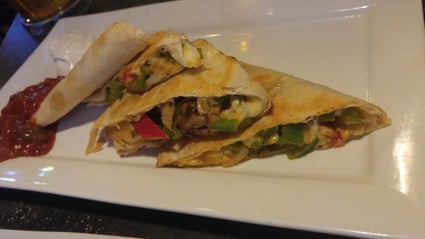 Last, but definitely not least based on their sheer size, are the quesadillas. Let me note: THEY ARE MASSIVE. It was an unbelievable amount of quesadilla, I am not sure if the picture does it justice, as they are HUGE. Their quesadillas are a fresh soft tortilla stuffed with Tex-Mex cheese, grilled mushrooms, onions, and peppers. It comes served with salsa and sour cream and is $8. If you wanted to add toppings, you can add feta cheese for $2, or meat (pulled pork, chicken, steak or shrimp) for $3. I had them with just the veggies and cheese, and they were good! They do not skimp on fillings (clearly, given the size) so there were mountains of vegetables within the quesadilla. What I can say, is that I would be impressed if you finished them all, as they were brought to our table by a truck (kidding, obviously). Overall, Charley Ronick's is a delicious place to get food, and it is even better if you can catch a Leafs game while you're at it!

I hope you all enjoyed this blog, and know that the next one will be coming very soon! Until next time, and I wish those of you who are students the best of luck in your studies!