Hello Student Speak readers! I welcome you to my very last blog as the Student Speak food blogger for this wonderful university. It was an amazing run involving a lot of delicious food, and I hope you also have enjoyed all the eats over the last two academic years. This last blog will focus on a new Mexican spot that just opened up right in downtown Oshawa, at 24 King Street East, where the Patty Shack used to be. It is located right beside Buster Rhino's near the Regent Theatre. With respect to finding this delicious new spot, it is right in downtown Oshawa, so if you took the 401 Simcoe bus, simply walk east on King Street for literally two or three minutes and it will be right there!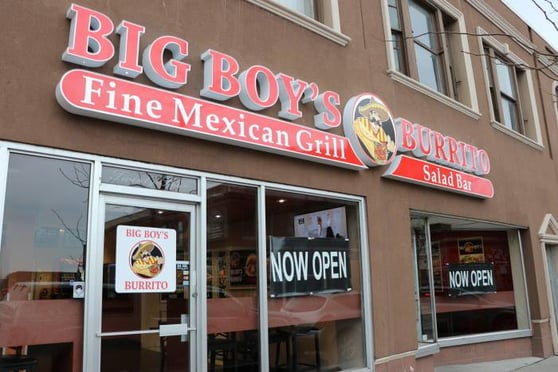 Photo above courtesy of Robert T. Bell, who got a great photo of the grand opening.
Big Boy's Burrito offers burritos, as their namesake, but their menu also contains a variety of other options. Their menu also contains nachos, tacos, quesadillas, wings, salads, and even poutine. If the large variety of options was not enough, they also have a unique variety of burrito options, split into regular burritos, such as ground beef or pulled pork, and special burritos, which I will get into. For example, you can get a jerk chicken burrito, a calamari burrito, or even crispy buffalo chicken! Regarding drink options, they have canned and bottled pop, juice, chocolate milk, and even Jarritos, which is an awesome brand of pop. I will admit, it was difficult to choose, but I settled on a big jerk chicken burrito with a strawberry Jarrito, while my partner got a small crispy Baja chicken burrito with a mandarin Jarrito.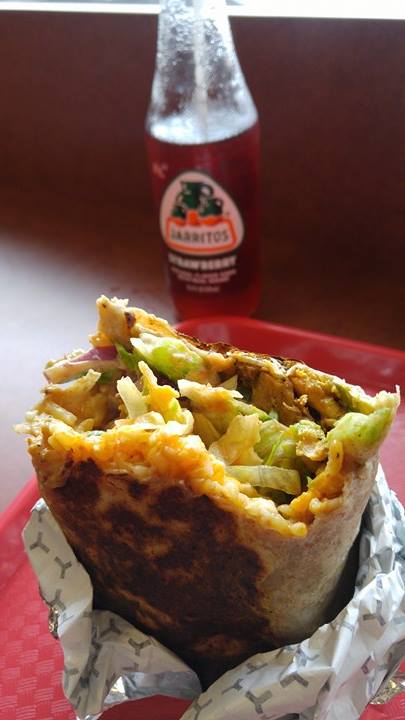 The burrito was good! They have your standard fare of burrito toppings like beans, rice, cheese, lettuce, tomato, burrito sauce, sour cream, jalapenos, etc. Everything was very fresh, and that freshness came out within the taste. In terms of the jerk chicken, while the chicken was good, it really was not as spicy as I would have liked given it was jerk, but that is more of a personal preference. My only other gripe was that guacamole is an additional $1.50, and I do not feel that it was a decent amount for the price, when other burrito places in the area add guacamole free of charge. Regardless of the guacamole charge, you are walking away with fresh, quality food, and I do recommend trying what Big Boy Burrito has to offer! The Jarrito was $2.50 and the big jerk chicken burrito was $9.49, and "big" was definitely more than enough food. I can't imagine huge! That strawberry Jarrito you also see peeking in the photo comes with a high recommendation from me... strawberry pop is delicious! The mandarin one was also really good (to be fair, I think all Jarritos likely are), but it isn't strawberry!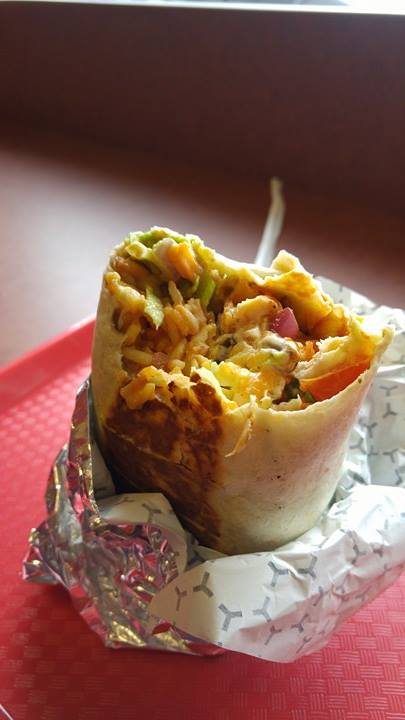 The crispy Baja chicken burrito was very delicious. I actually did find it better than the jerk chicken. It was definitely different to have crispy chicken within a burrito, and the Baja sauce had a pleasant sweet/spicy taste to it. Coupled with a variety of fresh topics and you've created a recipe for delicious! A small Baja chicken burrito is $8.49, and I could see myself easily trying this again just for the Baja sauce, because it is wonderful on the tongue. Next time I go in (because there will definitely be a next time), I will have to give the calamari burrito a try…

With that, I bring you my final blog! I found it very fitting that one of my first blogs was on burritos (Top 4 Burritos Near Ontario Tech!), with my last blog spotlighting a burrito spot. I hope you go in and try some Big Boy's Burrito, because they have some options you will not find anywhere else! I also would like to thank anyone who read any of my food blogs, whether you read one on a passing whim, or you were a dedicated follower of local food around Durham Region, and I hope that you found some delicious new local options to try as a result! :)