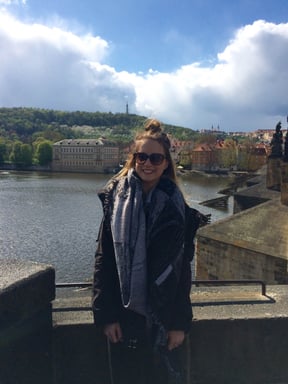 "This past year I've had the pleasure of being the Student Speak Ontario Tech University Spotlight blogger. This opportunity has been amazing and such an honour. I've met some amazing people, made new friends and gained an array of tools and skills that are transferable into my academic career and future. I've learned so many amazing things not only about the people I've interviewed but about Ontario Tech University as a campus and community. I've gained so much pride in this institution throughout this experience, and especially from those that I work with. Ontario Tech University is filled with so many motivated students and caring faculty, it's young and innovative and truly amazing. I couldn't imagine doing my BA elsewhere.
This opportunity has made my third year one to remember, and one that I'm especially proud of. I've always loved to write, so this opportunity has provided me an outlet to express my creativity and enhance my abilities all while having fun in the process. Blogging for Ontario Tech University has opened so many doors to new experiences and new people and allowed me to build a portfolio all while learning about myself. I've realized how much I love writing, and how I hope to turn my passion into a profession one day. I've had such a great year and this experience has provided me with so much in return, and I've loved every second of it."
Sara Stephen,
Communication and Digital Media Studies student
Want to have an experience like Sara's? Apply to be a Student Speak blogger for 2016-2017! Apply by July 15, 2016. Selected bloggers will be required to attend a training session on August 18, 2016.